When I was young and naïve pasta was called spaghetti, and it was the main course of dinner at home. Then I took my mom to Genoa on holiday and quickly discovered that pasta isn't a main course, it's simply the first course. There's a whole  list of meals for a formal dinner — from the appetizer to the antipasto, then the pasta, meats, side dishes, insalata, cheese and fruit, dessert, coffee, and the digestivo.
Talk about missing the bus. When I went to my local Italian restaurant or eating at home, I had the American plan: appetizer, salad, pasta or lasagna or veal scallopini, and then a dessert like spumoni and then maybe an espresso. Man, I was missing the entire thing. In Genova, they took our orders of pasta and glasses of wine, and we ate gladly, and we probably did good by our figures and our pocketbooks. But I missed the grappa!  I missed the minestra, I missed the lamb chops!
If you don't know any better, then you're forgiven. But, once the scales fell from my eyes, I am more sophisticated, more couth, and way more enculturated and acculturated. The more worldly (and maybe insufferable) I became. But not limited. Sometimes all you want and need is a beautiful bowl of fresh pasta cooked al dente and drizzled with a rich sauce.
Online Brand Management is a Formal Italian Meal
Most social media marketing strategies are like my mum and me in Genova: we were supremely blissed-out happy with our experience of the authentic, delicious, "to the tooth" spaghetti al pesto.
A proper online brand management and social media marketing campaign demands a multi-course meal of more than just spaghetti al Twitter, pasta a la Facebook, and lasagna al Instagram.
The entire suite includes influencer marketing, content marketing, social media marketing (SMM), search engine optimization (SEO), and online reputation management (ORM):
Social Media Marketing (SMM): traditionally speaking, this is all the sharing to social networks, the community management, the link-sharing, the following back, the outreach and engagement to other people who are germane and salient to the mission and campaign
Content Marketing: old school blogging, email messaging and modeling, landing page writing, copy writing, site creation, and even content creation for marketing, PR, and all the piles of copy demanded today by automated marketing software
Search Engine Optimization (SEO): the intentional creation of content, sites, links, sharing, and engagement that results in positive and neutral search results based on keywords associated with what your products and services are all about. While it can be associated with your brand name and the name of your products, it's generally focused on discoverability on Google in association with what you do and what you make.
Influencer Marketing: influencer marketing is traditional PR and celebrity sponsorship online, be it earned media pitching to paid partner sponsorships. This is all about discovery and engagement, this is all about outreach and association. This is about finding and flaunting the natural affinity that you have with people in your fan-based community, whether they know it now or will know it when you make the final love connection.
Online Reputation Management (ORM): similar to SEO, online reputation management is about making sure that your real name and your own brand and products come up on the first page of Google, Yahoo!, and Bing in a very positive, at best, or neutral, at very least.  It's not about keywords, it about proper names. And it's not generally about removing negative search results about you and your brand, it's more likely about knocking down negative search results down below the 10th or 20th result.
Meals Aren't their Courses they're the Orchestrated Whole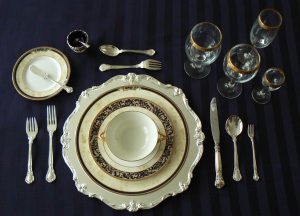 So many companies don't know any better. Each one of of the social media "courses" are part of the entire experience. They're part of an orchestrated experience.
They're like albums from the 60s, 70s, and 80s. They're more Lemonade than ten singles wrapped into a CD.  Each social media strategy course — influencer marketing, social media marketing, content marketing, search engine optimization (SEO), and online reputation management — are best when they're taken together, orchestrated together, served together, and strategized together.
Each Course Makes Up an Orchestrated Whole
If you're feeling overwhelmed, don't be. The amount of food and calories over time of a Formal dinner isn't much greater than that honking serving of just pasta bolognese you put away with that petite side salad and bottle of wine. Not only is each course smaller and more refined, the meals are enjoyed over hours, from six PM through to the night. There are intermissions and intermezzo and there's plenty of time to breathe.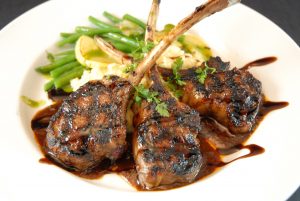 The same goes for this new social media strategy — unless you have a crisis, a reputation disaster, or are starting up your campaign in order to start fighting against a general meh or even an assault of terrible reviews. There is nothing but time so breaking things into pieces and dribs and drabs, breaking it apart into a calendar and scheduling parts and you cut off larger pieces of time and budget, and then moving forward, is just the right way to do it.
In fact, to try to do it all at once, to treat this formal meal of the best foods of Italia is actually an insult. Same thing with Google and the rest of the online world. Spending one long weekend binging on SEO, content creation, site making, and social sharing all at once through a firehose, and then disappearing will get you in trouble with the search engines, their spiders and bots, and also the real people who want to engage with you but encounter, instead, a social media and brand ghost town.
Buon Appetito
Now, try to think outside of just maintaining your Twitter and Facebook and hiring out your SEO to Romania. Put away the can of SpaghettiOs and stop just pouring a bottle of Ragu on your store bought dry pasta. There's so much more to social media strategy than can openers and asking the strongest person in the household to open a stuck bottle. Explore what powerful tools are out there. All you need is either an American Express Centurion Black Card or a little interest in learning to cook from scratch with social media and you can, over time (give it at least six months before you really expect anything — gotta to make sure things are properly cooked) not only dominate search but also develop a brand that is highly recognized, recognizable, and prestigious online, organically and not simply because you use that Black Card on Google AdWord ads, Facebook ads, Instragram ads, SnapChat ads, and Twitter ads.
Arrivederci!
Feel free to own the yacht but hire a crew if you're not yet seaworthy. If you get my drift and want to adopt the yachting lifestyle yourself but either don't have the mad sailing skills yourself, don't yet posses a world-class crew, and don't know yet where to go, then you should give me a call or reach out me by email — so I can help you pilot your vessel now, in the tranquil blue-green shallows of the Caribbean, as well as in the roughest seas and into — as well as out of — the storm.
If you'd like to chat more, call me at +1 (202) 869-3210 Ext 0001  email me, or feel free to self-schedule a 15-minute call, a 30-minute call, or a 60-minute call with me.