Promotional merchandise is one of the oldest types of promotions. Even in today's digital world, promotional products and branded merchandise really do make a big impact on marketing campaigns. It takes experience to pinpoint just the right promotional product to match with your company's culture, brand, and customer expectations. Relying on a resource like the British Promotional Merchandise Association can help your company make that ever-important impression and connection with your customers. The right promotional products can help make your brand and your message memorable.
7 in 10 marketers use promotional merchandise to raise brand awareness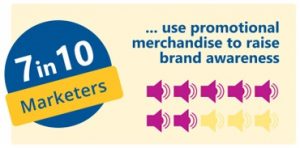 If you thought that promotional products are not still a popular marketing tool, that isn't the case here. They are popular and if you aren't using them for your promotions or branding, then you might be falling behind your competition. Brand awareness is an important factor for companies. Don't get caught up in purely measurable marketing tactics, give back to your customers with branded gifts.
Choosing the right promotional product for your brand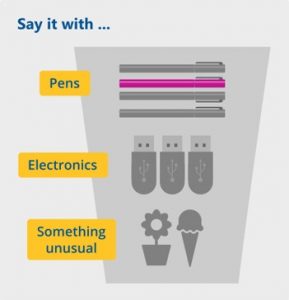 Choosing the right promotional product can make all the difference in the success of this type of marketing campaign. Pens are a very popular old standby that still works very well, but electronics are the updated approach to promotional products. However, there are so many different types of promotional products to choose from and choosing something that is unique and represents your brand can be a winning combination. You can test what works for you, but go by our main keys for choosing the best promotional product for your brand. Our three keys for selecting the best promotional product is that it must be useful to the recipient, represent your company well, and help the recipients make a connection to your brand.
Merchandise that stands the test of time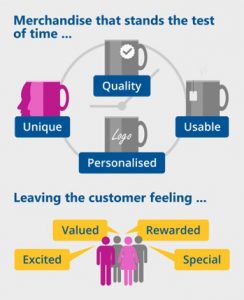 Promotional products have been around for a long time. There is a reason why they still are a tried-and-true advertising option. Just about everyone is familiar with them and has been the recipient of branded merchandise whether it is a pen, a mug, clothing, or something more unique and memorable. What other type of marketing will make your customers feel valued, rewarded, excited, and special all at the same time?
Budget-friendly marketing tactic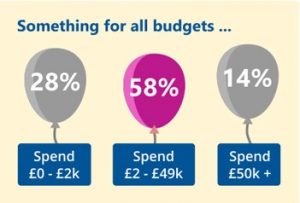 Promotional products have an excellent impact, which is another reason they have been so popular among marketers for so long. However, what you may not know is that they are extremely budget-friendly. When compared with other marketing campaigns, promotional products are usually lower in cost than you might expect. More than half of companies surveyed spend less than £49k on a promotional merchandise campaign. More than a quarter of companies can still be successful with a much smaller budget of £2k or less.
Rely on your promotional product supplier
In addition to offering up advice as to the best promotional product for your company, your promotional product supplier can help you with other vital steps along the way. You want to be sure that your branded merchandise is safe, legal, and certified. You should be able to rely on your promotional product supplier to offer the best practices in the industry.