Podcast: Play in new window | Download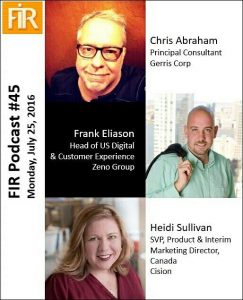 Back in January I had the honor of being a guest on Shel Holtz's premier PR podcast, For Immediate Release.
It must have gone well because I was back on a panel of PR professionals yesterday, joining Shel, Zeno Group EVP Frank Eliason, and Cision SVP Heidi Sullivan.
While our discussion did include issues of the day, it didn't include much of anything about the conventions in Cleveland and Philly.
Lucky for me, a major focus of our time together was influencer marketing.
Ergo, the gorgeous title of episode 45 of For Immediate Release: I'm An Influencer, Pay Me More!
Here's a convenient embed for you to access the show (you can also download the 41.6MB episode)
Be sure to read the two influencer-related articles that we read in preparation for the discussion:
Also, check out my last two articles on the subject:
OK, here's all the rest of the info from the FIR #45 page from the FIR Podcast Network site:
Yesterday's panel featured me, digital strategist and technologist Chris Abraham, Zeno Group EVP Frank Eliason, and Cision SVP Heidi Sullivan. Today's discussion topics:
Is the PR community going about influencer marketing all wrong? Is it earned or paid media?
Medium could be the (or a) future of online publishing
Can we please stop treating Millennials like they're an alien race?
No matter how many times lists of transgressions are published, PR practitioners continue to piss off journalists.
Dan York reports on Verizon's acquisition of Yahoo!, WordPress's imminent update, and the woes of news publishers on Facebook.
Micro-level marketing is a big deal. So why aren't PR people doing it yet?
Chatbots could become a source for native advertising.
Startups are using the blockchain to protect copyright and guard against plagiarism.
Connect with our panelists on Twitter at @chrisabraham, @frankeliason, and @hksully.
Links to the source material for this episode are on Delicious.
Special thanks to Jay Moonah for the opening and closing music.
About the panel:
Chris Abraham, digital strategist and technologist, is a leading expert in digital: search engine optimization (SEO), online relationship management (ORM), Internet privacy, and online public relations with a focus on blogger outreach, blogger engagement, and Internet crisis response. He operates his consultancy at Gerris Corp. A pioneer in online social networks and publishing, with a natural facility for anticipating the next big thing, Chris is an Internet analyst, web strategy consultant and adviser to the industries' leading firms. He specializes in Web 2.0 technologies, including content syndication, online collaboration, blogging, and consumer generated media.
Frank Eliason's experience and goals are centered around creating the right experience for Customers, and utilizing a variety of channels to reach them. In current and former roles, he has worked to use new technologies to better understand and assist organizations in improving processes and tools to ensure first contact resolution and improved Customer Satisfaction. Currently Frank is  working within digital media to better measure, understand and assist Customers. Doing so, he and his employer, Zeno Group (an Edelman company) are defining the next generation of Customer Service, Marketing and PR. Frank says, "We are transforming organizations to have a deeper understanding of Customer and Employees and helping them find the best ways to engage these key constituents."
Heidi Sullivan is Senior VP, Product and also currently Interim Managing Director, Canada for Cision. As SVP, Product, she drives the company's overall content licensing strategy and is responsible for all influencer and distribution products and services, including the popular PRWeb platform and Cision's leading influencer database. As Interim MD, she is responsible for the overall business results and sales activities in Canada. Sullivan has been named as The Hub's "Individual Influencer of the Year" for 2014, one of PR's most influential professionals in the PRWeek Global Power Book in 2015, and one of PRWeek's 40 Under 40 Rising Stars in 2012. Prior to this role, she was the Senior VP, Digital Content, leading the company's digital and broadcast content teams and the global research team for Cision's media database. Before that, she was Vice President of Global Media Research and managed the enhancement and maintenance of Cision's media database of more than one million media outlets, journalists and influencers. Heidi is a founding blogger for Cision Blog and frequently speaks at industry conferences and events on best practices in social media, communications, content marketing and the changing media landscape.