Lesson for leaders
Twenty-first century exponential growth publishing can change everything. It will transform the supply chain when it adds connected consumption.
Vendors will know what connected customers want. Each customer will be served personally and efficiently with the products they need, when and where they're needed.
With this platform publishing and media can bring a new level of customer success and satisfaction to the world.
Connected consumption supply chains change business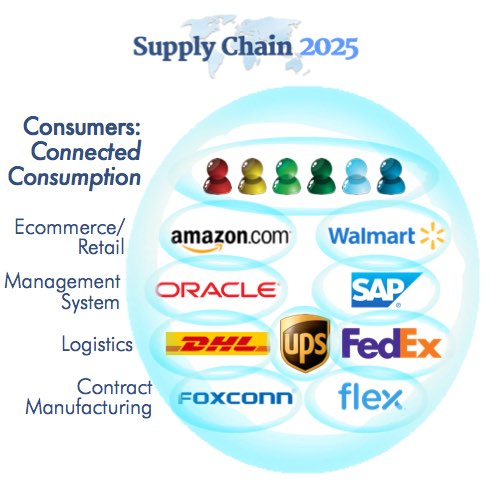 Start thinking of tomorrow's digital economy, which will be driven by visible connected consumption supply chains. Vendors will fit their production and logistics to every customer's pattern of product use. This will turn consumers into the supply chain's real-time managers, which immediately solves four of the supply chain's biggest problems:
Problem 1: Inaccurate forecasts to anticipate needs—replace guesstimated forecasts with visible real-time knowledge of consumers' use.
Problem 2: Inventory costs and channel management—reduce costs with direct delivery of products to consumers, when and where needed.
Problem 3: Update product designs to fit unmet needs—eliminate uncertainties by using interactive products to learn consumers met and unmet needs.
Problem 4: Customer loyalty in private relationships—connected consumption uses always-on customer-vendor relationships that exclude competitors.
Connected consumption adds clear metrics to supply chain management's top goal. Does the supply chain get the right product, in the right quantity, to the right consumers at the right time? Is every customer kept so happy that they order again and again?
With visible metrics at every step and real-time interactions with every customer and supplier, the connected consumption supply chain will also fix these related problems:
Problem 5: Track and control inventory throughout the supply chain—new real-time abilities track and control inventories in shared life spaces.
Problem 6: Visible inventories—real-time IoT connections make inventories and gaps visible at every step.
Problem 7: Customer-based logistics—customer relationships are critical, so this prevent delays or disruptions from damaging them.
The next stage: FAST platform for worldwide prosperity
Vendors will use this publishing platform to become an essential part of what people do all day. Users' digital actions will be two-way triggers through which publishers, active knowledge and connected consumption enable trillions of dollars in user-controlled economic activity.
This level of global economic participation will multiply the size of publishers and their industry. For example, a FAST supply chain platform can include:
Facebook and Google win today's battles against publishers by taking ad revenues and content displays through a surveillance advertising model. When publishers respond with people-first exponential growth, they can plan the replacement of today's advertising and content paradigm.
In addition—and perhaps unexpectedly—this platform can also help publishers help lead the digital economy by including connected consumption supply chains. This adds an interesting question: how far could a 21st century publishing platform grow?

Disclaimer: All articles in Media 2025 are provided as-is for general information. Only the issued patent, such as U.S. Patent 9,183,560 "Reality Alternate," and patent pending application and specification, describe patented and patent pending technology. 
Related articles in Media 2025: