ManageFlitter must have read my article from last week and they came back to me with a solution. I suggested that nobody offered a web service that allowed Twitter marketers to simply and easily follow other Twitter accounts based not on keywords or hashtags or location or popularity but based simply on Twitter handles.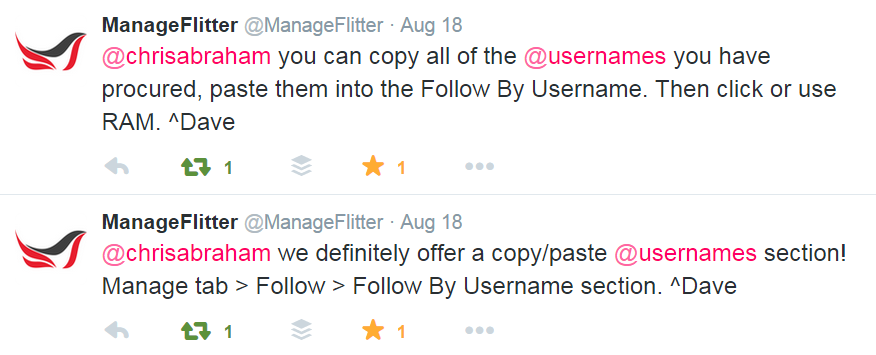 Follow by Username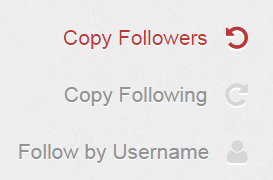 What I needed, to take it even further, was a tool that would allow me to bulk upload dozens, hundreds, thousands of Twitter. And they call it Follow by Username.
It works! And, in terms of stress-testing, I dumped over 5,927 records in there at once and ManageFlitter just sucked it up and it worked like a dream.  Awesome, but why would I need such a thing?
I have been collecting DC- and Government-related Twitter handles for one of my clients and had been really frustrated that there were no automated tools that allowed me to copy those hundreds or thousands of Twitter handles and paste them all into a text box, click on submit, and then have all those hundreds or thousands of Twitter user profiles queued up into an automatic follow routine, over time, so that, eventually, the Twitter account I am managing will have followed each and every one of those accounts.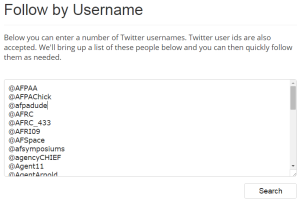 Last week, I wrote The best automagical Twitter following tools for your business in which I said "Man, I love ManageFlitter a lot and all the rest as well, but man do I want someone to build an app that gives me the ability to bulk upload a CSV, EXCEL, or TXT file — or a handy box for copy-paste and submit — with all the @profiles that you want to follow but have collected elsewhere. Does this already exist? Can a guy get a break? Please let me know if anyone wants to build this with me."
Well, it was already there — and that's why I am writing this post this week. Plus, ManageFlitter'll do all the clicking for you — if you pay the price. I call it a convenience fee.
They'll Do All the Clicking For You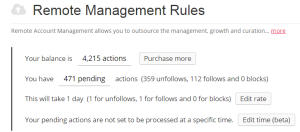 Twitter has some very strict terms of service (ToS), most of which prevent any automatic follow/unfollow. Automation is simple — just a quick but of Python code; however, ManageFlitter has taked it old school, offering a fully automatic, albeit expensive, tool to get all the benefit of automatically following and unfollowing Twitter accounts based on some rules that, once you have it fully set up, will run forever autonomously — just as long as you keep the tank full of "actions," with each action representing someone, somewhere, clicking follow or unfollow on your behalf:
Q: Do you use any automated methods to process the queue?
A: No. This would be in breach of Twitter's rules. Account Manager's manually action every process. Account Manager's screens are monitored and recorded in order to provide evidence of manual action if required.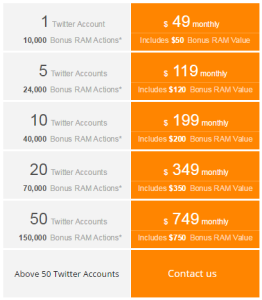 Interesting.  Feels a little like there's a Mechanical Turk backend of some sort but the enture process is invisible to me. And since it "only" costs $100 for 22,222 actions, it costs a lot less than my time is worth ($50 for 10,000 actions, $20 for 4,000 actions, and only $10 for 2,000 actions).
There are three account levels: Freebie, Pro, and Business. I subscribe at the $50/month Business plan myself. With this I only get one Twitter account, but I do get 10,000 Remote Account Management (RAM) actions that come with that. Soon, as I onboard my clients onto ManageFlitter, the monthly will increase. 5 Twitter accounts is $120/month (with 24,000 bonus RAM actions) and 10 Twitter accounts costs $199/month with 40,000 bonus RAM actions.
They're truly generous with the bonus RAM actions, which means the high-end pro accounts really pay for themselves.  Spend some money. It's worth it. It'll change your life. You'll spend a lot less time clicking, even if you have a Check All plugin button installed on your browser.
If you can't afford Manage Flitter, you're not billing enough — hell, you really should be passing these fees right on through to your clients; or, charge the hours and spend that time at the pool or with your kids.
ManageFlitter Does Much More Than Batch Following
Here's what I get for my spend, my $50/monthManageFlitter Business subscription:
Unfollow people who are not following you back (Freebie plan limited to 200 daily unfollows)
Unfollow accounts who are inactive, have no profile image or use a different language to you.
Unfollow fake/spam accounts that you follow.
Remote Account Management (RAM) – set-up rules to tell us who you want our Account Managers to unfollow or follow for you (additional cost – purchase of actions required, though my account comes with a free 10,000 RAM actions/month, at a $50 value)
Block (force unfollow) fake/spam accounts that are following you. –
Unlimited daily unfollows. –
Account Search – search through over 80 million Twitter accounts in seconds – find the right accounts to follow. Improve your odds of reciprocal follows.
Tweet Search – Follow or engage with people who have tweeted a hashtag, have included a targeted keyword or mentioned a specific Twitter account (including your competitors!) in their tweet. –
Copy other Twitter account's followers or the accounts they follow. Leverage other Twitter accounts to quickly find targeted people to follow. –
Account Analytics – a quick overview of your current account numbers. View a graph of changes to your followers, following, tweets & influence over time.
See who and when someone unfollows your Twitter account. –
Tweet Analytics Overview – track Tweet keyword volume over time. View individual Tweets driving volume spikes.
Email Reports – receive a daily or weekly email report summarizing the most important activity on your Twitter accounts. Receive alerts when high value, verified Twitter accounts follow one of your accounts. – –
PowerPost – schedule Tweets for when your followers are most likely to see them. PowerPost guides you to easily select optimal Tweet times using a unique visual approach based on Twitter user engagement data. 1 per day
PowerPost Bulk Engagement – schedule and manage posts to multiple users quickly and efficiently. Posts are sent at the time most likely to be read by each person you are contacting.
PowerPost Recurring Posts – set posts to be sent out repeatedly over time. Great for infrequent marketing message you want to mix in with your usual content.
PowerPost Rotate – access previous PowerPosts for reuse when required. –
PowerPost Bulk Import – easily import, schedule and manage a large number of Tweets. – –
@Inbox – easily manage a high volume of @replies. Maintain full control over the calibration of your @Inbox – respond only to the most important Tweets. Conversation threads help group related Tweets. – –
@Inbox Campaigns – monitor and engage with Tweets based on selected keywords. Great for managing Twitter competitions. – –
Permission Management – Isolate your clients' or departments' ManageFlitter Twitter account use from each other. Manage permissions for different customers or internal departments. Great for managing a large number of clients under one ManageFlitter account.
I know you're hemorrhaging loads of money on Sprout Social, HootSuite, Twitter Ads, and any number of other tools. This is the tool — a secret weapon — that has actually driven a semi through the loophole in Twitter's Terms of Service (ToS) — and it's working, so far, so good.  It's not broken yet.
Jump in, the water's fine. Good luck — go git 'em, Tiger!