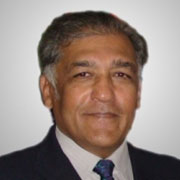 This fall, I enjoyed a few months of teaching at Indian Institute of Management Bangalore, and learning much about Indian business and life. To get some insight into what's going on in B2B marketing here, I tapped the brain of Sudhi Seshadri, who is dean and professor of marketing at MYRA School of Business in nearby Mysore, and has a PhD from Penn State. Sudhi has been teaching B2B marketing for decades, and knows the territory. I posed six questions to him.
1. I'm told that B2B marketing is still relatively nascent in India. How would you characterize the state of B2B Marketing here?
A bit of recent history is a good place to start. Prior to the '90s, Indian business was severely constrained, and B2B marketing didn't really exist. Two waves of liberalization in '91 and '96 brought immense change. Firms were free to compete, but still they didn't evolve much beyond hierarchical conglomerates.
With the early 2000s came a new national Competition Act in 2002, along with rapid globalization and demands from a growing middle class. The Indian economy has been fast restructuring, and market forces are changing interorganizational relationships.
So, whereas B2B marketing in the West is well over a century old, in India it has really come into practice in earnest only in the last decade and a half. So B2B marketing is a young field, but one that is at an inflexion point.
2. In the US, marketers perennially state that their top objective is delivering leads—lead quality and lead quantity. How do Indian B2B marketers see their top objective?
Lead delivery and "feeding the funnel" are right up there. But often lead management is in the domain of sales management, rather than a marketing function.
Since markets are "thinner" here, and fewer purchasing organizations are market driven, the top issue for B2B marketing is business development through value creation. The marketing organization focuses on developing customized offerings while trying to reduce the cost to serve. Think of it like the Toyota / Lexus model. You develop separate offerings for different buyer segments. Lead delivery follows from this, but is very different for each segment.
3. Much of B2B communication has gone digital in recent years. Are you seeing the same shift in India? What seems to be working best?
Interestingly, the term "digital marketing" is commonly used in India to mean e–commerce or, in B2B's case, e–procurement. This channel is likely to continue to grow, as exchanges multiply, regulations relax, and SMEs enter the formal sector in larger numbers.
But I think what you're really asking about is what we usually call multi-channel marketing. The short answer is that it's not living up to its potential. A scientific approach would try to optimize by looking at elasticities for each and divvy up the tasks among hybrid digital channels. However, we are long way from that in India.
But it will come, especially as the experimentation going on in B2C pays off and catches the attention of business marketers.
4. Are trade shows and conferences still an important part of the marketing mix?
Yes, they are. The simple economics of trade shows and events such as conferences for lead generation in early funnel stages are unmatched. The relationship building advantages are also significant.
We know that most international marketing is B2B, whatever the countries involved. India also uses B2B marketing in building exports, and these sorts of interpersonal, traditional approaches allow foreign buyers to develop trust in unique ways.
In the software industry, where marketing is directed in a large part to a developer or collaborator community, the importance of conferences cannot be understated. All the major software platforms have long been using conference-type events in their marketing mix.
5. Ironically, much of the data used by US B2B marketers for prospecting and current customer marketing is generated by researchers in India. How are Indian B2B marketers using data themselves?
Prospecting from data provided by list vendors is widespread. Eventually, this will move from simple screening rules to predictive modelling. Furthermore, the growing service-oriented industry in data analytics and marketing decision science is now spilling over to Indian customers. Rapid growth of data driven business models in India is further fueling this emerging trend.
6. What are the particular sales and marketing challenges faced by the Indian B2B community?
Let me highlight three.
As a longtime educator, I might be biased. But I think the first problem is that too few talented and trained professionals are entering the B2B marketing community. Marketing education in India is almost entirely about consumer, directed at the FMCG sector. Most MBA programs do not teach B2B, or do not have the right sequence of courses. Therefore, all the learning is done on the job, and the important B2B frameworks are not widely known and understood.
Second, integration of marketing and sales in B2B has been difficult, both at the conceptual and at the practice level. This is not entirely the fault of the B2B practitioner community. It is only recently that purchasing and sales literatures are coming together and evolving joint marketing frameworks. This lack of perspective has historically kept marketing artificially distant from sales or purchasing functions.
Third, we need collaboration between education and practice, to support centers of excellence similar to Penn State's Institute for Studies of Business Markets, to develop research and case materials in India. The financial contribution of B2B marketing has yet to be fully recognized at the CXO table. In short, we still need to make the business case for B2B marketing in India.