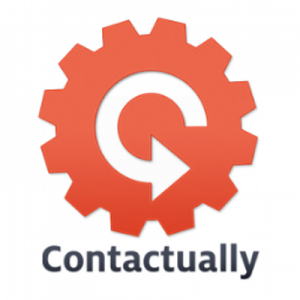 A little over a year ago I wrote Contactually is a Flawed Secret Weapon. Is it still flawed? For the way I use it, yes; however, the folks at Contactually are constantly developing, expanding, extending, and refining their smart contact management platform in ways that seem to be directed towards making me happier and more content.
What's New in Contactually That I Like?
There are two features I really like that have been recently rolled out on Contactually: the new archive contact feature acts like a persistent "do no contact" list and protects me from emailing people who hate me into the future. It's not just useful in one campaign, it's a federated DNC list that is useful forever, across all campaigns. Such good stuff. Thanks, Contactually.  There's also the send this email at the best time tomorrow tool, that snoops around all my contacts and either recommends the right time to email each contact based on their past behavior or it will recommend the generally-speaking best time based on Contactually's years of experience with such things.
Archive Protects Me From Emailing Haters
For those of you who already know about Contactually, the developers have added a couple of really nice things. The most useful for me is that they've removed the "delete contact" button and replaced it with an "archive contact" button. This is much more important than you might think.
When I send out my business development emails I sometimes get responses ranging from "please remove me from your email list" to "if you don't stop spamming my company I will wage war with you until my final breath, making sure your domain ends up blacklisted on every spam list every created by men."
Until now, I would have to go to my Contacts, search for the hater, and then track down where I found them—LinkedIn, probably— and actually delete/disconnect/break up with that contact, and then delete their entire record from my Contactually contact database. I would need to disconnect from their on LinkedIn because I periodically export all my LinkedIn contacts as emails since my professional connections on LinkedIn are constantly shifting and growing.
So, by deleting that hater on LinkedIn, I would probably avoid emailing them again. Archive, on the other hand, acts like a DNC list—Do Not Contact!—allowing me to add all unhappy contacts to an "archived" DNC list instead of needing to go through that whole rigmarole.  It sounds like maybe a small thing, but it's not insignificant at all. Maintaining a do not contact list was the bane of our existence at Abraham Harrison back in the day and is the bane of my existence now at Gerris Corp. Now Contactually will take care of all of that ick for me.  Thank you!
Best Time to Email Keeps Me Trickling My Email Responses for Days
This isn't perfect but it does what the name implies and slows my roll when it comes to sending too many emails to actually respond to them all—something I do almost religiously. Ask Dan Krueger, Managing Partner over at Gerris Corp. Every time I follow up—generally two weeks after I send my initial email blast—Contactually does some historical spywork on each and every contact, trying to see when they've historically responded to email in the past.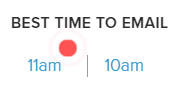 If they can find the best time, they recommend that time on the following day. If there's no perfect time, they recommend the general best time to reach someone— 11AM or 10AM, Easter, the following day.  I have started to lean on this because I try my best to trickle mail as best I can; however, if I haven't sent out any mail merged bulk email that day, I might ignore Contactually's Best Time to Email recommendation.
If I choose to follow their recommendation, all I need to do is follow the pulsing red dot and click on a particular time and then the [Send] button turns into a [Send at 11:00am on 10/31] button.

What I Still Need to Learn to Do in Contactually
I want so badly to learn how to automate my email marketing! I know there are amazing tools that Contactually has built-in but I have yet to use either their Programs workflow automation tool and their Pipelines tool that allows you, as a sales god, to keep track of all your open opportunities by adding a reminder to any stage.
I really need to either watch a bunch of videos to learn how to use these powerful automation tools—or even see if I can jump on a webinar or get a coaching call or screen share—or I need to just resign myself to just using Contactually the way I have been using it. Email blast first using Contactually's Buckets and then their bulk emailer, ScaleMail, and then follow up with love notes by hand. For now it works for me because I am diving through my own contacts as well as my connections on LinkedIn.
So, by going through all the follow-ups by hand, it allows me to customize the emails that I send to people who I actually know personally. It allows me to add a line or two to make sure the email is seen as well-tailored instead of off the rack prêt-à-porter. While not bespoke, it is at least a little more intimate.
It also allows me to fix the sort of glitches that happen when you import data from LinkedIn. People on LinkedIn are crazy, and they're always doing something with their names to stand out so there are a lot of ALL CAP NAMES and other crazy adaptations that really make mail merges look pretty damn amateurish.  While the onus is on me when it comes to not fixing them all in my initial email blasts, I really hate to make the same mistake twice if I can help it.
What is Contactually to Me?
Long story short, Contactually allows me to seamlessly integrate my chris@gerriscorp.com account with Google Business (Office 365 works, too). What that means is that Contactually not only imports all of my Google Contacts directly into the system but also allows me to import all of my other contact lists, throwing each of them into what Contactually calls "buckets." Once I've completed all my imports, including all my LinkedIn contacts after I reclaim your LinkedIn connections as contact emails via Download your Data, Contactually starts earning its subscription fee: Contactually is not only a CRM platform but it's also an email platform.
What I Want in the Future from Contactually
I still really need the programmers at Contactually to physically prevent me from sending duplicate emails over and over again because the Last Contact record doesn't update immediately so I sometimes accidentally send 2x-5x exact copies of the emails. When I reach out to Contactually, they blame me for being stupid and for not doing a forced refresh and all sorts of other things that make me the victim.  That's bullshit. There should be some way to prevent that from happening.
There's no logical reason to allow 10 copies of the exact email to go to the same recipient within ten minutes. That's not me, that's Contactually. So, until this is fixed, Contactually has an Achilles heel that really pisses me off. That said, even with the heel, Achilles was still a hero in Greek mythology and one of the main characters that participated in the Trojan War.
And so, Contactually is still my hero! But I challenge their programmers to see if they can find a way to solve this, to me, fatal flaw. A tragic flaw! A heroic flaw, maybe, but a flaw indeed.
Have you tried out Contactually? Do you have any other apps or CRM/CMS services you can recommend that are even more perfect?  Please let me know in the comments below.
Feel free to own the yacht but hire a crew if you're not yet seaworthy. If you get my drift and want to adopt the yachting lifestyle yourself but either don't have the mad sailing skills yourself, don't yet posses a world-class crew, and don't know yet where to go, then you should give me a call or reach out me by email — so I can help you pilot your vessel now, in the tranquil blue-green shallows of the Caribbean, as well as in the roughest seas and into — as well as out of — the storm.
If you'd like to chat more, call me at +1 (202) 869-3210 Ext 0001  email me, or feel free to self-schedule a 15-minute call, a 30-minute call, or a 60-minute call with me.