Podcast: Play in new window | Download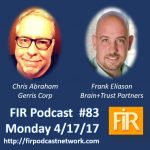 Every once in a while magic happens. Magic in the form of Shel Holtz, godfather of Digital PR and Social Media Communications, asking me to join him on his globally-popular communications podcast, For Immediate Release (FIR). Yesterday was such a day. And yesterday was especially fun because it felt like the show was a bespoke suit of clothing.  I recently wrote two articles relevant to the show, The Implications for PR if Twitter Goes Away and The Secret to Mastodon's Success is Mastering the Hyperlocal, both of which were foci of the podcast. You're welcome to listen to it right here:
I am still very bullish about Mastodon but it seems like while Mastodon might very well be an asylum, the inmates don't run the facility, they're, each and every one of us, beholden to the director of the lunatic asylum. Each instance of Mastodon is morally responsible for the sociability of the members.
If the members of an instance aren't behaving, there are quite a few ways for other instances to penalize the perceived antisocial instance. They include becoming part of an opt-in blocked instance list all the way to being physically attacked by powerful DDoS attacks. (The majority of the 345,817 early-adopters across the 932 instances being tracked are very technologically sophisticated.)
And, when it comes to Twitter dying and how it would affect PR, my thoughts have changed since being reminded that an empty Twitter doesn't mean that Twitter is empty. Recently, on Trevor Noah's The Daily Show, "Roy Wood Jr. explains how the African-American community uses Twitter to discuss social issues and finds out why that communication is unique to black culture:"
It reminded me that Twitter isn't remotely dying. We as brand managers, marketers, public relations and communications professionals, and advertisers are just not in the right Twitter — because we're not just uninvited, we're unwanted as PR and marketing pros.
The only reason this occurred to me is because I went back in time to when I was a Twitter baby, via my experience on Mastodon. I realize that just because I am alone and lonely in my apartment, doesn't mean that there aren't kicking parties and passionate, connected, people right next door. I am just not there, by choice or because I don't belong there.
And since I am in PR and marketing, I might have personally taken myself off the invite list based on my past bad behavior.
How will brands, social media marketers, and PR professionals find their way back to the fold? Can we even?
Topics in yesterday's episode, FIR #83: The Problem with Magical Thinking, include:
United Airlines' crisis drags on and on, aided by user-generated content, competitors piling on, and Saturday Night Live. Even Pepsi can't escape the United kerfuffle.
Mastodon continues to grow and continues to earn scoffs from the been-there-done-that crowd. There are things about it that could, maybe, give it legs.
Twitter's struggles haven't abated, but what would it mean to PR if it went out of business?
Burger King tried some subversive advertising last week that hacked both Google Home and Wikipedia. Some thought it was brilliant. Others not so much.
Burson-Marstellar is taking an ombudsman approach to social media. It could be a trend for other agencies to follow or it could be a marketing ploy.
In his Technology Report, Dan York adds his thought to the United and Mastodon discussions.
About yesterday's guest co-hosts:
Chris Abraham, digital strategist and technologist, is a leading expert in digital: search engine optimization (SEO), online relationship management (ORM), Internet privacy, and online public relations with a focus on blogger outreach, blogger engagement, and Internet crisis response. He operates his consultancy at Gerris Corp. A pioneer in online social networks and publishing, with a natural facility for anticipating the next big thing, Chris is an Internet analyst, web strategy consultant and adviser to the industries' leading firms. He specializes in Web 2.0 technologies, including content syndication, online collaboration, blogging, and consumer generated media.
Frank Eliason, a partner at Brain+Trust Partners, is a renowned customer experience leader who introduces disruptive and transformative strategies to revolutionize businesses. Working for Comcast, he was recognized by BusinessWeek as "the most famous customer service manager in the U.S., possibly in the world." At Citi he was recognized as one of the most innovative people in banking, not once, but twice by Bank Technology News. He drives the right behaviors at all levels by bringing focus to the customer and their story. Besides working for Comcast, Citi and Vanguard Investments, he has advised many Fortune 500 companies. Prior to joining the team at Brain+Trust, he led U.S. digital for Zeno Group, a Daniel J. Edelman company. He is the author of "@YourService" (Wiley, 2012).
Podcast: Play in new window | Download (Duration: 1:12:50 — 30.1MB) | Embed
Subscribe: iTunes | Android | Email | RSS
Connect with today's guest co-hosts at @chrisabraham and @frankeliason.
Links to the source material for this episode are on Contentle.
Special thanks to Jay Moonah for the opening and closing music.
FIR was recorded using Zencastr.
Feel free to own the yacht but hire a crew if you're not yet seaworthy. If you get my drift and want to adopt the yachting lifestyle yourself but either don't have the mad sailing skills yourself, don't yet posses a world-class crew, and don't know yet where to go, then you should give me a call or reach out me by email — so I can help you pilot your vessel now, in the tranquil blue-green shallows of the Caribbean, as well as in the roughest seas and into — as well as out of — the storm.
If you'd like to chat more, call me at +1 (202) 869-3210 Ext 0001  email me, or feel free to self-schedule a 15-minute call, a 30-minute call, or a 60-minute call with me.