While influencers really want respect and to get compensated for their time and reputation and brands want visitors, subscribers, emails, followers, friends, Likes, conversions, sales, and ROI, there is something else you might be able to add your holy of holies—your KPIs—meetups!
People Who Meet People are Lucky
I know meetups happen everywhere. Nike does them for local influencers, VIPs, and athletes at their stores (at least in NYC and Chicago) and Chrome does them at their stores for sponsored riders, VIPs, and influencers as well. Reaching out to local communities and stoking fandom in real life. Hosting events—no matter what size or scale—is a great idea. Even if you go further afield than just the home base and travel to smaller or different markets and host get-togethers there, too.
The Arlington No Agenda Meetup
I'm a super-fan of the No Agenda Show podcast hosted by the podfather and MTV VJ, Adam Curry, and his curmudgeonly friend and tech journalism godfather, John C. Dvorak. Fans of the show have our own IRC channel and even our own social network on Mastodon.
And last Sunday, 19 of us organized on our own via No Agenda Meetup space. We collected from noon through three-PM at a very nice Belgium restaurant here in Arlington, Virginia, Lyon Hall, and just spent those three hours getting to know the other people who are also super-fans. So much so that they would spend three Sunday hours with a bunch of strangers who only have a very quirky podcast—and the associated cult of personality—in common.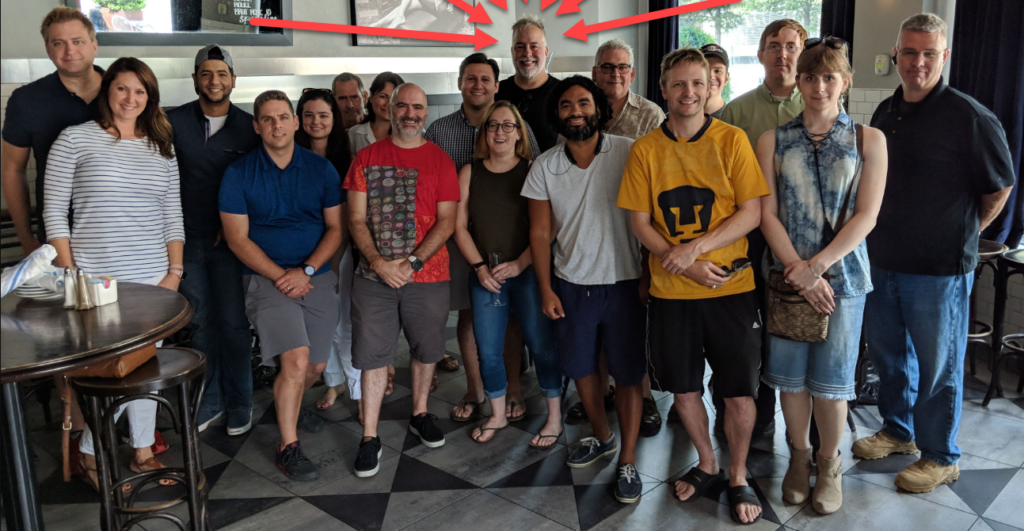 Die Cocktail party am Goethe-Institut
Back in the day, hosting parties, meetups, and get-togethers for top-local-tweeters and geographically-close bloggers was all the rage. I hosted a really lovely Washington, DC, influencers-only cocktail party for the gang at Goethe-Institut Washington. Because they're mostly Germans or from Germany, the event was beautifully-organized and there were authentic German food and a lovely array of German beverages.
Because they were European, they gave way more than they ever took, offering not only hors d'oeuvres, wine, and beer, but also the offer—to everyone who attended—of free—comped—German language lessons that each influencer was more than welcome to attend at any time. While the subtext was that part of the quid pro quo—or, the assumption, rather—was that bloggers and Twitterers were super-likely to blog and tweet about their experiences as adult students of the German language.
It was awesome and I think they still offer comped—or severely discounted—classes to this day for bonafide online influencers (I am sure they're now including Instagram, Facebook, SnapChat, WhatsApp, and maybe even Google+).
Make it Special Only for the Influencers
The sort of people who become journalists, TV personalities, and even celebrities are not the same people who are necessarily the online influencers I am talking about. When I am talking about these influencers, it could very well include your top followers on Twitter, your top or most passionate Yelper, or even the person who comments on your posts on Facebook the most: the most engaged—your community, your posse, your peeps, whether you appreciate them or not. If you can't be with the one you love, honey, love the one you're with. They're your super-fans, embrace them.
Olly Olly Oxen Free!
How do you find them? Well, when it came to Goethe, I was trying to make a community of influencers. When it came to the No Agenda Show meetup, it was about bringing a disparate diaspora of listeners together into one restaurant during one window of time. The olly olly oxen free method works equally well for both recruiting your army as well as rallying your troops.
I personally researched all the Greater Washington—DMV—influencers and reached out to all of them with a cold invite in the form of an invitation: the who, what, when, where, why, and how of attending the cocktail party; and, if the RSVP was no, then still offering the comped classes and even a personal invite to drop by any time was convenient to them—probably even a coffee, a beer, or a meal together. It was very cool. Just do your homework and be sure to be plan a big tent catch-all get-together.
Don't Be Cheap-ass
And then I didn't skimp on the event. The event needs to be better than those gallery open nights with the cheap red and white wine and cheap cheese, sausage, and crackers. That's fine and I love drinking all the Chardonnay and munching all the Summer sausage a gallery is willing to sacrifice to my hunger, but if you're going to promote your brand to a bunch of super-fans, don't come across as a super-cheap super-ass.
Remember the money you spent at X conference a couple years ago? Spoil your community like that. As if they were actual prospects, clients, and investors—because, in many ways, they are—or, one or two degrees away from them.
Don't Sleep With The Influencers
Do it, it's worth it. Take some time. Even you, the man or woman who bores their kids and who bickers endlessly with your spouse, is really cool and a total superstar to your community. Just don't sleep with them. Please. Don't.
Hire Me
Feel free to own the yacht but hire a crew if you're not yet seaworthy. If you get my drift and want to adopt the yachting lifestyle yourself but either don't have the mad sailing skills yourself, don't yet possess a world-class crew, or don't know yet where to go, then you should give me a call, reach out me by email, or even schedule a call with me— so I can help you pilot your vessel now, in the tranquil blue-green shallows of the Caribbean, as well as in the roughest seas and into—as well as out of—the storm.