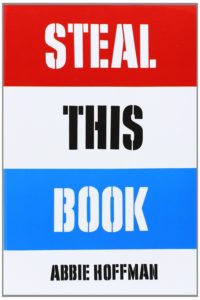 Steal This Book, written by Abbie Hoffman in the 70s, mainly focused on ways to fight the government.  Steal this Online Reputation Management process has the same goal but is mainly focused on ways to fight the first two-pages of Google Search.  While the bullet points below are a good map, scroll down to the bottom of this post and you'll have access to every online reputation management (ORM) article that Biznology has ever produced as of today.
Steal My Online Reputation Management Process
We identify welcome and unwelcome content appearing in the search results for our clients' name and business, incorporating any feedback or suggestions provided
We collect information from our clients or other publicly available sources–open source intelligence–to be used by our publications team to develop web content
We create new content, to be approved by our clients or other designated representative
We strategically publish the new content to the internet according to a personalized publication plan based on the amount, kind, and strength of unwanted content appearing online
We optimize and reinforce the network of content and websites we have created for maximum ranking and promotional power
We use our websites to push up any preexisting welcome content that our client and we have identified for promotion to promote
We build sufficient preventative link strength to protect against new unwelcome content that might potentially be posted in the future
We create and develop blogs on topics of our clients' choosing, to be updated regularly
We create and develop social media accounts, as well as content for these accounts to be released strategically over time to the accounts
We build larger, multi-page sites designed for the maximum ranking ability for our clients and for any and all of the keywords they choose to add to their campaign contract
How Does Your Butt Look in Google's Full-Length Mirror
I recommend that everyone takes an interest in how their butt looks in Google's full-length mirror. I also recommend that everyone monitors this as best they can, with Google Alerts being an essential no-brainer. And, while the commitment-phobic among us might be reticent to initiate a strong online reputation defense to reclaim their good name on the first two pages of Google search using the online reputation management strategies and tactics I go over in the below-mentioned articles if you don't like what's being said about you online and in search, healing the symptoms on your reputation-reflection using ORM and also addressing why negative things are being said about you online and seeing what you may be able to do systematically about them is mandatory.
24 Articles About Online Reputation on Biznology
Hire Me
Feel free to own the yacht but hire a crew if you're not yet seaworthy. If you get my drift and want to adopt the yachting lifestyle yourself but either don't have the mad sailing skills yourself, don't yet possess a world-class crew, or don't know yet where to go, then you should give me a call or reach out me by email — so I can help you pilot your vessel now, in the tranquil blue-green shallows of the Caribbean, as well as in the roughest seas and into — as well as out of — the storm.