When it comes to promotional products, there is one thing for sure, this marketing method and advertising tool has stood the test of time. Even in today's highly competitive digital marketing and advertising field, promotional products are still relevant and an effective means of promoting your brand and increasing sales. To help us understand how effective promotional products and branded merchandise really is, the British Promotional Merchandise Association (BPMA) often commissions surveys to illustrate how well promotional giveaways really work.
The BPMA recently commissioned a survey that polled over 1,200 business people in the United Kingdom. The goal of the survey was to evaluate what recipients thought about the free promotional products and branded gifts they have received and still have on their desks. The results not only show that just about every business person had branded merchandise on their desk or in their office, but also how well promotional products help with sales, branding, and a positive customer sentiment. Here are the survey results:
Which best describes your job title?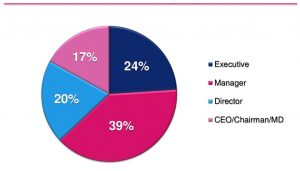 39% of respondents were managers
24% of respondents were executives
20% of respondents were directors
17% of respondents were CEO/Chairman/ MD
What promotional merchandise do you have on your desk right now?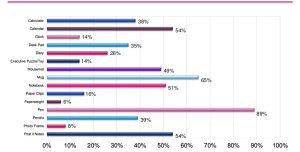 Multiple answers were allowed.
89% pen
65% mug
54% post-it notes
54% calendar
51% notebook
19% mousemat
39% pencils
38% calculator
35% desk pad
26% diary
16% paper clips
14% executive puzzle toy
14% clock
8% photo frame
6% paperweight
If you could only keep one of the items of promotional merchandise on your desk which one would it be?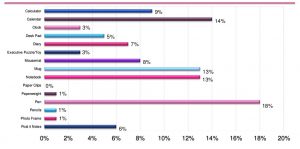 Only one answer was allowed to prove what type of promotional merchandise is most important.
18% pen
14% calendar
13% mug
13% notebook
9% calculator
8% mousemat
7% diary
6% post-it notes
5% desk pad
3% clock
3% executive puzzle toy
1% paperweight
1% pencils
1% photo frame
0% paper clips
Can you name a brand of company/organization featured on promotional products on your desk?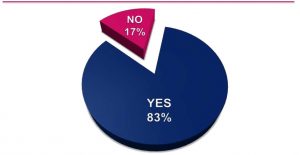 84% of survey respondents is an extremely large percentage to be able to name a brand, company, or organization on a promotional product currently on their desk.
In general, how clear is the call to action on promotional products that you receive?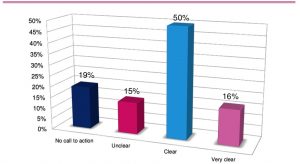 50% clear call to action
19% no call to action
16% very clear call to action
15% unclear call to action
What is your reaction when you receive a promotional product(s)?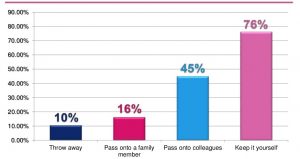 76% keep it yourself
45% pass onto colleagues
16% pass onto a family member
10% throw away
Have you purchased anything from any of the companies that have supplies you with promotional products?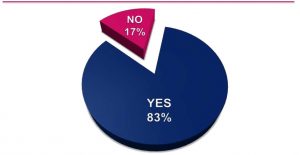 Again, a very large percentage of survey respondents said that they have purchased from the companies they have received promotional merchandise from.
How likely are you to integrate promotional products in your next campaign?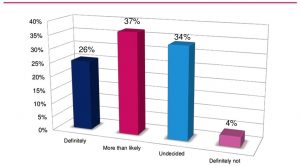 37% were more than likely to use promotional products in their next campaign.
34% were undecided about using promotional products in their next campaign.
26% were definitely going to use promotional products in their next campaign.
4% were definitely not going to use promotional products in their next campaign.
Do you think that branded promotional products increase a company's brand awareness?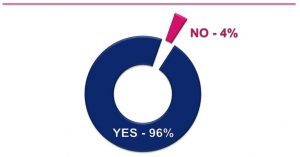 Almost all of the respondents (96%) said that they believed the promotional products help increase a company's brand awareness.
Summary and takeaways for your company
We have been dealing with promotional products for a very long time. We have seen that they can be very effective advertising tools and have worked with countless businesses that have enjoyed success with branded merchandise and giveaways. There are three keys that we try to abide by when creating promotional products for our clients.
The promotional product must represent your brand well; meaning, it should be good quality. Even though this giveaway is free and it isn't your product, it can reflect negatively on your company if it breaks or doesn't work properly.
The promotional product must be relevant to your brand. While pens, notepads, and digital gifts are among the most popular, if you can find something that matches your brand, whether it be aprons for a restaurant, or sunscreen for a dermatologist, that makes the gift more effective and memorable.
The promotional product should be useful to the recipient. Past studies of the BPMA have shown that when a branded gift is useful to the recipient, they will keep it for a very long period of time; on average up to one to three years.
These three keys of promotional products lend themselves to a greater success rate for companies issuing promotional products to their clients. If you are considering running a promotional product campaign, look to these keys and the positive results in the areas of branding, sales, and positive sentiment towards your brand.