I hadn't paid much attention to virtual reality for B2B marketing (or anything else), until the most mainstream of all mainstream media, The New York Times, gifted more than a million subscribers with Google Cardboard. That was in November 2015.
What was striking about this attention-grabbing project was there was no gimmick involved. The video I watched was tied to the biggest story of the time: the worldwide refugee crisis. It was an immersive new experience, but not an eye-popping one. It was journalism, and successful journalism at that—the library of VR reportage has grown steadily throughout this year. Editors are vying with each other for VR resources to support their stories. (You can learn more about VR at the Times in this interesting Times Insider podcast.)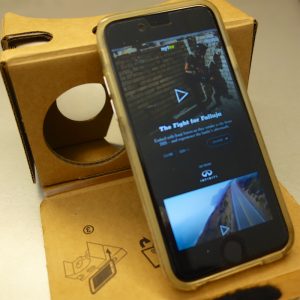 A low-tech high-tech solution
What made this VR experience feasible in the first place, of course, is that Google Cardboard was the only "technology" the Times needed to distribute. They could count on subscribers using smartphones to download the app that delivers the VR content. Google Cardboard feels a bit low-tech and not scary—a comfy entry-level VR experience that could be applicable in a marketing situation. But what kind of marketing situation would be appropriate for VR?
IT marketing videos need stories; VR—maybe not.
The small VR team at The Times continues to struggle to define the role of VR in a journalistic enterprise, but they seem to agree that VR by itself isn't very efficient for storytelling. You don't control the point of view, the commentary is intrusive, and VR takes up a lot of the reader's time. (Difficulties with fictional VR storytelling are discussed in this blog post).
A sense of place
One of the best applications for VR is to share an experience of place. In a Times story on the second battle of Fallujah, for example, reading that 70–90% of the 300,000 people who lived there fled their homes is shocking — but, as a mere fact, it's not especially memorable. The VR experience of riding through a shattered and depopulated city the size of Lexington, Kentucky is memorable beyond description. Because we interact with VR technology using the normal tools of human interaction, turning this way and that, VR seems to call forth more empathy than other media. Research indicates that VR memories are stored in different areas of the brain.
What can we do with VR in B2B marketing videos?
The technology used to shoot VR for the Times is consumer-level—basically eight GoPro cameras on a stick. There are already two cameras (front and back) on most smart phones, so it probably won't be long before we all have access to the technology needed to record 360-degree VR. Editing this footage (selecting shots multiple cameras) is said to be not much fun.
So what will B2B marketers do with VR? In my company's specialty, videos for marketing technology solutions, many value propositions involve abstractions like optimization, process automation, data management. They can be well-described with metaphors, but VR metaphors are probably not worth a viewer's time.
Customer stories are an obvious starting point, but it's also doubtful how immersively up-close and personal your prospects want to get with your customers, and vice versa.
So I'll be looking for places our clients or their customers do their work, and where the technology pays off. For example:
Network operations centers run by our clients
Hardware clients who make equipment that is easy to install in a data center
Internet of things monitored and controlled by clients
Anywhere you can offer a relevant viewer experience is a good place to start. Looks like we'd better start soon.