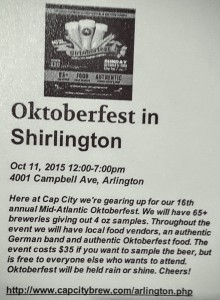 Nobody wants to key in a complicated URL. When you include a domain or a URL in your advertisement, you either need to own that keyword phrase in Google search or you need to secure something much easier than bit.ly/1LIlaan or www.capcitybrew.com/arlington.php to remember.
It's essential to make things as easy as possible for people who have lots of other things on their mind.
I have been doing this for years for my blogger outreach and influencer engagement campaigns: registering bespoke campaign-related domain names in order to make it as easy and as simple as humanly possible for everyone who has even the slightest inkling to attend your event or buy your stuff or get to know you a little bit better.
So, in order to make things as easy possible for online influencers and bloggers, we registered pursefoods.org, trysoci.com, sharesoci.com, backtoschoolsnacks.org, caffeineinsight.org, and the list goes on. Trysoci.com is much easier to remember and use than www.meetsoci.com/soci-social-media-marketing-platform.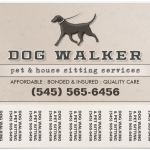 You really must know this is true. How much of a pain, even in the pre-Internet world, were phone numbers, right?
That's why tear off flyers exist! So that you can grab those terrible 7-10-digit monsters on your way so that you can jump on board the guitar lesson and math tutor train.  It's the same with domain names.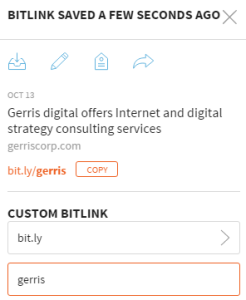 I don't know if you ever listen to talk radio but I routinely hear an announcer literally read "bee eye tee dot el why backslash one capital el capital eye lower case el aye aye en" — it's impossible.
Yes, maybe you can use a custom bitlink such as bit.ly/gerris but is that really the most professional answer?
And domains are cheap unless you go out of your way to spend a lot of money (you heard me Network Solutions, I'm watching you!).
If you're spending any more than eleven or twelve dollars per year, per annum, then you're sucker (I'm looking at you, NetSol).
So, come over to my awesome hooptie domain name reseller account chrisabraham.shopco.com and buy some domains from me.

Or head over to GoDaddy and grab some domains for only 99 cents for the time being (warning: if you plan to use your domains for email marketing, stay the hell away from GoDaddy, they're wusses when it comes to defending you, the consumer, when it comes to email marketing).
So, just now in support of that, I registered GerrisSEM.com, GerrisORM.com, GerrisSEO.com and GerrisSMM.com and forwarded the domain names to their respective pages on my Gerris Corp website.  Of course, I didn't have any of them registered before, so not even I took my own advice until now. So, thank you, readers of Biznology and the Internet, for pushing me forward towards taking me own advice.
Now it's your turn. Go out there and replace all of your impossible to share or remember URLs like www.biznology.com/?p=26466 with easy-to-remember domains. It'll even make it so much easier during sales calls. You won't need to audibly walk your guest through navigation bars and links through to the deep content you actually wanted to share in the first place. Instead, you can just give a domain that's forwarded directly to the page that you use every day. And, you don't need to be a site admin to do it either.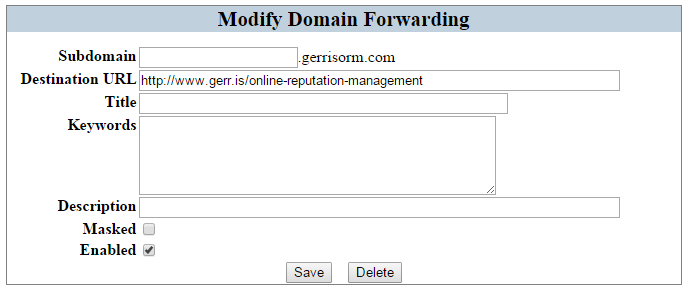 Now it's your turn! Go git 'em, tiger!