There are both a number of applications I use every day and several I have played with that I thought I would share with you today. I have paid for some of these apps and others compel me but I don't really have a use for them yet; that said, I keep on returning to them.
Circloscope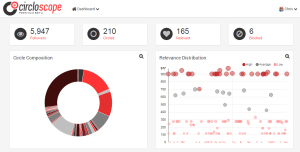 After complaining about Google+ in such articles as Google+ on Its Third Birthday and Is Google+ the Antisocial Network?, a number of Plussers came to my aid, telling me what a mess my Circles were.  Everyone recommended trying out Circloscope but at $47 for an annual license covering one Google+ personal profile & three business pages I was hesitant. When I looked around I couldn't find a test drive but there were so many people on Plus who crowed about the app, which downloads and installs as a Chrome browser extension, so I paid for it. As it turns out, however, there is a free version that does everything the premium version does, except the mass adding & removing of people — so you don't have to go in blind, though the it's the mass adding & removing of people that's the most compelling, but that's not all it does. Here's what it says it can do for you, from the website:
Quickly and easily create circles of engagers from any Google+ post – those that commented, shared, and +1'd the post.
Create circles from those that engaged with the most recent posts of any Google+ profile, and those that have been circled by others.
Easily create circles of those that have commented on your event, and those that replied Yes, No, or Maybe.
Know exactly who is following you back and who isn't, plus how active and popular they are. Unfollow by any metric you choose.
I am still trying to get a handle on it, but it seems like the only way I can undo quite a few mistakes I made when I joined three years ago and didn't spend any time at all being smart about Google+ Circles. So, instead, I had just suffered regrets. Circloscope make the promise of allowing me to simply and easily undo those mistakes.
FullContact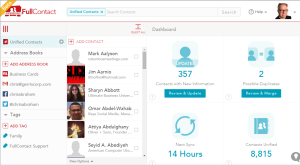 I don't know about you but my contacts have taken over my entire life. I have to share my contacts over my iPhone 5, Android Nexus 5, iPad Air, Nexus 7, and across my social networks, my Google Apps mail, and who knows what else. I have had terrible problems with duplicates (so many duplicates) and bad merges and out-of-sync issues. It easily allows you to merge dupes as well as use the power of all my social media platforms to update all of my contacts with their social media profiles, up-to-date contact info, and lovely profile photos. I pay for premium which costs either $9.99/month or $99.99/year. FullContact is worth it.
Scrubly

Before I discovered FullContact I periodically used Scrubly as a way of doing a power-wash of my contacts.  It does the same thing as FullContact does, I think, but it takes a lot longer and is a lot funnier (they keep it charming and silly while the app goes through your contacts and social media accounts) but when it's done, everything is tidy, neat, and updated. It's $19.95-per-scrub (or $39.95 for the year) and that's what I used.
Buffer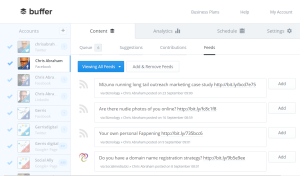 Buffer's so cool. It makes Content Marketing Automation easy. It can embed itself into your browser and all your images to easily share content inline with Reddit, Twitter, Facebook, and just about everyplace else. You can also queue up lots of content that you can then share over all of your social platforms, including Facebook, LinkedIn, Twitter, and Google+ as well as Facebook Pages, LinkedIn Company Pages, and Google+ Pages (and maybe even LinkedIn and other Groups, maybe?). And, as if that weren't enough, you can plug in all your RSS feeds and they can then get buffed into your buffer queue. I even use buffer as a way to retweet from Twitter instead of that ugly and awkward "quote tweet" — Buffer does everything better. I am a premium member — I use the Awesome plan.
That's all for now. I will share another 7 apps next week.  Please let me know what you think about my list so far.  Which ones have you used and which ones are you still using. Which ones have I missed and which apps should I really check out?  Please make those recommendations in the comments and you know what? Go git 'em, Tiger!
Feel free to email me at chris@gerr.is or call me at +1 202-351-1235
Learn more about Chris Abraham at Gerris digital.