My client's objective was to design and take advantage of new technologies and trends to develop a new approach to accurately measure media effectiveness. My client's goal was to position itself as something different in the market and transform it from a product-oriented company to a consumer oriented one, while stressing its vast market experience in a quest to attract new customers. They also wanted to maintain a dialogue with existing and past clients and to start a conversation with potential new ones. They wanted to increase social signals and make them stronger.
Peter Buckley made a significant finding regarding brand signals. He found out that what is unquestionably critical in the way brands communicate with different audiences is not only the way people observe their use, but also the way brands tell stories, and how brands are aligned with different stories in our minds. To paraphrase his words, brands need to make sure that their implicit communications are in line with their brand values and made as visible as possible, or the opportunity they offer will be wasted.


As Byron Sharp has evidenced, brands grow when they increase mental availability in the form of brand salience. "Highly distinctive brand behavior drives implicit communication, which can build brand salience by reinforcing and deepening brand associations," to quote Buckley. Examining the difference between messaging and signals reveals how the concept of signals is a much better fit with our understanding of how people make decisions, using their feelings rather than their rational mind.
My client needs to make sure the right people are seen using their products. This is becoming more important with the growing socialization of actions (through tools such as Zeebox, GetGlue or Facebook Connect). Similarly, a separate study has shown that brands with higher levels of "buzz" enjoy stronger growth. As Les Binet states: "It seems we're willing to pay much more for brands everyone's talking about." Generating social signals needs to be a key objective for Vodafone.
Establish a new non-linear mechanism in order to track the efficiency of each campaign, adjust it promptly to customers' needs and expectations, and most importantly, to convert viewers and visitors into customers.
Our strategy is going to be based on how we can provide the best possible campaign for each audience. We have to work in the direction to understand how the market is segmented, the expectations of each different group, how my client is positioned in each group, and how we can target each market segmentation in the best possible way.
The main target:
Target Audience is age 25-50 males / females
$350B in spending power
16 to 19 hours online each week
96% of them have joined Social Media
78% trust peer recommendations
Only 14% trust advertisements
Then, we start using ethnography and data from all the contact points between the brand and the customers to start better understanding this audience and then split it into smaller, easily understood groups. Certainly, age groups below 25 and over 50 remain main targets but we consider/treat the age groups 12-18 and 18-25 as special cases, along with the over 50's as more traditional hence less digital savvy.
Track interaction of the user with all media channels at one place.
Model how different factors contribute to conversion.
Model how factors interact with each other.
Allocate media spend based on cross-channel models.
Find key attributes from listening.
Chart out their presence online.
Do Market Segmentation.
Greater attention on implicit communications will: Allow a more holistic view of the client and its communications. Exploit the dominance of the unconscious in the decision-making process. Provide a scientific rationale to what many in marketing already know, but do not obtain the language to evidence. Equip us with a new practical template for building brands in the future. Give marketers and our agency a clear and indisputable reason to be present at the boardroom table. "Unintended non-verbal implicit communication is often more powerful than the carefully composed message. While all brands communicate implicitly, only some currently plan to exploit these less-obvious signals. Simply put, implicit communication is a brand's body language – the non- verbal signals a brand creates by its actions" (Buckley).

There are four stages to follow. Initiation, Integration, Intelligence, and Value Creation.
Every action my client takes – from answering the phone at the front desk to the most complex product installation – makes a statement about how that company values customers. These moments in time are when a brand comes to life, when promises made are either kept or broken. Jan Carlzon, former President of Scandinavian Airline Services called these instances "moments of truth". He defined them as "any time a customer comes into contact with any aspect of your business, however remote, the customer has an opportunity to form an impression."
Moments of truth, when repeatedly resulting in positive outcomes and experiences, lead to customer loyalty. Customer loyalty is a state of being that is defined by behaviors and experiences on BOTH sides of the relationship – vendor and customer – that lead to a state of value creation for both parties. Loyalty can't be measured by repeating business alone.
A customer may not have at present a viable alternative to a vendor, but the moment they do, they're gone. Frederick F. Reichheld has found through his research that for most industries the best measure of loyalty is whether or not customers are willing to refer a company to a colleague or peer. If they are not willing to do so, they are at best passive detractors – even if they are still purchasing goods or services. The attributes and processes of each stage of customer transformation result in a specific customer experience. Each stage results in an experience has to be designed in order to lead to the next stage, ultimately resulting in achieving value creation for my client and its consumer customers. At the end of day we want to create digital ambassadors and agents not only passive consumers.
The experience in each stage is comprised of three action states and an end state:
Emotional – what the customer should be feeling
Intellectual – what the customer should be thinking
Behavioral – what the customer should be doing (including customer behaviors the vendor wishes to change)
Culminating Status – the state of the customer at the end of a specific stage which enables the transition to the next stage
With cross channel interactions, users are reached across multiple channels and through multiple touch points. We will try to avoid cross-site duplications as conversions are generally shared across sites.
My client is reaching users prior to user response through attribution to various touch points. Then my client uses weightage to differentiate the various factors depending on the campaign's goals. It is really important to define and understand the "influence potential" of each user interaction.
In order to better understand how successful and efficient the campaign was, we have to be able to provide attribution reporting in both ways, retroactive and proactive. At the same time we need to provide customizable attribution models, and last but not least to be able to visualize attribution so that we can have a picture of days from conversion, touch points, purchase path stage.
At this point we should be poised to use Inbound Lead Generation mechanisms.
Create great offers/ Use tons of calls to action/ Optimize our landing pages/ Nurture the leads.
We have to make sure that the value of offers has to be greater than the cost through the entire run of the campaign. It is of paramount importance that we track the conversion rate 24/7.
We have to keep in mind that the traditional mode of siloed simplistic channel-focused campaign measurement is gradually losing the battle as advanced attribution tools are embraced to glean rich campaigns audience insights.
Real time campaigns are to be driven by the data output of the attribution tools. Therefore it becomes more and more important not only to chart all the touching points of the brand with consumers but also to be able to measure them and to visualize them in order to understand how people interact with the brand, respond to the campaign and how quickly they proceed to purchase or not.
Tactics, Actions and Control
In order to maximize the efficiency of our digital media campaigns and at the same time drive my client to establish itself as a customer oriented brand, we have to be able to run customizable campaigns, track them in every possible detail, define and measure the desired goals, and most importantly, rapidly adjust them to our results.
My agency has to adopt a lean process approach in order not only to disrupt the way we design the digital strategy but also to find ourselves as front line pioneers.
With lean practices applied, advertising campaigns will be executed faster, effectively tested, and continuously reiterated to efficiently optimize their advertising/market fit. Campaigns will start off as tests to see which media and messaging resonate with its customer archetype.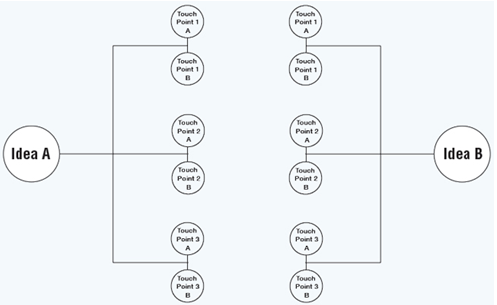 Therefore we will be able to direct more of our budget toward the media and messaging that are working, while conducting follow up tests. Having a big strategic advertising plan set, we can break it into smaller pieces so it can test various ideas at a time.
Applying this scientific approach to advertising should not detract from the creative process. The creative model will stay the same. It is the implementation that will change to better validate the creative idea.
Lean advertising will not only strengthen my agency and my client, but also will in effect reduce the marketing pollution and noise that plague our society. Without noise, our message will be even more clear and easier to be received by our audience.
We have to create a world/ ecosystem where our ads and media placement are so effectively targeted that only the potential customer would see it. My client's messages would reflect real values and bring out the best of people who align themselves with a particular product or service.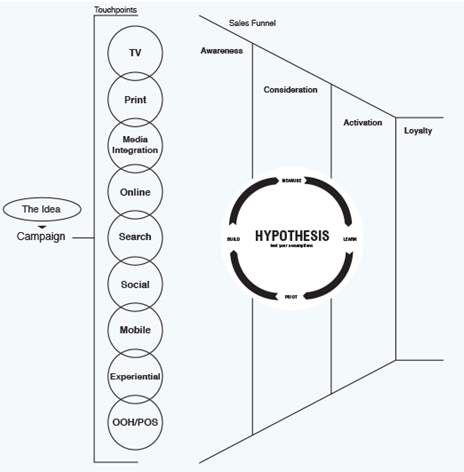 And most importantly, the FIRST platform, which is about to be launched, has to be our MVP (most valuable product).
By being Lean we would be able to apply different approaches on how we run media around this product, set up the right measurements in order to understand what went wrong or right, and be really flexible in adjusting the campaign not only to the results, but also based on "audience maps that we retain" in order to run more customizable campaigns.