If you've been online in the last few weeks, you probably heard that BlackBerry made a pretty silly mistake on Twitter. Check out the small detail in the lower righthand corner of the screencap below: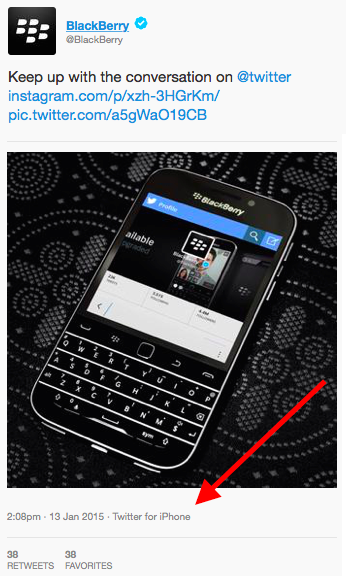 That's right, the phone manufacturer's Tweet was sent via iPhone. As in, an Apple product instead of a BlackBerry smartphone. Through a lack of attention to detail, it became apparent that the company's social media manager was using their competitors product. How ironic is it that BlackBerry's marketing was performed with the help of a rival mobile device?
It's no secret that BlackBerry's brand image has struggled over the past several years. The phone was once popular among high-powered executives, and now it's sales lag behind iPhones, Androids, and the Windows phone in terms of market share. While it may seem like a simple mistake (and we're sure it was!), there's some valuable lessons to be learned if you're using social media marketing for your SMB.
Display Posting Discipline
Brand integrity is really important. Even if feel like no one is watching, you've got to act like you have the whole world as your audience. Your employees are your ambassadors; and their behavior matters immensely.
If your brand's integrity is important for you, you might consider revising your 'rules of engagement' for social media. We recommend establishing policies, including a detailed list of rules and posting checklists. There shouldn't be any question about what's appropriate when it comes to posts and customer engagement. There's no question these new policies will slow down your team slightly, but it's undoubtedly worth it!
Be Wary of the Streisand Effect
Once BlackBerry's unfortunate Tweet was discovered and began getting some news coverage, their team deleted the post entirely. Not only was this reaction too late, the deletion managed to compound many social media expert's dismay at their misstep.
The truth is, if you're trying to hide a mistake, you might just make it much worse. Mystery only acts to increase intrigue and interest! This is a well-observed social phenomenon known as the Streisand effect.
Own Your Mistakes Immediately – and Don't Make Them Twice!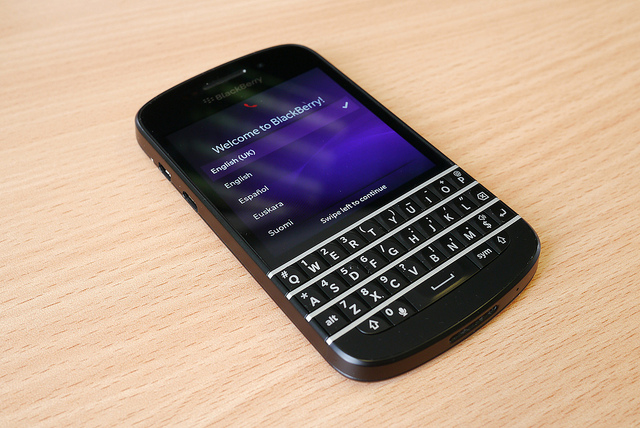 If your business made a mistake, it's better to admit it and actively engage with your audience or anyone else who's ready to set off a smear campaign against your brand. Taking part in the process might help you alleviate some of the damage and maybe even come out with an improved brand image.
Unfortunately, in BlackBerry's case, their first reaction wasn't to apologize. The ensuing scandal was heightened further by the fact this was the second time this had occurred! Mashable reports that in 2013, brand ambassador Alicia Keys also sent a Tweet on behalf of BlackBerry from an iPhone.
Does Any Publicity = Good Publicity? Not Necessarily
If you checked out the original news piece at Mashable.com, you probably noticed the BlackBerry advertisement at the bottom of the article. Any publicity provides an opportunity to showcase your product and, if you're doing it right, then you have a good chance of actually coming out as a winner in this situation. We'd be lying if we said there wasn't some benefit to BlackBerry through their recent social media gaffe. At an absolute minimum, it definitely got a lot of people (including hardcore iPhone users) talking about BlackBerry on social media with their peers.
That said, I'm a firm believer that there's a lot better ways to gain attention online than through embarrassing social media scandals. You've got a lot better chance of winning hearts, minds, and customers via viral content marketing.
How can you avoid making BlackBerry's mistake online? The answer isn't simple. Engaged employees are more likely to become brand ambassadors. By employing enthusiastic people who believe in your product, creating powerful social media policies, and owning your mistakes immediately, you're sure to win.
What are your thoughts on the BlackBerry scandal? Share your opinion and analysis in the comments!