When I was in Stockholm last month, I visited a very cool museum dedicated to the Vasa ship, a huge Swedish warship launched in the 1620s. The ship was on display for all to see, with lots of explanations about the way it was built, what life was like back then, and many other interesting facts. But this is not your standard museum of history. Because the story of the Vasa has huge implications on the way we operate in business today, even the way we launch Web sites.
You see, the Vasa had a rather short life. It was launched to great fanfare with a beautiful ceremony and sank 20 minutes later. Yeah, that was no typo.
So, the question is, how could this colossal failure have happened?
There was an investigation that followed, but no one was ever punished. You can read the whole story from the Wikipedia link above, but I have my own theory on why no one was punished. The king knew that it was his fault.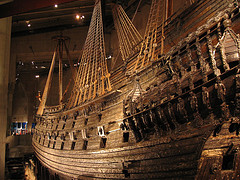 Sweden was in the midst of a brutal war and they were doing anything they could to get the Vasa and other warships built and launched  as rapidly as possible. The Vasa had a different design that hadn't been tested and when it was run through some stabilization tests before launch, the results weren't very good, but they were ignored because the king was adamant that the ship be sent into battle NOW.
Instead, it went to the bottom of the Stockholm harbor as rapidly as possible.
So, what are the lessons of the Vasa ship when it comes to our Web sites (or any digital marketing)?
It is OK to experiment, but keep them small. Don't "take a shot" with a complete Web redesign without testing.
You need a culture that listens when people say "stop." If people are afraid to call a showstopper or those calls are ignored by executives, disasters might occur.
Don't bet your results on a big change. Instead of a "Hail Mary" pass to save your business results, you are better off doing dozens of small changes that can each be individually undone, rather than one sweeping change from which there is no retreat.
If your idea of improving your Web site is to wait for the next redesign, you might find that your site sinks into the harbor. Instead, aim for small improvements each day that are low-risk and easy to undo. That's how you Do It Wrong Quickly. Otherwise, you are just doing it wrong.