It's the end of March Madness. No, I'm not talking about college basketball. I'm talking about the third month of each year when companies trip over themselves to prove how much they love and celebrate women with advertising campaigns, social media posts, and speaking events purportedly intended to show their true and undying commitment to gender equality.
Except, as we all know, it's often not true. Women still don't make up 50% of boards, nor 50% of executive leadership, or even 50% of middle managers. Although, we are (and have been since 1985) more than 50% of college graduates and are more than 50% of the college educated labor pool in spite of the "Shecession".
And equal pay for equal work? Well…59 years ago, the Equal Pay Act was passed. Yet, today, overall, women make 73 cents for every dollar a man makes; Black women make 58 cents and Latinas make 49 cents and so on.
That's not new news.
What is new is that companies are finally being held accountable and that just may drive the commitment part.
On International Women's Day the Gender Pay Gap Bot, which has more than 250k followers, tracked the gender pay gap for UK companies—and US companies doing work in the UK—that tweeted in celebration of International Women's Day. Hundreds of companies were outed for their performative marketing and lack of pay equity. Many companies panicked and removed their "Go Women Go" tweets, but the deleted tweets were captured in a new Twitter feed that had nearly 28k likes and more than 10K retweets.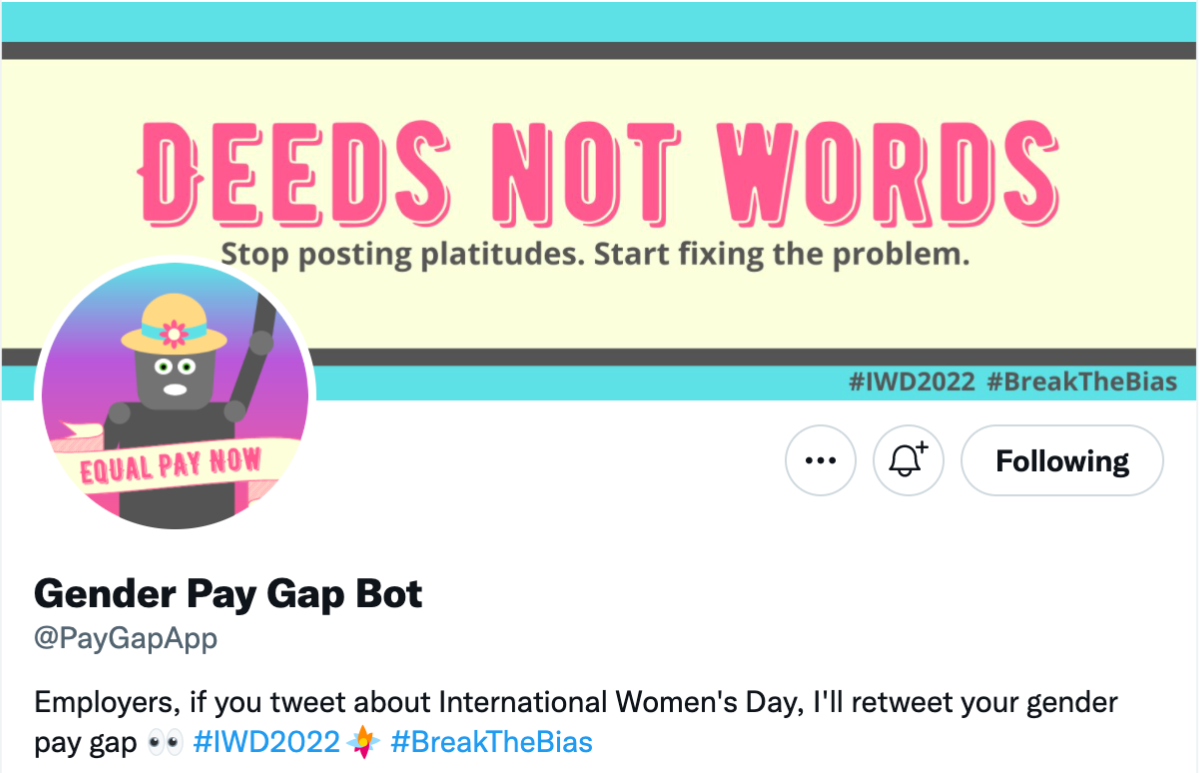 This kind of public outing sends shivers down the spines of many leaders. And it is the reason many refuse to go public with their human capital data. Whether it's employee demographics or hiring, retention, and promotion statistics or truth around pay equity, companies just don't want to share.
But, transparency is the trend and accountability is the result. 
Across Europe, many countries require companies doing business within their borders to publicly report their gender pay statistics. Even in the United States, it's already true that companies with more than 100 employees are required to report pay data by gender, race, and ethnicity to the Equal Employment Opportunity Commission. But the data is not publicly available so states like California, New York, Colorado, Maryland and a number of others have enacted pay equity reporting legislation that forces transparency.

It's not just governments that are shining a light on this issue, and it's not just pay equity that is being forced into the light. Shareholders are stepping in where the government has not. The rise of ESG (environmental, social, and governance) investing has put increased attention on
human capital data transparency. Why? Because investors are finally linking inclusive cultures to better business outcomes. State Street Global Advisors CEO, Cyrus Taraporevala, said it best during a recent interview, "The specific tactics may vary, but investing in the workforce – which is a lot more than just compensation, it's about helping people think about their careers, it's about advancing their careers, it's about mobility, it's about the culture of the organization to attract, retain, and motivate a great workforce – that's always been a huge competitive advantage for some companies."
At PrismWork, we know that in today's new world of work, culture is THE competitive advantage. We work with companies who are committed to creating highly productive, highly profitable, and highly inclusive cultures. We help our clients understand that embedding inclusion into every aspect of the employee experience is essential to creating a winning culture.
For us, it starts with data. We assess where our clients are on the continuum of 21st century readiness to gain insight into where their culture is strong and where it needs help. We provide them with a customized inclusive culture roadmap and then we work with them to bring it to life.
How? Here are a few examples of the work we are doing:
Revamping recruiting and onboarding
Designing and upleveling ERG strategy and programming
Embedding inclusion into performance reviews and rewards/recognition programs
Developing and implementing an inclusive data governance strategy including developing a diversity scorecard for both internal and, as appropriate, external transparency
Designing and delivering customized leader learning labs
And, when they have done the hard work of evolving their cultures to more inclusive, we partner with our clients to help them tell their story both internally to their employees, and externally to potential clients and customers. 
When a company has laid the foundation for a truly winning culture, their messaging isn't performative, it's a reflection of the lived reality of the employees based on the strategic intentions of its leaders. Every company is a work in progress and no one company has it 100% right, but the effort and intention coupled with measurable results means the risk of being called out is dramatically reduced. As I told one CEO client recently, "If you do the work and aren't telling the world, you're missing out on a key opportunity to set yourself apart."
Which brings us back to transparency. Customers, employees, governments, and investors are now seeing the vast difference between what companies say and what companies do. Hiding data and refusing to be transparent is not an option anymore. Nor is claiming you're committed to diversity, equity, and inclusion when you aren't.
As boxer Joe Lewis famously said, "You can run, but you cannot hide."
Lead On!
This article was originally published here.