Last week, a post from social media management platform Sprout Social made me stop dead in my scrolling tracks. The post promoted new research that showed executives expect an increase in their companies' use of social media data, and – much more notably – in the number of departments throughout the company leveraging social media data.
Let me just say, it's about time. Companies have been under-leveraging or flat-out ignoring the potential of social media data for years. I still can't believe how many companies don't even collect their social media data in any sort of meaningful or structured way. It is time for companies to stop viewing social media data as something that matters just to the social media team. In fact, they shouldn't view it as social media data at all. It's just data – and it's very valuable data at that.
While many companies have been able to get away with this until now, I believe we are rapidly approaching a big and meaningful fork in the digital road. Companies will soon be forcibly shoved into one of two categories: those that have taken the transition to digital and social media seriously and those that have not. Those that have not will soon find themselves woefully behind and scrambling to catch up.
COVID-19 and the global shutdown last year both accelerated us toward this big fork in the road and served as a bit of a test run. Companies that already had robust social media operations were able to bulk up staffing quickly and shift more of their customer service, communication and stakeholder management to digital/social. Those with no infrastructure struggled and largely failed. You know that saying about not repeating the same mistake twice?
This part of the Sprout Social report really caught my attention. While all the categories show a pretty meaningful jump, look at the increases in "Gain business intelligence," "Inform product development" and "Analyze trends." This is a clear indication that companies are starting to really catch on. Social media data can do so much more for you than monitor brand mentions and address disgruntled customers.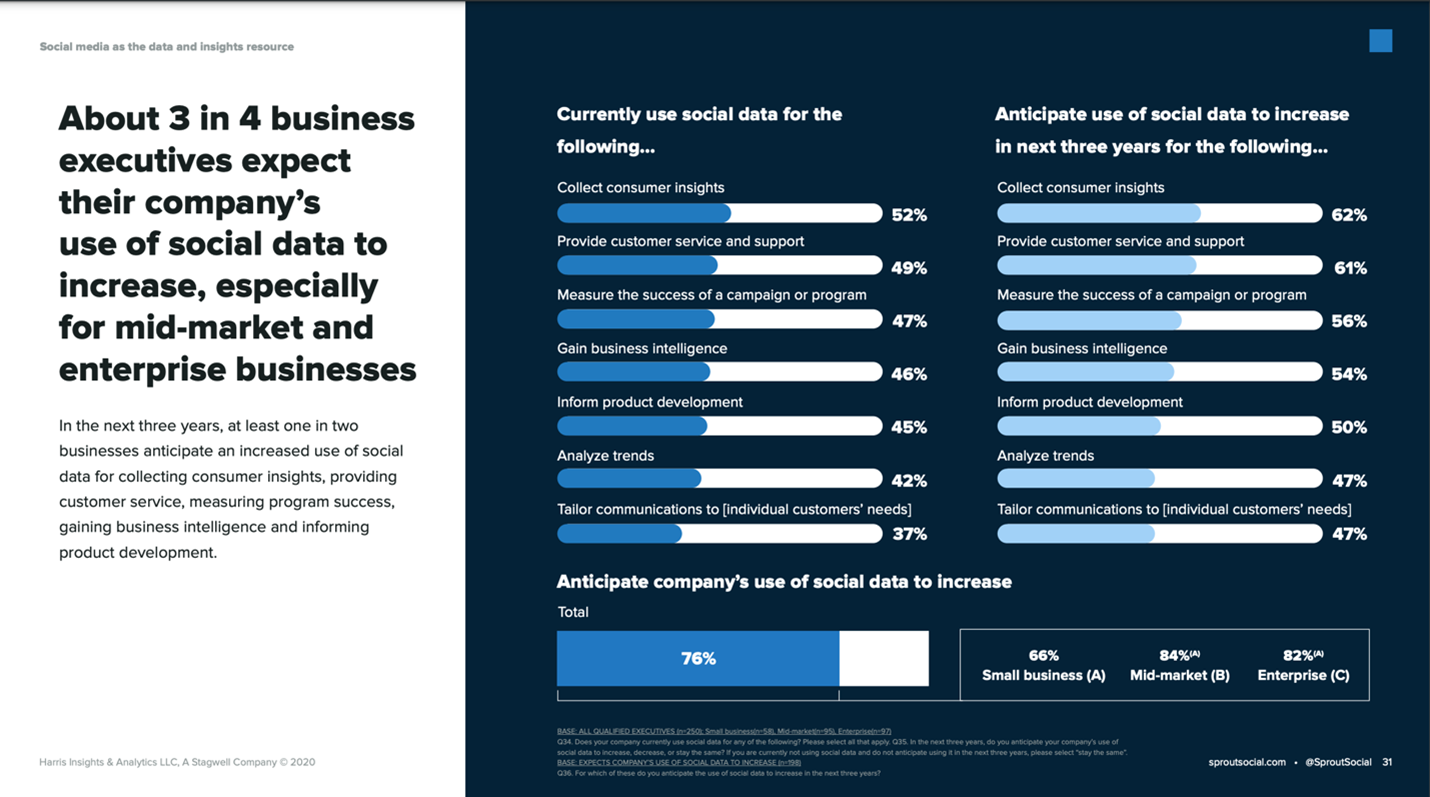 It's also important to note that part of this shift means understanding that social media insights are probably more timely and more relevant than other, more traditional forms of data-based insights. Traditional market research is just too slow, and the world is moving faster than ever. The companies surveyed seem to have already acknowledged this trend and changed their behavior (see chart below). Have you?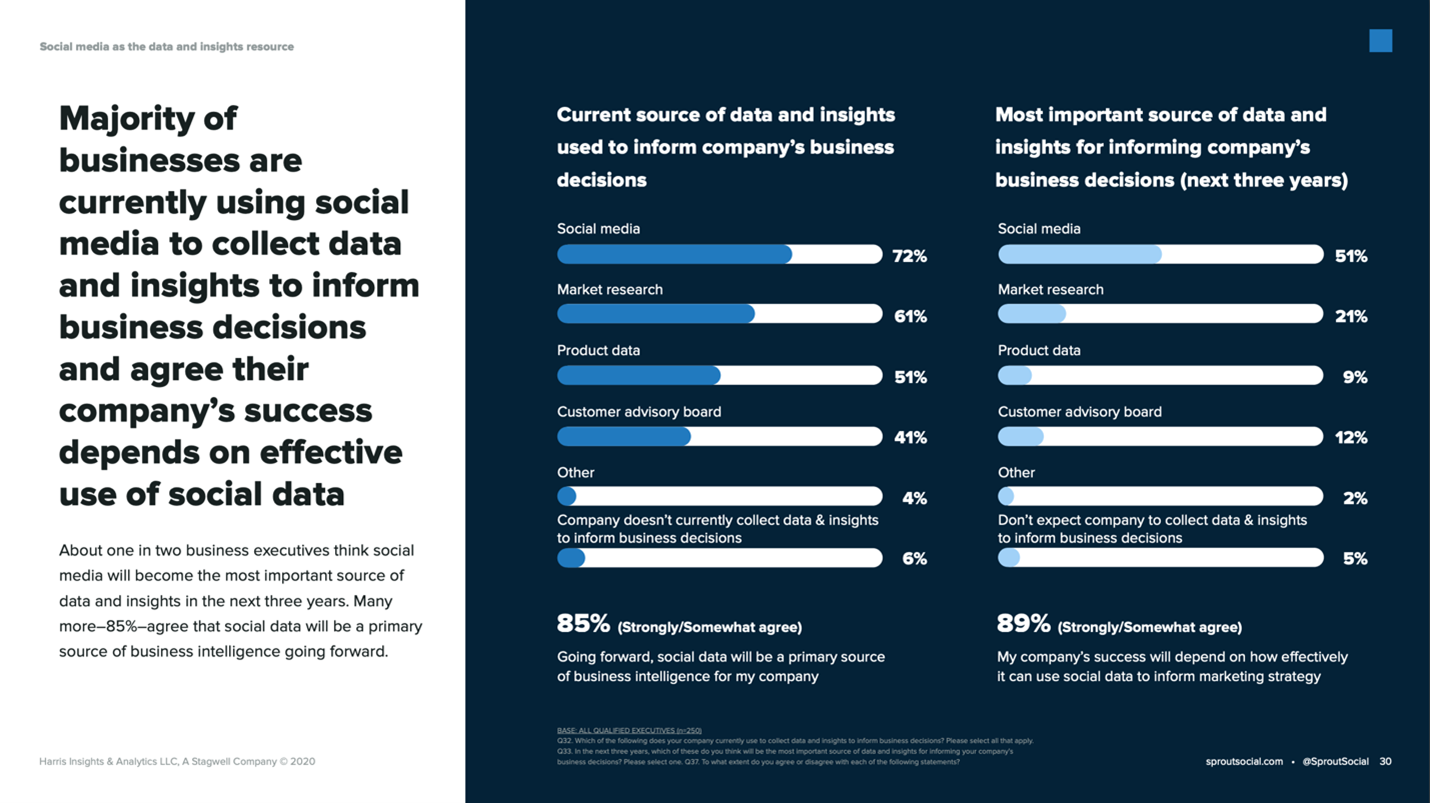 If you're still having trouble understanding how this data can be used, here are some examples.
Communications: Obviously, social media is a great way to get a message out fast in a crisis, share your general content, etc. Metrics here can help you understand what works, what doesn't and where to invest your resources. Most companies have at least gotten this far.
Brand: Your brand team is all about the reputation of your company, so regular reporting on your social media mentions, sentiment and topics related to your company can inform their analysis of the brand.
Security & Facilities: Real-time monitoring of your social media mentions can keep your people and facilities safe. If a plant catches on fire, your social team will see it on Twitter long before a reporter calls. By tracking these over time you can identify facilities with chronic problems, trends in the types of issues that surface, etc.
Infosec & Cybersecurity: With ransomware in the news, you'd better believe that online data can help you identify digital threats and keep your company and its systems safe. Again, tracking these events over time can help you identify trends and key players, especially if you also monitor the dark web.
R&D: Social media is the world's largest unfiltered focus group – and it's real-time feedback. Companies that learn to mine this data can use it to inform product development, package design, wording choices, etc. For instance, I once analyzed all mentions of a topic for a year – more than a million mentions. The business wanted to know whether consumers talked more about a topic using term X or term Y. We were able to provide guidance about how to position the product to align with the way consumers were talking.
QA: You can also mine all those mentions to see if there are patterns in the things people are complaining about. If you can identify chronic issues or complaints, you can address or fix them, which may have a real impact on returns/damaged product and the bottom line.
HR: Brand mentions can also be very valuable for your HR team when trying to evaluate your company's reputation with current or potential employees, as well as spotting any issues that may be stopping people from applying.
If you are not yet convinced that you should invest in leveraging social media data, consider this: consumers expect it. It's no longer a nice to have. So ask yourself – has your company invested enough in social media? Do you have dedicated data analysts who work with this data the same way you have data analysts in HR, Finance and other functions?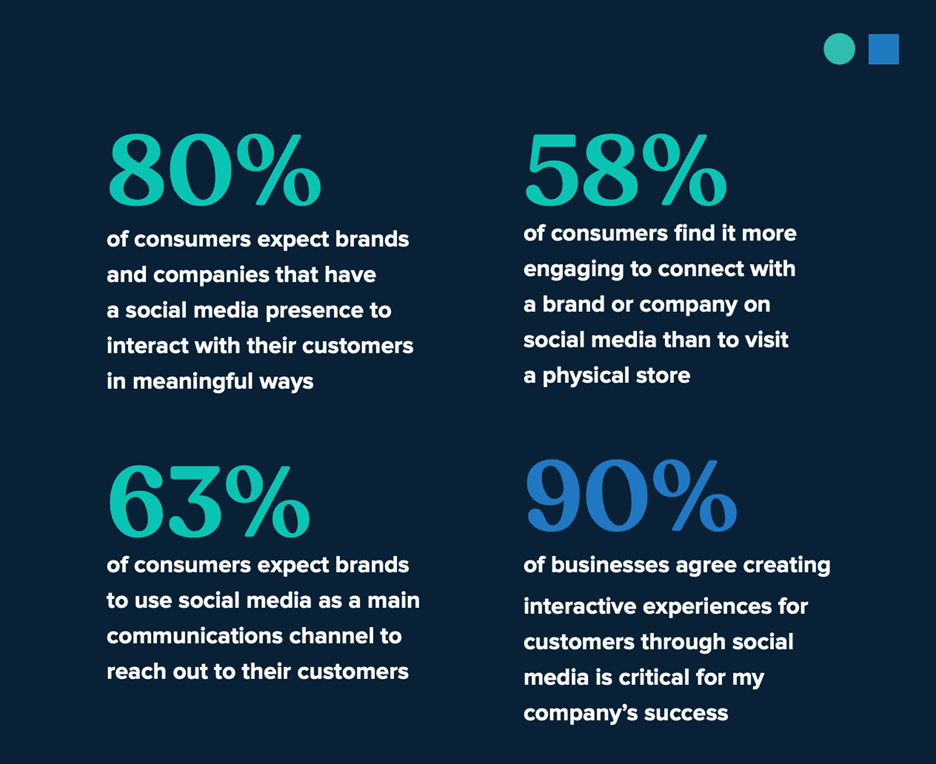 If your company still has two people on the social media team or is still debating about whether it should invest any money in paid social media, I have bad news: you are on the wrong side of the fork in the road. But now is the time to fix that. Given that this is such a specialized field, there is a limited amount of talent out there with the right skills and knowledge to do this type of work. The talent crunch has already started, so you want to build a team before demand goes through the roof. Don't wait, or you will be left behind.
Note: Screenshots used with permission from Sprout Social. JEM, Biznology, and our contributor Sue Serna have not been compensated in any way to write this article or to promote Sprout Social. If you are interested in downloading the full report, you can find it here.