A client of ours recently mentioned that their inside sales team would be thrilled to have a new video to share every week — but of course "We don't have the budget for that." Actually, if they — and you — have a video budget at all, you probably do have the budget to produce the right videos for inside sales.
What kind of videos does inside sales really need?
In an article titled "Inside Sales vs. Outside Sales," Gabe Larsen of InsideSales.com asserts that there's no versus about it: "It's all sales." InsideSales.com has data to back up this claim, including data on the increasing time spent selling remotely through social media, email, CRM, etc.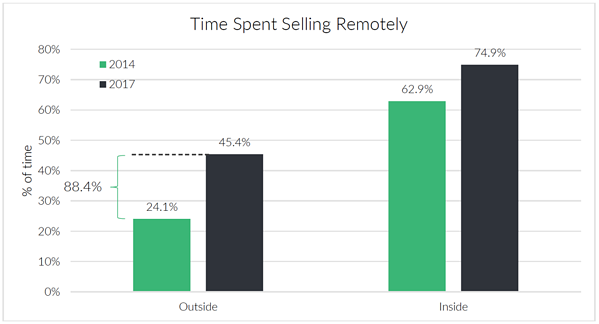 While there is apparently no factual basis to support the assertion that a picture is worth a thousand words (or to AI pioneer John McCarthy's saying that 1,001 words are worth more than a picture), there's no reason to doubt the universal experience that visuals — including video — can speed communication and improve understanding. But what kind of video is needed in these combined, and often protracted, remote selling efforts?

The answer is videos that provide value by educating the customer and providing insight and perspective. The conversation needs to go beyond marketing messages and product information. An interesting finding in the Miller Heiman Group's latest Sales Performance Study is that the companies who say they're good at providing clients with insights and perspective win more sales.
Video screen capture and personalization
When I asked sales maven Andy Paul about the use of video in protracted sales processes, he replied, "Currently, I don't see much being done in mid-to-late funnel video (other than Zoom for calls and CloudApp and similar apps for video and screen capture email.)"
That parenthetical "apps for video and screen capture email" gave me pause. First of all, not everyone uses this kind of video. Some companies have never given it a thought. Secondly, screen capture apps like CloudApp represent a cheap, easy and highly usable solution to video personalization when you need to show instead of tell, and when you just need to put across your message in an engaging way.
Vidyard and Gabe Larsen have collaborated on an eBook, How to Use Video to Boost Your Sales Pipeline. It's full of practical suggestions on how to get the most from simple personalization. For example, while It's well known that mentioning "video" in the subject line of an email increases open rates, this guide tells you how to make a video thumbnail for the email body that gets your contact to click. I recommend it.