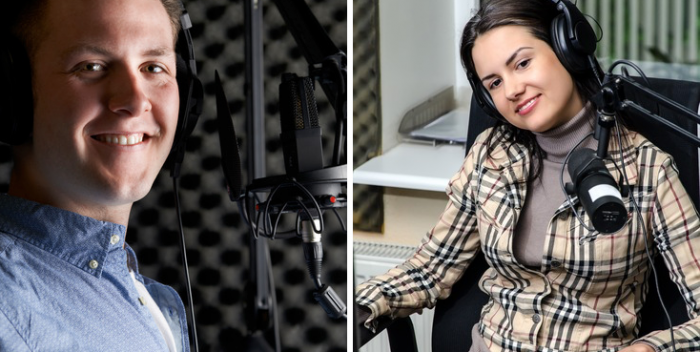 Is there any reason to prefer a male or female explainer video narrator for tech-oriented videos? My answer has always been "not really." However, Ben Lebay, a researcher at ConversionXL.com, has published a nice study of the perceived "trustworthiness" of male and female narrators, professional and non-professional. It's called Which Type of Voice Actor Should You Use for Your Explainer Video?
Women narrators more "trustworthy"
In the study,  women's voices were found to be more trustworthy, with the professional having a slight edge. It should be noted, that the "professionals" were from Fiverr, so the level of professionalism can be debated (real professional voiceover talent gets upwards of $300 for a two-minute video).  We also don't know how much direction was given to the narrators—that's important. It usually takes me about 30 minutes to get the multiple readings needed to assemble a two-minute audio narration.
Opposites attract
A 2006 UNC study of "speaker persuasiveness" (Zanbaka, et. al.) found that "male participants were more persuaded when the speaker was female than when the speaker was male, whereas female participants were more persuaded when the speaker was male than when the speaker was female."
This makes sense, and is worth considering if your customers are mostly men or mostly women. It may also be true that a particular product or solution might seem more appropriate for a male or female voice.
One video, two narrations
Here is an excerpt from the same 2-Minute Explainer  video recorded by two first-rate professional narrators, one male, one female. Which do think makes the better argument for the technology solution being explained?
---

Like this post?
Sign up for our emails here.
---

A writer with a background in public broadcasting and corporate marketing communications, Bruce McKenzie pioneered the "2-Minute Explainer®" brand video for technology businesses in 2004. Customers have included numerous enterprise technology companies (Cisco, IBM, BMC, Brocade/Broadcom, Software AG, CA Technologies, CompuCom) as well as B2B startups. Rebranded "Technology Business Video" in 2017, the company today produces a variety of "tactical" videos to reach buying team members throughout the sales cycle. We take everything marketers want to say and transform it into short videos that communicate stuff buyers want to know. It's basically what good writers do, made visual. Visit www.techbizvideo.com to learn more or set up a chat about tactical videos with the Technology Business Video professionals.