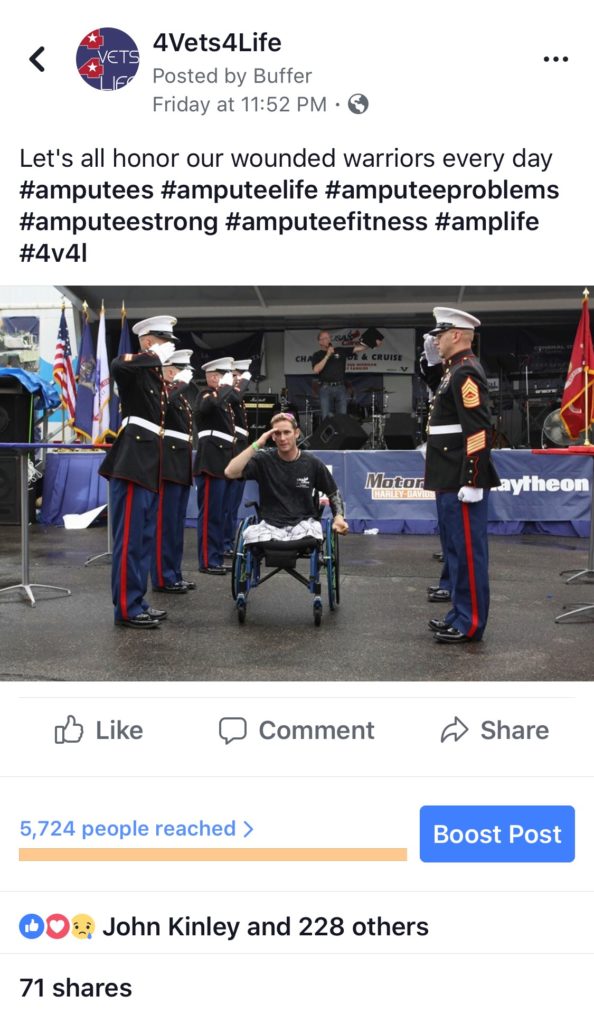 I'm in the middle of launching a new online product so I am in the middle of thinking about social media frequency.
I'm Only Talking About Sharing News
This isn't an article about audience-engagement, per se. If you post good stuff, like the one to the right that we had great success with for our 4Vets4Life campaign on Facebook.  Outside of Instagram, which is carefully written by hand by Dan Krueger, most of our stuff is shared via Buffer. However, because Buffer panders beautifully to Twitter and Facebook, etc, they are good at prompting me (and you) toward best practices. For example, cookie-cutter copies are frowned upon. Diversity in copy and content is preferred–though if you wait a couple weeks to re-seed, you should be OK.
Don't Just Call In Your Social Media
You can totally post the same news and updates across all your social media platforms—fer sure—you just need to make sure you dress it up appropriately for each venue.
Different Platforms Requires Different Tones
Twitter is a khakis-and-blue-button-down sort of place.

You might not think so, but it is business casual, especially if you're representing your own company, organization, or are using Twitter as a method of marketing.
Hashtag it up but don't stuff–this isn't Insta
If you can, always @mention people who're involved

Facebook might require you to add a tie and a blue blazer.

In many ways, Facebook Pages is your Shadow Site.
Facebook is Business Professional, a step above Twitter.

It is a more conservative type of dress, while still allowing colors.

Instagram can go either bikini and baby oil or fancy dress

Just be beautiful: what do you look better in?
Either Business Formal or Bikini Casual

It really depends on which flatters you most

Do you look better next to a candy-colored Lambo or in Yoga Pants?

If you don't know, ask someone!

Dan Krueger puts it best: Instagram is a curated gallery. Each image needs to be unique and carefully integrated into the larger corpus.

Since people can see a "light table" view of a lot of images, this experience needs to be appealing and cohesive (see our 4Vets4Life Instagram profile page to the right)
3X-a-Day, 2X-a-Month on Twitter
While Dan Krueger may believe that their new algorithm turns Twitter into Facebook when it comes to posting repetition and frequency; historically, Twitter is hit or miss. Even with the new algo, the stickiness of a post–the posts you missed–is always related to popularity, loves, retweets, and the general engagement, specifically, the popularity of the user profile.
If you're new in the field, your posting is hit or miss. So, make sure you cover all your bases and all your time zones and then, in a couple weeks, try again (but only with the evergreen tweets–content that's always relevant). Neither Twitter nor Buffer will allow you to share the exact same tweets multiple times, but all you need to do it change the tweet by one character–or even one space–and it's considered a different Tweet, according to Twitter.
I retweet the same evergreen content every couple weeks. It works fine. Good content is good content, though I always try to add some new stuff in as well. In terms of volume, start with 5-7 posts per day and then monitor your results. Try going up to 9-10 for a couple weeks and measure what the impact is on your results.
1X-a-Day, 2X-a-Month of Facebook
Treat Facebook like a blog–sort of. After a couple weeks, you can reblog good evergreen content. With real blogs, you need to at least wait between 12-18 months between rebloggings; however, never post each piece of content to your Facebook page more than once-a-day–and also try to keep the general volume of content you share down to three-five times per day  if you have more than 10,000 followers; however, if you have fewer, posting once-twice per day is a good rule of thumb to follow.
Only 1X on Instagram (Make it Purty)
While Twitter is a river and Facebook is a blog, Instagram–as I've said before–is a gallery. Treat each Instagram post with the heart and eye of an artist and not just that of a war photographer. Just getting the shot isn't enough, you need to consider the entire "alumn"–the entire "show." Consider each hashtag and write a proper post. Your success will begin with your image, graphic, or photo, but once you hook 'em, you need to convert them.
Unlike Facebook or Twitter, Instagram is very unfriendly towards hyperlinks. The only hyperlink one is allowed is associated with the actual profile/account. So, if you're going to use an inline URL, it won't be clickable, so you'll either need to activate the post using Instagram's advertising tools; or, you need to make sure the URL is simple and easy enough to remember (because select, copy, and paste isn't always possible, especially via mobile).
So, if you can come up with an easy-to-remember domain name for the campaign in lieu of your more complicated Abraham.su/heres/theurl/tothepage–nobody can remember that. If you don't have the mad skills to alias a domain such as AbrahamPage.com you can always create a Bitly custom bitly alias that looks more like this: bit.ly/AbrahamPage.
So Long and Thanks for All the Fish
This is the last Tuesday post for a while. I am going to take a break. I will surely be submitting content to Biznology as the Muse inspires but things are getting busy and I will need to focus on other things for a while. I have been writing religiously for Biznology Blog since January 2011–well over 7 years! It's time to take a break. I've really enjoyed sharing all my fish with you, though thank you for all the fish! This has been so much fun and has driven me hard to come up with 373 blog posts, including this one!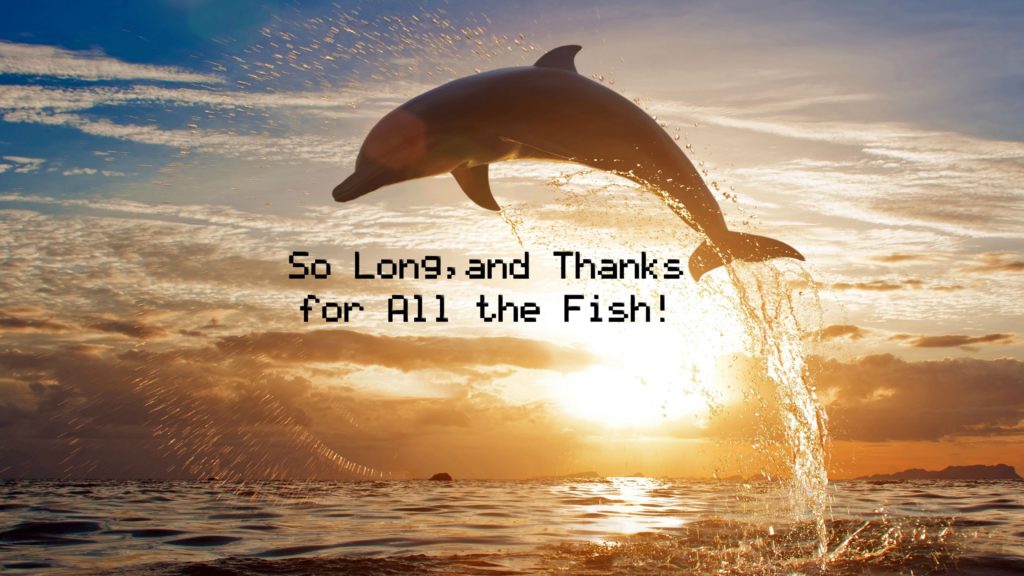 Hire Me
Feel free to own the yacht but hire a crew if you're not yet seaworthy. If you get my drift and want to adopt the yachting lifestyle yourself but either don't have the mad sailing skills yourself, don't yet possess a world-class crew, or don't know yet where to go, then you should give me a call, reach out me by email, or even schedule a call with me— so I can help you pilot your vessel now, in the tranquil blue-green shallows of the Caribbean, as well as in the roughest seas and into—as well as out of—the storm.