Promotional Products Association International (PPAI) is an annual expo that highlights and showcases the latest in promotional products. This year, it took place in Las Vegas and there were 1,300 exhibitors filling up over 3,000 booths showing off hundreds of thousands of different promotional products. There were 4,500 companies pre-registered to attend. In addition to the exhibits, the expo features education sessions. Today, we are taking a look at the trends in promotional products that we saw at the show.
Product safety
The topic of product safety is coming to the forefront, not just with big corporations, but with every type of company interested in putting their name on a promotional product. A key to success with promotional products is that they represent your company well. That means if the promotional product is faulty or falls apart, it will reflect negatively on your brand even if you didn't make the actual promotional product. Quality control is something that is becoming recognized as more important throughout the entire promotional products manufacturing industry.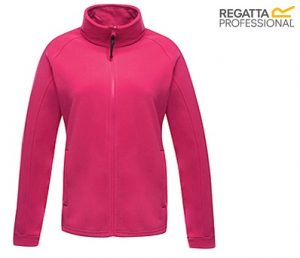 Comfort comes first
Clothing has always been a big category for promotional products, but now improvements in fabrics have brought the idea of comfort to light. If you want a customer to wear your branded clothing merchandise, making it comfortable is a great way to bridge any barriers that might have stood in the way. For many companies, branded uniform shirts, hats, or aprons are part of the expected attire for employees. Branded comfortable shoes are also new items on the market this year. Making them comfortable will help improve employee satisfaction and possibly prevent them from taking it off immediately after work helping some transference and spreading the word about your brand.
Electronics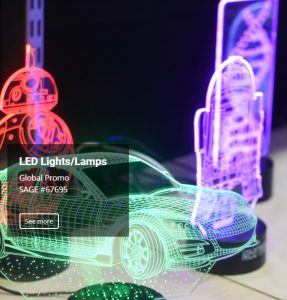 Many of the products that are trending in the electronics world often have counterparts in the promotional product world. The trends at this year's PPAI Expo were no exception. Some of the most popular electronics promotional products we saw were LED lights.
Appealing to millennials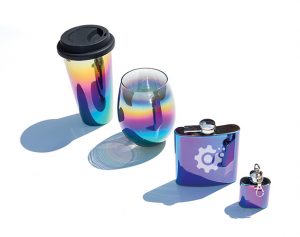 Some products appeal more to millennials than others. Having a large selection available for companies who target millennials is a great selling point for you.
Wearables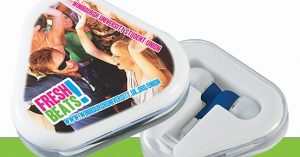 Wearables are increasing in popularity, so are promotional product wearables. Great examples of ways to break into the wearables market with branded merchandise are through earbuds, fitness bands, LED event badges, and other new technologies also are expanding the products in this market to include a wide array of things you might have never even imagined.
Wireless gadgets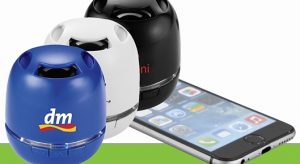 Wireless gadgets are leading the path to popularity when it comes to electronics and other types of gadgets. Wireless speakers are one of the most popular among them all.
Experiences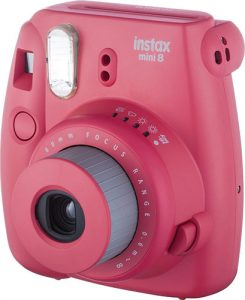 Products that deliver an experience to the user are also one of the biggest trends we saw emerging this year. As tech becomes more affordable, companies are able to bring in some popular tech devices that provide experiences like this that make an impact and still remain on budget. Some of the most popular new promotional products in this category include the Instax Mini Camera that allows you to print mini photos instantly and the virtual reality glasses.
Reinventing the standards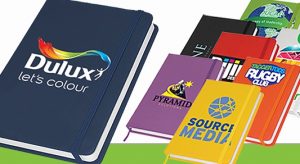 One of the trends is reinventing the old standbys of the promotional product industry. Notebooks are one of the oldest and most popular promotional products. Another great example is with pens: new pens that now have the stylus on the end are making pens popular again and multi-functional. When promotional products are useful, especially with multiple uses, they are more successful because they are kept for longer and valued by the recipients.
Games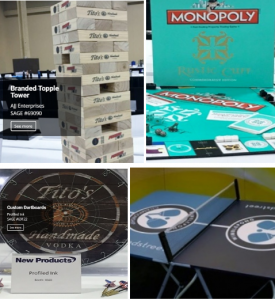 There are different games that you can brand and we see this segment of the industry growing. The examples we have here are a topple tower, branded Monopoly game, custom dartboards, and a promo pong game great for school campuses, game rooms, or bars.
Practical daily-use promotional products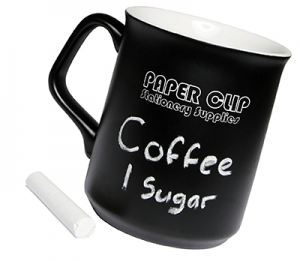 Just as we see a trend with reinventing the standards, we also see a renewed popularity in the original popular category of daily-use products such as drink wear. These chalk mugs give a modern and fun twist to daily use items like mugs. Having fun with promotional products add more interest and demand to them.