Business video marketing services are attractive to many businesses today for numerous reasons. Business video marketing helps clearly communicate what the customer wants to know in order to move to the next stage of the sales process. However, getting the most out of any B2B video marketing project should not be a stand alone tactic, but one that should be integrated into your overall marketing and sales process.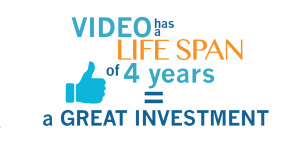 Over the past few years multiple leading sources from Content Marketing Institute, eMarketer, Forbes, Aberdeen, Demand Metric, Wistia, Vidyard, and more, have statistically proven that online business video achieves marketing and sales objectives. Online video:
elicits action and has a strong impact in generating qualified leads
builds trust and confidence during key stages of a sales process
plays an important role throughout the purchase funnel—from initial interest to consideration through to final purchase
So the first place to start when thinking about any B2B video marketing project is to start looking at your sales value propositions and brand. This will guide you in producing the right business video marketing content that is consistent with your current messaging. Just like your traditional B2B sales process, your business video marketing project should showcase the people, personalities, and expertise in your organization to build trust and relationships at every stage of the sales funnel.
Some of the common questions to answer in your sales process that are perfect for business video production services are:
1. What parts of my business are most confusing?
2. What is easy to explain in person but not online?
3. What are common questions most prospects have?
4. Who do sales people "bring with them" to big meetings and what do they say to add value to sales teams?
5. What concepts need to be repeated?
6. What products/services do you want to sell more of?
7. What industries do you want to become a leader in?
One of the great reasons for investing in professional online video marketing content is that online video becomes more valuable over time. The more people watch, interact, and share your business video marketing content, the more valuable it becomes to internet marketing efforts. And if you focus on creating more evergreen content, a typical B2B video marketing project should last you about four years! Think about using your video almost every day over the next 4 years; how much would that support your marketing and sales metrics like lead conversion and funnel development.
Next time you look to invest in marketing or sales support materials, consider calling a business video production company to help you with your business video marketing project. Business video is the most powerful online marketing medium to generate qualified leads and move prospects through the sales process because it has the power to communicate who you are and thus how your company can help your customers.
Let us know what experiences you've had with video by sharing a story and a link to your video!
Still not convinced? Check out this video or download this infographic titled How Video Drives Sales: