Business events can be a really big deal for companies that rely on them to generate new customers and increase word-of-mouth endorsements. If this is your type of business, then you know all to well how important a successful business event is. Your event can be a presentation, a convention, or a trade show. All of these types of events require a venue, and selecting the right venue can definitely make or break your event. With events like these, there is no "next time" and you don't get a "do over," so setting it up for success is vital. Read on to learn how to prevent a disaster during your next event with tips and information about what to do and what not to do when selecting the venue for your next business event.
Tips for selecting a venue for your business event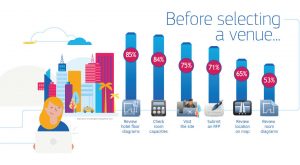 Selecting the right venue sets your event up for success. This infographic helps you learn what steps to take when choosing the venue for your next business event. See what planners who set up these types of events for a living suggest to do before making your venue choice. Here are their recommendations:
85% review the hotel floor diagrams: Whether your event as at a hotel or not, they will still have a layout or diagrams of the floor plan. Reviewing this document will help you understand if there is enough space for your event, how begin to plan out the layout, etc. The layout or floor plan will also help you figure out what else you will need like tables, chairs, stage, podium, room separators, and where they will go.
84% check room capacities: This is something that can be easily overlooked. Don't expect the hotel to do this for you. If your event is not at a hotel, then make sure there are plenty of hotels with room capacity nearby.
75% visit the site: Visiting the site in person can help you visualize everything and also ensure that their maps and floor plans are accurate.
71% submit an RFP: RFP stands for a Request for Proposal. It usually outlines everything about your event including available dates, pricing, and is a starting point for negotiations. In addition to looking professional, an RFP also is an unspoken way of letting the venue know that you are likely asking for other RFPs, so they might quote more competitive rates. The proposals you get after and RFP will generally include more details and information than pricing alone, so you will have all these details in writing.
65% review the location on a map: Looking at the map view of the venue online will help you with a number of things and is vital if you are not familiar with the area. A quick search will immediately let you know what is in the surrounding area including hotels, dining, and shopping options. This information is good for your guests or attendees too and is important to help you make the right decision for a venue that has accommodations nearby. It will also tell you important things like if it is a business district. If it is, as many business venues are, and your event is on the weekend, then you need to make sure that the nearby eateries and stores are open on the weekends.
53% review room diagrams: If your guests or attendees will need overnight accommodations to attend the event, then checking room diagrams is a great idea to provide a little extra service and ensure their comfort. Just as you want to make sure the daytime facilities are adequate for your guests' needs, their nighttime accommodations are equally important.
Other helpful venue tips not mentioned in the infographic above include:
Getting a guarantee from the venue that no other events are booked during the same time as yours. If there are other events, is there adequate space and facilities?
Do you have a backup venue? In the event that something happens with this venue, is there a backup in place?
Make a list of your own dos and don'ts as you go. Each time you host an event, you will likely have your own lessons learned as well as things that went right that you don't want to forget.