The British Promotional Merchandise Association (BPMA) often surveys people who have received promotional products to gauge their effectiveness! Their research helps to show businesses how well-branded merchandise can help promote your brand and increase sales. This particular research survey we are featuring today is about branded clothing gifts such as t-shirts, hats, staff uniforms, etc. The research was conducted in 2016 by the BPMA.
Who uses branded clothing?
A total of 91% of the respondents use branded clothing as part of their promotions.
How brands are currently using promotional clothing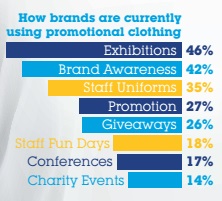 Branded clothing can obviously be used in different ways. Here is the breakdown of different ways that brands are currently using promotional clothing; more than one option was available:
46% use branded clothing for exhibitions
42% use branded clothing for brand awareness
35% use branded clothing for staff uniforms
27% use branded clothing for promotions
26% use branded clothing for giveaways
18% use branded clothing for staff fun days
17% use branded clothing for conferences
14% use branded clothing for charity events
Use it to make staff easily distinguishable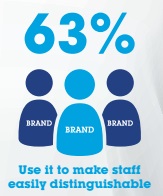 63% of the respondents say they use promotional clothing to make their staff easily distinguishable. Having your staff dress in branded clothing also helps with branding in addition to being a benefit for customer service and in-store security.
What types of branded garments have you purchased in the last 12 months?

When asked what types of brandable garments have they purchased in the last 12 months, the respondents had multiple answers:
76% of respondents purchased t-shirts
52% of respondents purchased polo shirts
32% of respondents purchased sweatshirts or hoodies
24% of respondents purchased fleeces
16% of respondents purchased jackets
11% of respondents purchased shirts and blouses
2% of respondents purchased knitwear
What is the most important factor when choosing brandable garments?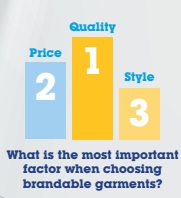 When choosing branded clothing, quality is most important to respondents, followed second by price, and lastly by style. Quality is definitely an important factor for any branded merchandise your company gives away because even though it is not your product, it still represents your company so should be top quality.
What is your average annual spend on branded clothing?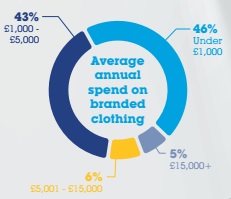 Survey respondents were asked what their annual spending was for branded garments and the answers were as follows:
46% spent under $1,000 a year
43% spent between $1,000 and $5,000 a year
6% spent between $5,000 and $15,000 a year
5% spent over $15,000 a year
The three most important things to remember when you are purchasing branded gifts or promotional clothing for your business is that it is high-quality, represents your brand well, and is useful to the recipient. In the case of branded clothing, the branding effect of using it for staff uniforms is greater and using other types of branded gifts are more useful, and therefore kept longer by customers.