I travel a lot for business. Not Up in the Air level travel, but I probably do 4-5 hotel nights a month. So, I am not the top customer ever, but I figured I was someone worth pursuing. At least I thought so, since I seem to watch ads trail me all over the web every time I am booking a trip. But I have consistently been underwhelmed, as a marketer, when I try to figure out how any of these hotel brands are differentiated from each other.
Sure, I understand that the Ritz-Carlton is differentiated from the Red Roof Inn. But what is the difference between Motel 6 and Super 8? Hampton Inn and Courtyard? Hilton and Marriott? I really didn't know. I just picked based on location. Whatever was closer won.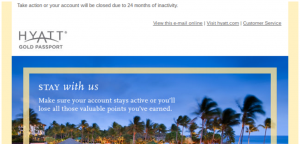 But recently, I finally got my answer. Now I know how to differentiate Hyatt from the rest. They sent me an email that basically said, "Stay with us or you lose all your points." They sent this just a couple of weeks before the points ran out, so I already had my rooms booked for the next few trips.
But I thought, "Well, maybe I could use the points for something." The Hyatt website taunted me with ways to redeem my points, but each click was fruitless, because I either did not have enough points or I had to pay Hyatt to keep them.
So after wasting some time on this call to action, I took action. I will never book Hyatt again. If I really need to stay at a Hyatt, I will book through Expedia and get the Expedia points. But I will try not to stay at a Hyatt. Apparently I hadn't stayed there in two years, which is why they were dumping my points.
Is this good marketing? It doesn't strike me so. Hyatt was just another indistinguishable hotel to me. But not anymore. Now they are the bottom of the barrel.
Now, I understand why Hyatt does this. The points are liabilities on their books and they want to wipe them out to increase profit. And sure, I am obviously not a loyal customer, so maybe they say, "Good riddance." I wonder how smart that is. Instead of trying to find ways to really appeal to me, they are focused on an accounting trick.
So ask yourself: is your marketing telling people to go away?