In today's hyper-connected world, consumers expect service providers to do more than just offer competitively priced, reliable, and attractive products. They also expect their providers to be responsive, flexible, and know just what they need. Young people in particular assume they can have a personalized and seamless dialogue with a company across multiple channels at a time that suits them.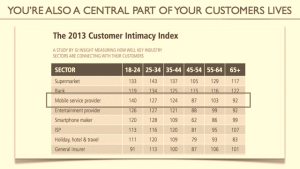 Meeting these expectations, whereby customer interaction and service innovation become key strategic differentiators in a fast-commoditizing market, is both a challenge and an opportunity for Telcos. Nowadays, old standards and USPs become completely irrelevant to the audience Telcos want to address. Plus, their core business: the voice service, seems to be a non-attractive one.
So-called digital natives have grown up with digital technologies and will soon comprise 
50 percent of the population. These tech-savvy customers are gravitating toward companies that find the optimum balance between automation and direct interaction—and that know the right time to reach out unsolicited For instance, in many cases they prefer self-help and peer-help mechanisms over call centers.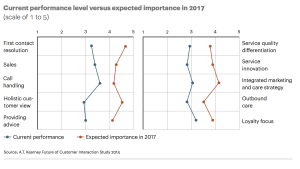 Even more consumers assume their questions will be answered instantly, that they will receive service based on their value as a customer, and that they will have access to the same offers, regardless of whether they are a new or existing customer. What's more, they expect companies to have a complete view of their relationship and to personalize the dialogue accordingly.
Nowadays, the customer journey is:
Painful: picking and changing a carrier is really painful – hard work, boring, difficult to compare. Something to be avoided.
Network performance as price of entry: the table stakes are network performance – if you are disinterested in your carrier, you at least want to make sure that it will not affect you negatively by deserting you. This of course presents a problem for Telcos with its widespread perception problem re: network performance.
Price: because people regard carriers as a commodity and no added value is perceived, price becomes the decisive factor.
Long lock-ins: Carriers lock people into long contracts with penalties (18 months, usually) in an attempt to reduce churn – which means that 95% of consumers are not in the market at any given moment.
Opportunity to disrupt & reframe the journey: this is a bad journey – commoditised, boring, painful, without joy or benefits. It is ripe for being disrupted & reframed – by introducing new emotional, human, joyful, benefit-laden criteria.
Key to success: Determining & delivering what people want in terms of content & experiences, services – and making those things exclusively accessible through the brand. De-commoditization, brand preference, reduced churn, and loyalty will be the result.
In order to redefine the way Telcos are connected to their clients they have to become digital, and the strategy to do that is:
De-commoditization, brand preference, reduced churn, and loyalty will be earned through brand-exclusive relevant content, experiences & services.
The platform needs to express the point that through 4G, people can now upgrade themselves and how they live their lives through their phones. Their phones become portals and enablers of their personal lifestyle. The overarching emotional end benefit that the technology delivers to people is what the brand wants to own. We need to showcase and bring to life the new reality and personal ecosystem that 4G brings to their phones.
This new technology enables s an enhancement of life-experience through personalization – my content, my connections, and my experiences.

This could be expressed in 2 ways:

Access to what matters (Showcase that "all that matters to me I can access on my phone")
Life-enhancement by phone

Telco brands need to start thinking of themselves as content-producers and experience-providers. This has massive implications on internal organization, allocation of resources, and external partner choices and relations.
Each brand needs to identify, seize, and own area(s) within global/local culture that: people are passionate about, are broad enough for mass-appeal, are unclaimed or uncontested by competitors, and fit the personality of the brand.
Within these identified areas of culture, the brand then needs to act as a content-producer and experience-provider. It needs to offer brand-exclusive content and experiences that provide added value that is relevant and attractive enough to enhance their lives and create an emotional bond to drive brand preference and sloyalty.
In order to constantly reinforce the brand equity of the Telcos, it will be critical to activate these areas in such a way that the mobile device becomes a centerpiece of the experience: that through the device you hold in your hand, the experience it accompanies becomes enhanced.
In conclusion, Telcos have a clear sense of the general direction customer engagement needs to take, although many have yet to understand what it means to be a digital Telco. Along the journey, some groundbreaking and change page decisions will need to be made:
How to expand the number of customer interaction channels while ensuring a seamless experience across all of them?
How to harness external partners' expertise without relinquishing control?
How well integrated will get into the existing digital ecosystem while been digitally transformed?
How to differentiate pricing and propositions—if at all—between new and existing customers?
How to decide whether to risk providing a premium service to customers based on likely lifetime value or willingness to pay?
How to take advantage of the data they have while respecting customers' privacy?
Is it more important to fix the basics quickly, or would efforts be better focused on developing a full-fledged omnichannel experience? 
There are no absolute answers to these questions. There is no silver bullet. How a company responds will depend upon the dynamics in its specific market, how it wants to position itself, and what its customer interaction agenda is. But the questions need to be asked—and answered— sooner rather than later.