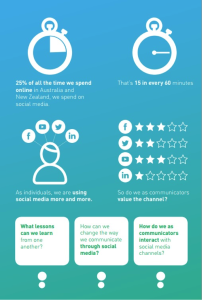 Isentia's social media report sheds a great deal of insight into social media usage for individuals and businesses. We explore how social media influencers and media use social media and why. The information presented in this report is vital for other organisations to learn trends, user habits, and gain insights. As you can see from the initial graphic, so much of the time we spend online is on social media. Businesses and organisations looking to reach people online inevitably will need to turn to social media in order to be where the people are and capitalize on getting in front of your target audience. The nature of social media makes it very easy to segment and target your audience.
Social Media Use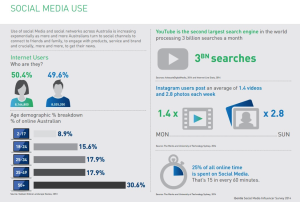 Do you know the demographics of your target audience? For Australians, Internet users are almost an even split between men and women, and users of all ages are online. Probably the most surprising demographic is that the largest segments of online users grouped by age are 50 or older. Another important takeaway from this graphic is not to ignore YouTube or Instagram when formulating your social strategy. YouTube is the world's 2nd largest search engine. Over 3 billion searches are done each month on YouTube. Will your customers find you there? Instagram users are also big on video, but photo image are still posted the most on Instagram. More and more brands are finding ways to connect with customers through Instagram in a very visual way.
LinkedIn and Facebook Usage Across Australia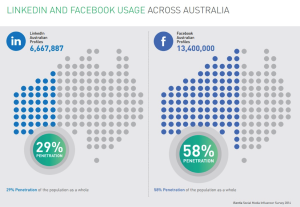 Facebook is most popular in Australia with 13, 400,000 Australian profiles currently active. That means 58% of Australia's population is on Facebook. LinkedIn usage is not quite as prevalent with 29% of Australians on the professional social network. However, that might make it easier for you to reach those professionals who are using LinkedIn. Both social channels offer ways to reach your target audience with paid and free models. Blending a combination of both paid and free posts is a great way to gain exposure on each social network.
Social Media Sites Used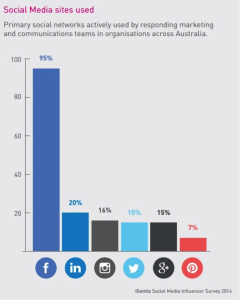 Facebook wins the social channel popularity battle with brands in Australia, with LinkedIn coming in quite a distant second. How does this chart help you with your social marketing strategy? It points out which channels have a lack of brand presence and that should indicate to you where you can stand out, with less competition vying for social media users' eyes and attention. Just because some of these social networks have less brand presence doesn't mean to stay away from them. In fact, it can mean the exact opposite.
Media Influencers and Social Media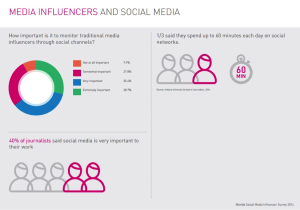 Tapping social media influencers to showcase your brand is an important strategy for businesses. The results posted in this graphic show an important part of the study in relation to how it can help your company get increased press exposure and social mentions. One third of media influencers said they spend up to 60 minutes on social channels each day and 40% of journalists said that social media is very important to their work. Even monitoring traditional media influencers online is extremely important or very important to over 64% of respondents. Andrew Miller, CEO of Guardian News & Media is quoted as saying "Twitter has really helped the Guardian – we're at the heart of breaking news. Twitter is the fastest way to break news now. So core to what we do and core to what we do on as daily basis."
Online and Social Media Use in 2014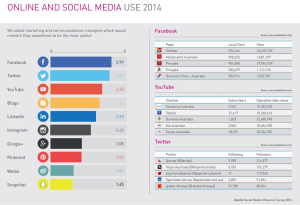 The chart above is important because it shows which channels were most useful for brands in 2014. As we pointed out earlier, just because it is useful for most doesn't mean that you should follow that bandwagon. Continually test out which networks and channels work best with your brand and then change up what you do. Just because less brands or even less users are on certain channels doesn't mean that you won't find success there. It can mean they are less crowded, with less noise that your message has to cut through to get to your intended target audience.
Social Channels Likely to Be a High Priority in 2015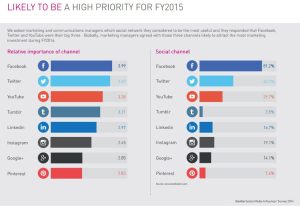 Once again, for 2015, it looks like the planned participation on the social channels is unchanging. Heed our advice to diversify your efforts and test out campaigns on as many channels as you can so that you can find the best way to reach your audience and achieve success with a return on your investment.
How and Why Are Journalists Using Social Media?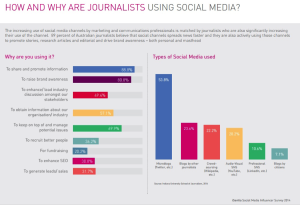 Journalists are using social channels mostly to share and promote information as well as to raise brand awareness. If you are trying to reach journalists, your best bet is to look to the types of social media they use. Over 53% of journalists use microblogs like Twitter, so if you want to communicate with them, you need to be there too. Remember the general rules about being social on social media. Do not expect journalists to always respond the way you want them to. Make sure that your content is valuable to them, and don't only interact with journalists when you want something from them. Retweet and engage with them on social channels on a regular basis to stay top of mind.
Summary and Conclusions
You can see the entire survey and results online here. We hope that this report gives insight and information that helps you develop your social media strategy, as well as other ways to get the word out about your brand and reach the press. Ultimately, if the content you create on your social channels is newsworthy and helpful to members of the media, they are much more likely to run your stories and connect with you on social networks.