I thought it was widely understood by now that staying in touch with a prospect who has shown some interest in your product or service can triple, even quadruple, lead-to-sales conversion rates.  But a new study from Bizo and Oracle Marketing Cloud suggests that business marketers are still struggling to get the most value from lead nurturing programs. This is disappointing, since the value of lead nurturing was clearly demonstrated years ago, when James Obermayer coined the Rule of 45, which says 45% of business inquirers will eventually buy in that category, so if you don't stay in touch, you'll likely lose the sale to your competition.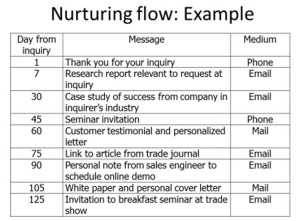 The Bizo study reveals some intriguing issues for marketers today.  I was struck by the mere 35% of responders who say nurturing is essential to their business.  The majority (53%) said "it's somewhat important; we have a few nurturing campaigns running."  Granted, these words were put in their mouths by Bizo researchers, but it's troubling that the power of lead nurturing still seems to be under appreciated.
Further, marketers seem to be using little other than email as their nurturing medium.  This is a mistake.  Worse, these emails are simply not getting through:  Nurturing email open rates are less than 20%, according to most (79%) of the 500 marketers surveyed.
So let me offer some success factors in lead nurturing, which I hope will help marketers up their nurturing game:
Set up a triggered sequence of nurturing messages using a variety of media channels, with the objective of keeping in touch with inquirers until they meet your qualification criteria, and are ready to be handed to your sales team.  See the attached chart for an example.  The point here is that a nurture program needs to be continuous, steady, and responsive.
Tailor the nurturing stream to key variables in the prospect's profile, like buying role, job description, industry and company size.
The tone of the messaging needs to be informative and helpful, instead of sales-y.  Your objective is to deepen the relationship and move the prospect along his/her buying journey, not hit them over the head.
Use a wide variety of media and messaging types, to keep the recipient interested. Adding to the mix options like an event invitation, press release, tweets, infographic, podcast, a survey, questionnaire, video, a newsletter—the possibilities go on.  Bizo itself is offering a retargeting program that permits cookie-based nurturing of prospects whose email has not yet been collected.
Get creative, for example, with a peer-to-peer letter from a counterpart executive in your company, or a birthday card.
Ask for a response, to collect additional information and feedback, always moving toward that qualification stage.  Create dedicated landing pages, where you can pose profiling questions and continue the educational content.
It's all about staying in touch with prospects, to deepen the relationship and increase the chance of converting them to customers.