For several years, the big marketing push has been to "go mobile." Though the concept of a smartphone was around long before it, the release of the iPhone in 2007 brought the technology mass adoption. Mobile phones quickly became another appendage – an ever-present device that is a computer, television and oh yeah, a telephone, all in one small package. Having a mobile-friendly small business is no longer a suggestion; it is a necessity in reaching consumers.
In 2014, mobile marketing will shift focus slightly based on consumers' increasingly split attention when it comes to media use. The ease and small size of smartphones and tablets mean that consumers are often using them while enjoying other media – like television watching or even working on a laptop. In fact, 88 percent of consumers use mobile devices while watching TV, making the potential for cross-screen marketing huge.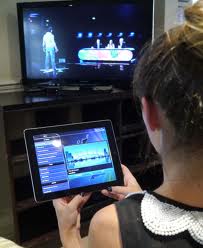 In the digital marketing world, mobile devices are often referred to as the "second" screen (though let's face it – in many cases mobile devices are the first screen) when it comes to advertising opportunities. Whether your small business uses traditional television or radio commercials alongside digital promotion or not, there are some lessons to be gleaned from the trend toward multi-screen marketing.
All small business owners can improve their mobile reach, and grab the attention of screen-hungry consumers, if they:
Seek interaction. The popular reality series Project Runway recently introduced a mobile application that encourages viewers to vote on their favorite designers or answer prompts live during the show. Project Runway has long been a Twitter favorite with hashtags based on designers and seasons. By tapping into activities viewers were already doing, like taking to social media from mobile devices, the show was able to maximize interaction and also encourage live watching which makes advertisers happy. Small business takeaway: analyze the behaviors of your consumer base and then develop marketing strategies that tap into what they are already doing – particularly when it comes to mobile device use.
Think graphically. Depending what study you cite, Americans see 3,000 to 20,000 visual messages on any given day. Even on the low end of that average, that's a lot of material vying for the attention of consumers. To really stand out in the digital world, small businesses must incorporate attention-grabbing visual elements. This can mean a well-designed mobile app or adding videos to your mobile-friendly website. Remember that if a consumer is visiting your website while looking at another media source, you have to do even more to stand out.
Deliver quality. It really does not matter how flashy your mobile efforts are if there is no value in what you offer for consumers. Start at the mattering moment – what is it that you want consumers to receive or learn about your brand? Once you have that portion figured out, build your strategy from there. The technology for strong mobile apps is available to any company. Make your small business stand out through the quality you deliver in your mobile offerings.
No marketing effort should ever be one-dimensional. Use your innovation to catch the attention of your customer base and remember that you are just one piece of a multi-screen consumer picture.
Megan Totka is the Chief Editor for ChamberofCommerce.com. She specializes on the topic of small business tips and resources. ChamberofCommerce.com helps small businesses grow their business on the web and facilitates connectivity between local businesses and more than 7,000 Chambers of Commerce worldwide.