Anthony Weiner, you're ahead of your time. Your level of shameless and fearless exploration of sexuality and the body online is a foreshadowing of what the future will be like. Just about every teenager and twenty-something alive right now will have loads of totally inappropriate photos of themselves floating around. If you wait long enough, you'll just blend in with the pervy background noise instead of being the clearest media signal. At 48, you're the elder of a future where everyone will have naked and intimate pictures of themselves under every rock. It's always tough heralding the future, Mr. Danger, and the only way to do it is loudly and proudly.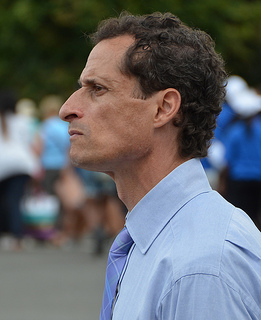 The rest of you, are you a scoundrel or were you framed? Are you an active miscreant or is all in the past, really? Think really hard because it matters. And, if you are a chronic ne'er-do-well, do you either have no shame or all the riches in the world?
No matter how good a person you may be, you'll eventually do bad; and, no matter how bad a person you are, you are probably really good at emulating the best person in the world and have them fooled. Either way, you are no longer the Captain of SS Immortality:
There are two Anthony Weiners too, right? In the same exact man. The contrite fool who tweeted an aroused pair of gray boxer briefs, a man to whom most New Yorkers are willing to give a second chance. Then, there's the profane sex addict who chronically offends — and this time not swaddled in cotton but as naked and proud as God and P90X made him.
In the Internet age, your reputation is a little like the Schrödinger's cat thought experiment: your reputation's both alive and dead at the same time until someone looks for you — really digs — on search.
Just about everything's in there — hidden in plain sight. And, it really doesn't matter to anyone until it does. This superposition of your reputation based on whether someone wants to dig hard enough it exactly how the most recent image from The Dirty bubbled to the surface — both that and actually doing it, we can't forget.
No matter how well you disguise your name it won't help. (Hear me, Carlos Danger?)
There's enough tip-money to turn even the most discreet and loyal lover or ally; there are very young gossip bloggers who are desperate to make their name, and there are political reputation assassins who are waiting in the wings for the perfect kill shot — the reputation murder that looks exactly like suicide.
And once there's blood in the water, it just goes down hill from there — primarily, the Internet (including this post) generally holds its fire when it comes to the contrite and the besmirched.  Nobody wants to kick a good man when he's down; however, we as a culture tend to like to pile on.
(I wonder if Jon Stewart, a college chum of Anthony Weiner's, left his show to "make a movie," leaving John Oliver at the helm during this anticipated pile-on out of desperate loyalty — oh, what a tangled web — or, maybe this is a mad epic comedic ploy hatched by Tony and Jon as a sort of hilarious Kabuki theater.)
So, what does this all mean?  What can we learn? Well, as reputation specialists it's always much quicker and easier to defend an innocent man than it is to acquit a recidivist — and it's still so very expensive, whether you spend all of your time fixing it yourself or outsource it to someone like me or the Picasso team over at Reputation.com, though not nearly as expensive as a chronic baddie (though, also not as lucrative a client as a serial cheat).
If you've been framed — a besmirched saint — then I can start counter-messaging on your behalf using all of the good deeds you have done.  Usually, it's just a matter of making sure all your goodness — your true nature and sterling character — shows through online.
However, if you've been an awful, conceited, power-mad, putz since before you were born and there's really nothing at all nice about you online, then you'll need to sort out what your point of pain is. Do you have a thick enough skin to suffer some of your lesser sins as the content I use to clean your greater sins from Google?
For example, a number of years ago I had an oligarch as an ORM client (he has since disappeared) who was an international jet-setter who surrounded himself with glamorous young women, was known to gallivant, swill pricey champagne, and produce some moderately offensive B movies. One needed to reach all the way back to his college days as a genius, Ivy League, chess champ to find content that would maybe paint this billionaire as a choir boy.
And, if he wanted only to be painted as a selfless altruist who has every plan to spend every last one of his Rubles on ending human trafficking, chronic global hunger, and the scourge of malaria, then we would have had a problem. It would have been pretty impossible. We would have had to start from whole cloth — and there are Devil clients who want their portrait to have wings, a harp, and white robes. Tough, improbably, unsustainable, and extortionately expensive — mortgaging your houses sort of expense.
Luckily, this particular Russian oligarch was cool. He allowed us to use all of his sins except the one he was paying me to remove to help remove his gravest sin (and his gravest sin was really nothing, it was all about attracting investors to his film production company).
So, I happily had access to all sorts of coverage of the parties oligarchs are compelled to attended and throw, I was able to amplify all the mugging with brassy blondes all around the world.  I was able to use tabloid mentions, gossip about his investments, his wealth, his private jet, his homes in Latvia, California, and London — all of these things were fair game.
If you're going to be little devil, be willing to embrace your lesser sins.  So, that's my advice to Anthony Weiner AKA Carlos Danger: you'll never again be perceived as besmirched — just smirched.
A lot of this is going to blow over though over time, though nobody'll ever forget it.  Year-after-year, doing stupid things online will become less and less of an offense as we spiral towards our future as an Idiocracy — so, one day soon, your silly, sexy, saucy, bizarre, and persistent escapades will be what all the cool kids do — and all the cool kids who are now in their teens and twenties have all done the silly sexting that you're indulging in at 48.
And, all of the current crop of sexters will soon realize that every single sext they have ever sent is retrievable no matter how double- or triple- deleted.  And you know when your ex told you he or she got rid of that too-intimate and too-revealing video, photo shoot — nobody ever honors those sort of requests — no one every has and no one ever will.
At the end of the day, every single one of you sexy texters and flashy jet-setters, just be sure you end up being more comfortable with not being able to completely control how people perceive you — the Internet is your persistent globally-accessible Picture of Dorian Grey.
Feel free to own the yacht but hire a crew if you're not yet seaworthy. If you get my drift and want to adopt the yachting lifestyle yourself but either don't have the mad sailing skills yourself, don't yet posses a world-class crew, and don't know yet where to go, then you should give me a call or reach out me by email — so I can help you pilot your vessel now, in the tranquil blue-green shallows of the Caribbean, as well as in the roughest seas and into — as well as out of — the storm.
If you'd like to chat more, call me at +1 (202) 869-3210 Ext 0001  email me, or feel free to self-schedule a 15-minute call, a 30-minute call, or a 60-minute call with me.