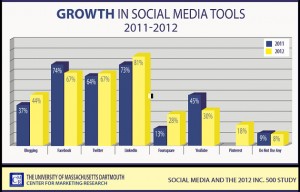 After years of significant growth, social networks exhibited mixed results last year. It was bound to happen. Here are 10 reasons social media has peaked. Maybe it concerns you if you are in the social media business, but I will give you 8 reasons that it's a relief that social media has peaked.
10 REASONS SOCIAL MEDIA HAS PEAKED
SOCIAL NETWORK USAGE: 24% say they use their favorite social media site less than when they first signed up (Source: Gartner)
FACEBOOK: Visits were +10% in the 12 months ending in October versus +56% a year earlier (source:  The New York Times)
FACEBOOK AND TWITTER: In another study, Facebook and Twitter grew only +2%; there was no growth in corporate blogs (source: University of Massachusetts Dartmouth)
YOU TUBE: Usage by companies has fallen, from 45% in 2011, to 30% in 2012 (Source: University of Massachusetts Dartmouth)
PINTEREST: Only 18% of 2012 Inc. 500 companies use Pinterest (Source: University of Massachusetts Dartmouth)
DIGITAL SPEND: 60% of marketers expect to increase their digital spend this year by 40% or more; only 10% of that digital spend will go to social media (source: Technorati)
SOCIAL MEDIA JOBS: Have declined for about 1.3% of all jobs to 0.7% (Indeed.com)
MEASUREMENT: Only 40% of marketing have confidence in their ability to measure social media campaigns. (source: eMarketer)
TRUST: 56% of consumers trust retail web site with their purchasing decisions; 34% trust brand web sites; only 31% trust blogs (source: Technorati)
FATIGUE: Gartner reports consumer fatigue and that social media has experienced the Hype Cycle.
8 REASONS THAT'S A RELIEF
ROI: #1 question 4,000 marketers ask every year is "How to measure Social Media ROI." Now, we can focus on that task (source:

 Social Media Examiner

). 

MORE ENGAGEMENT: If growth is slowing, now we can spend more time listening to what consumer have to say and engaging with them because social media is the one marketing channel where consumers talk back.
STRONGER RELATIONSHIPS: Since we have the opportunity to have a conversation, not a monologue, with consumers, why not take advantage and build stronger relationships
BETTER MARKETING INTEGRATION: Social media, mobile and traditional media work better when they work together. Here are some case studies to prove it
RICHER CONSUMER EXPERIENCES: Technologies in video, mobile, apps and promotions, as well as regular updates and improvements on the social networks themselves, will continue to make our experiences in social media deeper, richer and more multi-channeled.
STILL GROWING: Although growth appears to be slowing, it's still growing and faster than many traditional media channels (which are declining)
HYPE CYCLE: The Hype Cycle occur because of "inflated expectations." The cycle then goes to the stages of "disillusionment," "enlightenment," and "productivity."
COMING OF AGE: Similar channel like email marketing and digital marketing have gone through the Hype Cycle and come out stronger. I expect the same will occur here.
I'm glad we're through the Hype Cycle and ready to focus more on benefits to brands like Social Media ROI and better consumer relationships. For a FREE eBook that shows it's not that daunting of a task, here are 166 Case Studies Prove Social Media Marketing ROI.
Do these reasons prove social media has peaked? Is it a relief to you? Can you tell me your reason?