In complex buying situations, "sales reps are valued higher than ever" writes Gartner analyst Hank Barnes in The Rebirth of Enterprise Sales. What prompted this observation was a recent Gartner study of sales that result in "high-quality deals" — deals where customers are succeeding and are likely to become bigger customers. Simply put, "customers that deliver high-quality deals rely on sales more than those that don't."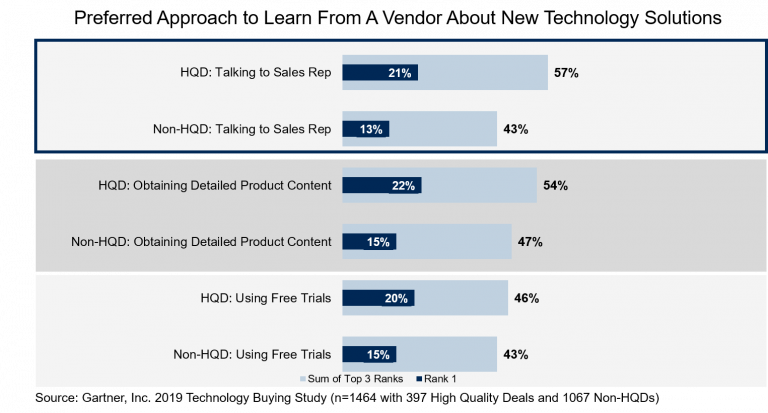 Not surprisingly, customers who deliver high-quality deals expect a lot from sales. The study found, for example, that one of the top reasons for rejecting a vendor is a low-quality sales presentation.
Video support for sales presentations
Barnes notes that the sales team needs to "build confidence in the buying team, that they are doing the right things, not just that you are the right choice." Most video produced to market enterprise technology solutions is not designed to support this sales approach — it's product-focused. Product-focused videos usually aim to fit as many features, advantages, and benefit "messages" as possible into the time available, in case one more might tip the scales toward "the right choice." This can generate leads and open doors. But that's not all video can do for sales.
Consider the sales presentation itsself. The sales team wants to understand the customer's situation and demonstrate the relevance of their solution to different buying team members. Any of the predominant types of video content — explainers, testimonials, recorded webinars — could get in the way of this conversation.
On the other hand, there may be half a dozen points that are top-of-mind for different members of the buying team and that demand visualization or step-by-step explanation that cries out for animation. There may be examples of efficiency that can be demonstrated with a one-minute example extracted from a longer demo. A salesperson may have a favorite explanatory metaphor that can be brought to life by a competent animator for a very small investment.
Visualization, not video.
The key is to think in terms of what needs to be visualized rather than what "videos" are needed. Sometimes one image or graphic (a chart, for example) gets the idea across. But if your solution has a lot of moving parts, video is a great way to present them, one-at-a-time, and then show how they fit together.
A library of short videos that the sales teams delight in using will also be a valuable resource for your social media team, bloggers, executives, and others.