When I travel or visit friends for get-togethers, dinner parties, or movie nights, I often ditch my laptop at home. However, there's such a thing as herd immunity in computing: there's generally a desktop or laptop not that far away.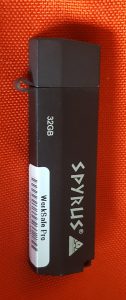 I generally have my ThinkPad Windows laptop, my Samsung S6 Active, an actual USB thumb drive, and probably my $50 Amazon Kindle Fire. My every day carry is more like keys with a USB drive on the keyring, my wallet, my notepad, my phone, possibly an external charge battery, a charger, of course, and now I've added the equivalent of an entire Windows 10 box into a 1.35oz, 3.5″ x 1″ x 3/4″, armored and MIL-SPEC package that I can pocket and forget.
That's why I've added a Microsoft Windows-bootable USB thumb drive to my every day carry (EDC). I personally don't use it every day but it's part of me, either in my pocket or stowed in a day bag or my Filson. So, when I need more than my phone and don't have my laptop with me, I have a way to do the computing version of spirit possession.
So, when I insert this SPYRUS 32GB WorkSafe Pro Windows to Go live drive into the USB of a host computer and turn that PC on, it'll boot at the hardware level from this pack-of-gum-sized thumb drive, running your very own customized install of Windows 10 as though it were booting directly from the machine you're sitting at. And since it's a clean install running off of a solid-state drive (SSD), it's quick, too.
Some systems may require some awkward key combo shibboleths in order to get you down to BIOS in order to choose the SPYRUS drive as your boot drive, but it's a lot easier than schlepping around a laptop. And your chums, colleagues, friends, FedEx Office worker, and building manager will be happy to know that you're really never on their machine, per se. but you're running your apps and your files in your own sandbox.
My device is the WordSafe Pro which comes with Godly amounts of security in the form of user boot password, device admin password, data vault 2 bitlocker password, smart card user PIN, smart card admin PIN, and smart card mini-driver admin key. However, SPYRUS offers this drive in an entire array of drive sizes up to 1TB (32 GB, 64 GB, 128 GB, 256 GB, 512GB) and a number of grades of security based on the model:

Built-in PKI smart card
FIPS 140-2 Level 3 validated
XTS-AEX 256 hardware encryption
Read only mode options
Data vault read/write option (can be used on Surface Prof 4 for secure data management)
MIL-810 tested hardware providing military ruggedness
I mean, let's be honest, there are always ways in, but the intention I have of booting into my own OS outside of your own passwords, your own UI, and your own bespoke filesystem is to 1) make life easier for me and 2) protect my own data, apps, and operating system from possibly being infected by the viruses, malware, and adware that live natively on the hardware and software of all the host boxes, PCs, machines, workstations, laptops and notebooks that you commandeer and "spiritually posses" for the time you use them.
And while I'm booted into Windows 10 through my SPYRUS Windows to Go drive, everything I edit, write, or change is stored back to my drive so that I can just shut down the host computer and return the drive to my pocket and I'm done!
Easy peasy.
Feel free to own the yacht but hire a crew if you're not yet seaworthy. If you get my drift and want to adopt the yachting lifestyle yourself but either don't have the mad sailing skills yourself, don't yet posses a world-class crew, and don't know yet where to go, then you should give me a call or reach out me by email — so I can help you pilot your vessel now, in the tranquil blue-green shallows of the Caribbean, as well as in the roughest seas and into — as well as out of — the storm.
If you'd like to chat more, call me at +1 (202) 869-3210 Ext 0001 email me, or feel free to self-schedule a 15-minute call, a 30-minute call, or a 60-minute call with me.