Frequent readers know that most of my marketing experience is B2B rather than B2C, and that virtually everything I do is data driven. So, perhaps you might think that I didn't have much to learn when I picked up B2B Data-Driven Marketing by fellow Biznology blogger Ruth Stevens and Theresa Kushner. Wrong.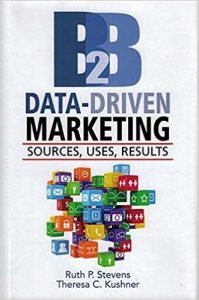 I know a lot about digital data, but Ruth and Theresa took me to school on all the ways to put together a customer database using traditional means. I was amazed at the wealth of information here. Within a week of reading his book, I was already acting like an expert with clients on email append vendors and which data fields should be used for which purposes. (And that was just in the first couple of chapters.)
No B2B marketer should be without this book. Even if you don't think you have time to read it (and you should make time), just flip through the book and analyze the rich tables that are a graduate course in B2B data all by themselves. Although I told you that I know digital data really well, so do Ruth and Theresa–they have focused on the most essential digital data elements and summarized them for you.
Even though I have extensive experience in global marketing, I still found detail after detail that I did not know–everything from address formats around the world to how to work overseas without a D-U-N-S number.
Don't miss the chapters on small business, case studies, and troubleshooting your data. This book is a tour de force of B2B data that must not be missed. I rarely say this about any book, but it is encyclopedic in its breadth and depth.  It's amazing how much they crammed into under 300 pages.
If you don't take advantage of this book, don't blame me. This is the most useful marketing book I have read in several years–I suspect it will be for you, also.