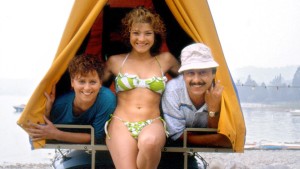 Let's say you're the husband of a loving wife and the dad of a rebellious teenage girl who is about to fly the coop and you've always had the dream to follow the footsteps of your favorite writer, Johann Wolfgang von Goethe, as he traveled from gray Germany down to Rome and Naples in 1786–88, and the Berlin Wall comes down and Germany is unified .
What do you do? Do you wait until you can scrape together enough money to buy a new car or a camper? On a teacher's salary?  (By then, your daughter'll be out of the house and it'll be too late!)
If you're Udo, Rita, and Jacqueline Struutz, you go for broke . . . even though you don't have much money and all you have to make the journey is the little plastic car you acquired as a family in the GDR, your twenty-year-old Trabant 601 with .6 liter, two-stroke, two-cylinder motor, weighing only 1355 lbs with only 27 horsepower.
Go Trabi Go!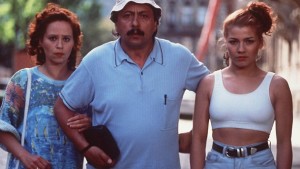 In 1991, three months after German reunification, Reinhard Kloss and Peter Timm released Go Trabi Go, about a school teacher, Udo Struutz, who decides to relive Goethe's personal travel journal, Italian Journey, in their family Trabant 601 ("Trabi").
No, it's not a sincere and earnest look at the tests and travails of a naïve East German family as they explore Western Europe but it's actually a zany comedy along the lines of National Lampoon Vacation.
You Don't Need a Brand New Car to Go on a Road Trip
As they washed and polished all the brand news VWs they bought the moment they could convert all of their East German marks for Deutsche Marks, all of their neighbors in the former GDR mocked the little family as they took off to their 750 mile drive from Bitterfeld-Wolfen, Germany, to Naples, Italy, in their little blue communist-era, exhaust-spewing, lawnmower car.
However, all it really takes to make an entire journey is the ability to adapt, to forgive, to persevere, to repair, to correct, to make friends, and to ask for help, "I have always depended on the kindness of strangers."
The Information Superhighway is There to Help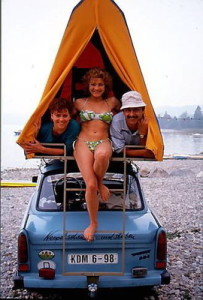 Maybe that little Trabi wouldn't have made it were it not for the state of the art infrastructure in the form of the German Autobahn and the Italian Autostrade, were it not for the emergency services boxes at the side of the road, were it not for all the networks and business and junkyards that already exist to make things as easy as possible for travelers even if they're not rich and driving the latest Porsche 911 or Mercedes S-Class.
In much the same way, there are so many applications that have popped up in support of social media marketers like you: Buffer, HootSuite, SOCi, GroupHigh, InkyBee, IFTTT, UnTweeps, ManageFlitter, Crowdfire — there are a million more of them that I use every day.
You don't need to do all the work yourself.
And, think about the world before ubiquitous Internet, back when everything was fully analog, when you really did need to mortgage your company and get a huge small business loan before you could compete with the big boys. Don't fret, it's not like that any more. It's not like the day back in the 18th century when traveling from Saxony to Napoli took two years and the infinite resources of being both born into a wealth family and also being the most important German writer, the German language's Shakespeare.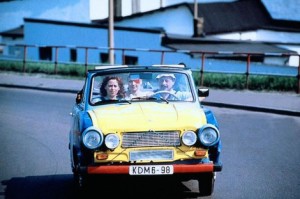 The Interstate allowed Udo and his family to travel from Eastern Germany in a leaky boat all the way to Southern Italy with approximately 700 Deutsche Marks in their pockets — something that took Goethe two years and a near bottomless wallet —  and the Internet allows you to actually compete with anyone, any brand, any company, across the globe with just a little passion, focus, attention, persistence, and a plan, for free to start (money wise, not time wise).
The Internet is like the Autobahn: maybe the Porsches, Bugattis, Aston Martins, BMWs, Mercedes, and Audis can maintain more easy speed and reliability in the day-after-day, but there's always a place for you on that free road as well.  And, because you're so slow and might break down every once in a while, you might very well make more friends, earn more pity and empathy, and you very well might very well win the social media marketing race, after all, you tortoise, you!
Don't Let Your Fears Get in the Way of Your Success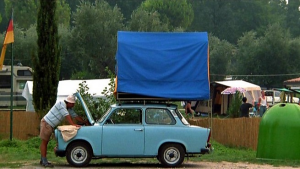 Despite what that kid says in the Kia Optima commercial, you don't need to sell everything you own and buy a brand new car to drive cross country with your dad. My dad and I drove across the country together back in in 1995 in my brown diesel 1982 Mercedes-Benz 300D.
My current rides are a 2001 BMW 530i sedan and a 1995 BMW K1100LT motorcycle and I would happily ride either one to California and back today!
In other words, there is no time like the present.
Get on the Social Media Marketing Road Today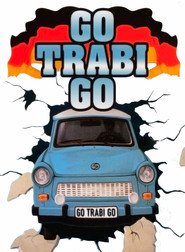 To adapt just one of the famous quotes by Donald Rumsfeld, "you go to war with the army you have—not the army you might want or wish to have at a later time," to something a lot less mortal, you need to learn to promote, publicize, and market your business with the resources, experience, staff, and assets you have now and not wait until you've become — at some future date — a big enough company with enough dosh to afford a CMO, an advertising and marketing budget, and all the things you may well never have — at all, ever — unless you can start effectively publicizing, promoting, marketing, and advertising your company now.
Now, it's your turn!  Go git 'em, Tiger!