To get informed and educated quickly, the people who make decisions are watching more and more online business videos every single day for a reason. The reason is pretty simple – online business video marketing content gives them [decision makers at any stage, from lower level recommenders to ultimate budget holders] the most amount of information in the shortest amount of time.
So if the decision-makers that your marketing is trying to attract and your sales teams are trying to reach and build trust with during the sales cycle are NOT busy, then they will have time to read all of your PDFs, white papers, and website. But if they ARE busy, they will prefer to watch. They'll be looking out for online B2B video content, like sales videos, video FAQs, corporate overview videos, and online video case studies that can give them the insight they need into your company, people, products, and services. NOTE: most of this research is happening BEFORE they reach out to you to engage into the buying process.
So if you decide to differentiate your business by having corporate sales and promotional videos on your website, these decision makers are going to get more out of it compared to reading. They are going to better understand what your company is all about in a quicker and more enjoyable manner. In addition, they can get an emotional connection to your story that just does not come across on paper or on a website.
The second reason why you should invest in online business video production today is that it will last a long time and give you ongoing returns on your business video marketing content investment.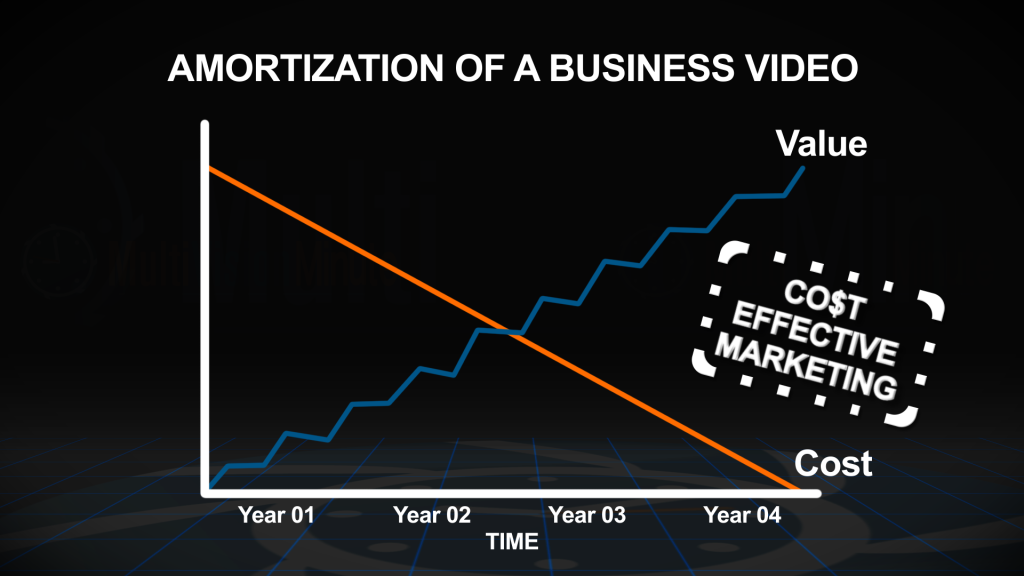 The typical amortization of an evergreen business sales or promotional video on a website is about four years. Although you're going to invest in your online business video production content today, you can literally extend those benefits for four years.
Directly in your sales process – the business sales video that is used in the sales process can be used every day by your sales team before, during, and after sales meetings and gets watched over and over and over again, increasing the ROI of your online business video production investment.
Included in your SEO tactics – Google loves online business video and the more video is watched, the more valuable it becomes to them, which drives more credibility in traffic to your website.
In your email marketing campaigns – Business video marketing content increases open and click thru rates on email marketing campaigns.
Across social media – Social video is the most watched and share type of content on social media
So if you want to communicate as quickly as possible and to respond to decision makers' wants for online business video production content, then you should get a video for your business (or many videos for your business) today.