I speak at many events each year, but the Internet Strategy Forum Summit is something special. I spoke at this event last year and found myself sticking around to hear all the other great speakers. The minute I saw the lineup, I began planning to do the same this year. If you can get to Oregon on July 17 and you're interested in attending this event, keep reading to find out how you can get a free ticket. If you don't think you'll be lucky enough to win a free ticket, I can also get you a 15% discount on your conference fee.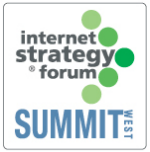 Look at the agenda to see the companies represented. If you don't think you can learn anything about marketing from Disney, Nike, and Intel, then I want to hear you speak. I haven't heard those speakers before, but there's one speaker on the menu that I have heard before: Geoff Ramsey, the head of market research firm eMarketer. Geoff is an extremely engaging and knowledgeable speaker, worth the price of admission by himself.
Oh, and about that price of admission. If you sign up now, use the discount code "MORAN" when you check out so you can save 15% off the regular fee. But if that's not a good enough deal, one lucky reader can get 100% off.
I have one free ticket that I will award to whomever provides me the best "do it wrong quickly" case study to be published on my Web site. Check out the complete rules for the Do It Wrong Quickly Case Study Contest. Get your entry in by July 6. I hope to see you in Portland.