With the majority of research being done online, the use of business online video production is increasing every day because video helps decision makers get the information they need very quickly. If the people buying your products/services are NOT busy, then they will have the time to read your paperwork and figure things out, but if they ARE busy, then they would prefer that you have video on your website and as sales collateral (like video FAQs,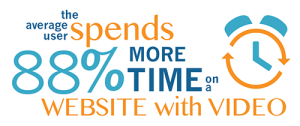 business video case studies, and corporate profile videos) so that they can quickly understand your products, the culture of your company, and the people who makes your company great.
In addition to your buyers' love for video, it is easy to understand why business video content marketing has been gaining momentum – the impact that video gives to every day sales and marketing results. In June 2014, Aberdeen Research published a study called "Analyzing the ROI of Video Marketing." The study proved how powerful video content marketing is to core marketing objectives. Two of the stats revealed
Websites with digital video content convert new business opportunities at 2x the rate of sites that don't
Websites with business video content marketing need 37% less site visitors to reach the same marketing objective
Regardless if you're a small, medium, or large company, and regardless of the vertical you are in, your business can benefit from the efficiency and the productivity of what corporate video marketing can do to give information and drive action.
Including video content into your buyers' journey will build business value at every stage of the buying cycle. If you are just getting started or adding to your video content marketing library, here are few types of videos that you could do to make it easier for buyers to get to know your company, and understand the benefits of your products and services:
Videos that explain the details of your products
Videos that explain how you deliver your professional services
Landing page videos to convert browsers into buyers – good for PPC
Customer case study videos that showcase the problem, solution, and benefit– just like you do on paper
Customer testimonial videos
Video FAQs that answer common buyer questions
Video bios of your team so buyers can get to know them better
Corporate overview videos that showcase, at a high-level, many aspects of your organization and your location
The list above gives examples of many types of video content that fit into different parts of the sales and marketing funnel – just like if they were pieces of paper, you would use them at the right place at the right time in the sales process. Resourceful companies are starting to better understand this and are budgeting for ongoing business video production that allows them to use business video communications as a marketing tool, an advertising tool, a branding tool, and sales conversion tool.
On paper, it is impossible to tell your entire story, showcase all your people, products, and services, and answer every questions a prospective customer will have. The same hold true for business videos. So if you are serious about driving action across the funnel and getting ahead of your competition, you will be looking at an online video content marketing strategy and how to produce many videos instead of "just one video."
A sound video content marketing strategy is proven to keep people on your site longer, drive action across every point of the sales funnel, improve your search engine rankings, and increase open and click thru rates of email campaigns. So marketing with video is not a one-shot investment. Companies should be looking towards planning for and creating a steady flow of online video marketing content every four to six months (depending on their size) to respond to buyers' need for quick information. The sooner you get started, the sooner you will reap the competitive benefits of this highly effective online tool.
See you in front of the camera!