This is the first of blog post series covering the much discussed topic of Digital Transformation. As buzzwords go, Digital Transformation is topping many lists lately, as attested by news headlines charted by Google Trends: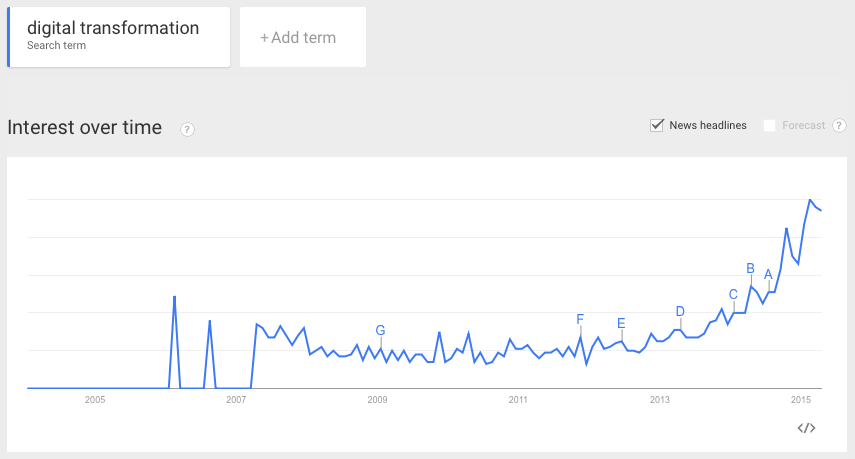 As people keep repeating those words to justify all kinds of initiatives, many roll their eyes just waiting till the fad goes away. However, being a buzzword is not necessarily a sin, and in this particular case, the term is a helpful wrapper for a number of related trends that were taking shape for years, but that were not easy to refer to under a common umbrella. As usual, Wikipedia does have a somewhat decent definition for it:
Digital transformation refers to the changes associated with the application of digital technology in all aspects of human society. Digital transformation may be thought as the third stage of embracing digital technologies: digital competence → digital literacy → digital transformation. The latter stage means that digital usages inherently enable new types of innovation and creativity in a particular domain, rather than simply enhance and support the traditional methods.
It's not far-fetching to place Digital Transformation as the latest specimen in the lineage that brought to us terms like Web 2.0 and Social Business in the fairly recent past. As we progressed through those hype waves based on vaguely defined concepts, a few lessons could be learned:
All those terms were bad, but there were simply no better ones to replace them. To some extent, what you see is the "survival of the fittest," and as Darwin taught us long time ago, the fittest is not necessarily the smartest or the most beautiful.
Each of them described patterns that were evolving around us, but that were being analyzed separately before being consolidated into a single framework. When you take a step back, you start seeing them as parts of the same whole, even though we may not be able to say exactly why. Fashion and music work the same way: you can tell the clothes, hair style and songs from the 50s apart from the 60s and 70s, but trying to define precisely what makes each of them belong to a given period is not that easy.
Like the Kardashians, you can't ignore them, no matter how hard you try. It's actually okay to make a conscious decision to do nothing major about them right now, because you assessed the situation in depth and found that the best course of action is to stay put. But unlike Kim and Khloé, dismissing them completely for too long may prove to be unwise.
Each of these waves change the landscape and create the groundwork for the next one. Hindsight makes us see older waves (like the introduction of computers, the PC revolution, the advent of the consumer Internet and e-commerce) as sure and obvious shots, and recent waves as fads but they are just links from the same chain. Being a bit late to the party sometimes may be the smart play, but never coming to the party is a totally different story.
They are not the end of it. Whatever comes next will be built on top of what we make out of the Digital Transformation movement. Yes, this is a self-fulfilling prophecy, but that's how the whole industry works. We'll go through the motions together, discard what did not work, reuse and enhance the pieces that succeeded, and keep going.
Whether or not you like the term Digital Transformation is not that relevant. You can secretly call it whatever you like: SoLoMo, the nexus of forces, going paperless, or Ragnarök if you feel so compelled. But take note that something very important is happening around us and the future will be different because of it.