One of the biggest problems I have as a small businessman is keeping track of everything: RSS feeds, competitors, backend performance data, social media mentions and trends, sales cycles, reputation warnings, revenue data, my inboxes, my calendar, key RSS feeds, search performance, tasks, and a million other sources of data. I never remember to check Google Analytics, Webmaster tools, my AdSense revenue, and even what's coming in to my Desk.com help desk inbox as it happens. Tabs on my browsers, bookmarks, and email ticklers from the service providers are what keep me coming back. But that's not enough. And worse, it's responsive and not nearly proactive enough. And then there's Cyfe.
Cyfe is a Business HUD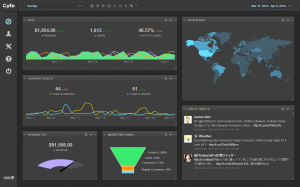 A HUD the acronym for heads up display. It's about getting all mission critical data in one quick glance without distracting too much attention away from the mission, be it a dogfight in an F18 Super Hornet or a country road in a BMW sedan. Cyfe can reduce an entire daily routine from an hour-a-day down to just a couple minutes — and not just once-a-day. With Cyfe, you're not just reading through all the logs and data once or twice a day during your data rounds but you'll be able keep real time tabs on the mission-critical parts of your business. And, even if you have an SA tracking servers, an accountant tracking accounts receivable and payable, and a social media manager tracking media mentions, Cyfe can keep you directly connected to source data instead of everything going through any people-filters.  Not to be paranoid, but I like the checksum that having knowledge of primary source allows me when I read the reports provided by my employees in order to check to make sure they're doing their job properly, effectively, and to the level of quality that I expect. Trust but verify, is what I say (yes, I am that boss).
All the Widgets You're Likely to Need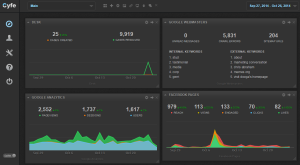 Remember Yahoo! Widgets and Google Gadgets? I programed theses guys for clients back in the day when I was a programer. They were pretty cool. And then they died. Goodbye guys. What I liked about Google Gadgets is that there were both lots of gadgets you could just install that added a lot of value but the framework for creating your own was also pretty simple for any developer. Same thing goes for Cyfe. Here's a short list of the widgets already available: AWeber, AddThis,  GetResponse, Amazon Web Services (AWS),  Basecamp,  Bitly,  Desk.com,  Eventbrite,  Facebook,  Flickr,  Gmail,  GoToWebinar,  Google AdSense,  Google AdWords,  Google Alerts,  Google Analytics,  Google Calendar,  Google Trends,  Google Webmaster,  Google+,  Highrise,  Instagram,  Klout,  LinkedIn,  MailChimp,  Moz,  PayPal,  Pingdom,  Pinterest,  QuickBooks,  RSS,  SERPs,  Salesforce,  SlideShare,  Twitter,  Vimeo,  Wordpress, and  YouTube. There are loads others. And, it's apparently very easy to build your own to meet your own needs. Have some structured data, XML, OPML, RSS, ATOM, or an API and you can create your own widgets that are purely suited to your own business needs.
Cyfe Does Small but Prefers Big & Dedicated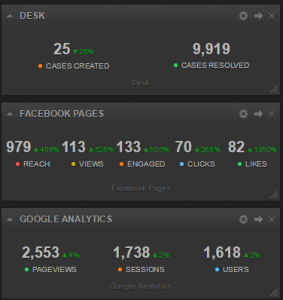 I have an iPhone 5, a Nexus 5, a Nexus 7, an iPad Air, and a wee Lenovo ThinkPad x220 with a 12.1″ screen. That's it. Cyfe works great on them all. The app looks gorgeous in HTML5 on all my mobile devices via the web. On my ThinkPad, Cyfe is drag-and-drop-able that you can resize widgets and move them around, and even overlay them like flash cards so that I can fit 8 or 16 widgets into my 12.1″ screen instead of the 4 widgets that fit by default. My next purchase will be a big, clear, 4k second screen that I can connect to at my desk so that I can pile widgets into one Cyfe dashboard and keep running by itself on the separate screen. Then, I can stream social mentions, my inboxes, my site performance data, questions and queries happening on Twitter, Facebook, and Google+, help desk queries, and even project management stuff.
If you can't sport the big screen, Cyfe is a lot like the X Windows in that it supports multiple desktops. You can run different things in each desktop and then easily switch between them. OSX does that too, I believe (yeah, I am running Windows 7 Professional). Well, with the premium account ($19/mo monthly or $14/mo yearly), you can have unlimited desktops that you can label and switch between. So, I could have a desktop for each client. I could have one just for Gerris brand monitoring, one for SEO, one for business processes, and one for things like inboxes, and one for just RSS feeds.
$23,832 Less Than the Bloomberg Terminal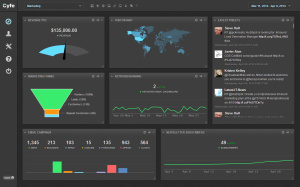 With the free version, you're limited to just five widgets, but the premium is pretty cheap for what it does. I mean, compared to the Bloomberg Terminal's $24,000/year price tag, Cyfe is $23,832 less.
Like I said, it all starts for free. Give it a go; get access to 5 widgets at once. Take some time and try out all the widgets, one-by-one, and decide for yourself if it makes sense for you.  Give is a good, solid, try though, because it will take a while to get over your habit of visit each and every site in person every day. I think it would be possible to decide how much you like it and how much you'll use it with just the free version, but if not, you can always pay for the premium month-to-month for a few months, build it all out, see what you like, and then decide whether you can't live without it or it's just something else you pay for but never use (dammit, Salesforce, why can't I quit you?).
Out of Sight, Out of Mind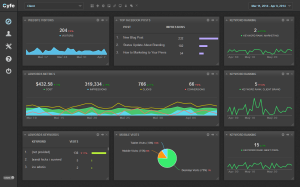 For me, Cyfe is an important step towards keeping all of my balls in the air.  Having multiple clients when you have a small agency is tough. The biggest fear I have is leaving anyone behind or dropping anything through the cracks. It's like that nightmare where I go through the whole semester forgetting I had signed up for Spanish, only to realize finals are tomorrow and it's too late to drop.  Out of sight, out of mind; the squeaky wheel gets the grease, and all that. Cyfe keeps everything in my sight and in my mind, all at a quick glance. Let me know what you think. How do you keep organized and on top of everything?
All the Cyfe Widgets
AddThis
Alexa
AWeber
AWS CloudWatch
Basecamp Classic
Bitly
Campaign Monitor
Chartbeat
Compete
Constant Contact
Countdown
CSV File
Desk
Eventbrite
Facebook Pages
Flickr
FreshBooks
GetResponse
Gmail
Google AdSense
Google AdWords
Google AdWords (MCC)
Google Alerts
Google Analytics
Google Analytics (Real Time)
Google Calendar
Google Doubleclick for Publishers
Google Spreadsheets
Google Trends
Google Webmasters
Google+
Google+ Search
GoSquared
GoToWebinar
Highrise
iContact
IFrame
Image
Infusionsoft
Instagram
iTunes Connect
Klout
LinkedIn
LinkedIn Company
MailChimp
Marchex
Mixpanel
Moz
PayPal
Pingdom
Pinterest
Private URL
Push API
Quantcast
QuickBooks
Recurly
RSS Feed
Salesforce
SendGrid
SERPs
Shopify
SlideShare
Text
Time
Twitter
Twitter Search
Unbounce
Vimeo
Weather
WordPress
Xero
YouTube
Zendesk
Feel free to email me at chris@gerr.is or call me at +1 202-351-1235
Learn more about Chris Abraham at Gerris digital.