If you're like most businesses, your 2012 marketing plan relies heavily on search engine marketing. Both paid and natural search continue to offer businesses excellent growth opportunities for the foreseeable future. At the same time, that growth could come to an abrupt halt. Search is in big trouble, under pressure from a variety of sources. If you don't believe me, let me take a shot at persuading you.
Assuming the world doesn't come to an end in 2012, search engines generally—and Google specifically—face two major trends in the coming year that could short-circuit their continuing growth:
Social and Mobile Powers Search Alternatives
Antitrust Forces Storm the Castle
Should either of these happen, what happens to your marketing plan? Let's take a look at the likelihood of search's demise—and some possible responses.
Social and Mobile Powers Search Alternatives
Some evidence exists that social and search are increasingly, inextricably linked. This is certainly true. Just look at the integration of Google+ goodies into Google's search results. I doubt highly that Big G would be giving over its highly valuable search engine results pages to Google+ if it didn't see the value of integrating social and search.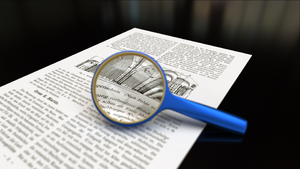 But the move also signals Google's sense of other social sites' value to consumers. When you look at Google's opportunities for data gathering—search, Gmail, Google Analytics, DoubleClick display ads, AdSense and AdWords, Android phones, Google+, Google Wallet, Google Maps and Google apps—the search giant holds a remarkably clear picture of customer activity. I suspect highly that Google sees large chunks of consumer activity bypassing search altogether in favor of asking their friends, followers and fans for the answers they seek.
For instance, comScore data shows that Google's seeing year-on-year growth of more than 10%. Pretty amazing stuff when you consider their size. But data from Cisco suggests that overall web traffic has grown more than 30% in the last year. Suddenly that 10% growth seems not so impressive.
And using the comScore data, it doesn't look like Bing/Yahoo or any of Google's "traditional" competitors are gaining at the search giant's expense. Big chunks of that web traffic growth is bypassing search altogether.
Similarly, Google is beginning to discover the risks mobile apps pose to its dominance of the consumer landscape. Mobile traffic continues to roughly double every year. But popular apps like Yelp, Foursquare, Where and Waze—not to mention tools like Apple's Siri—allow consumers to find the information they need without ever interacting with Google.
Now none of this means that search is dead—or even dying. Google's continued innovation into other areas—see the impressive list above—suggests they're not going down without a fight. But what it does mean is that consumers are finding other ways to answer their questions. The next question is whether you're finding ways to help answer them. Before we answer that, though, we need to look at the other big threat on the horizon: antitrust.
Antitrust Forces Storm the Castle
One item underscored by the list of Google's offerings above is exactly the number of pies Google's got its fingers into. As Mike Moran noted a couple of weeks ago, the company wants to be your credit card—and a whole lot more. Of course, Google's competitors aren't taking this lying down and have pushed regulators into greater oversight of the Big G. While it's too soon to tell where this will lead, little doubt exists that Google will continue to look over its shoulder throughout the coming year to ensure it doesn't get slapped down by regulators.
What You Can Do
No one recipe can tell you exactly how to avoid pain if Google stumbles. But, the following guidelines may help:
Continue to grow your opt-in contact list. Your customers seek answers to their questions. Are you doing enough to help those who've asked you to keep in touch?
Sample social. Don't just look at the large social networks' advertising products. Look to connect with customers and understand their needs more effectively. Word-of-mouth continues to provide excellent return for many businesses and social sites help spread the word about your company.
Ensure you're mobile enough. Mobile represents a situation, not a device. A customer using their iPad or mobile phone when standing on a street corner has very different needs than one sitting on their couch. Make sure your site addresses those needs effectively and that your web presence extends into the apps customers use when moving around.
Think in terms of "core and explore" when crafting your media strategy. Put most of your effort towards those areas most common among your customers. But reserve a little bit of budget to "do it wrong quickly" and see where your customers are heading.
Conclusion
Consumers don't want search engines. They want "find engines." And for the last decade, Google helped people find what they wanted. But as consumers turn to additional sources of information, make sure your business explores those sources too.
No one company can maintain dominance forever. And no one medium will meet every customer's needs. Look at alternatives at the same rate as your customers and you can be sure that you'll be ready, no matter what the future brings.