Yeah, I'm as tired as you are of appending 2.0 on the end of every 20th century concept out there, but what do we call it? I participated as part of a great panel in the Bulldog Reporter Webinar on Friday about how the Web is transforming the PR profession. (You can download my slides on Public Relations 2.0 if you are interested.) As usual, the most interesting part for me was prompted by a question, this one about blogging in Fortune 500 companies.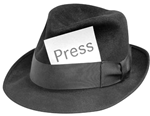 One questioner asked whether blogging has peaked as a fad, after reading that only 10% of Fortune 500 companies have a blog.
So as dutiful high priests of Web 2.0, I joined the other panelists in assuring that blogging has only just begun, blah, blah, blah. But what does this number tell us? I think there are a few possibilities:
The number is inaccurate. The article itself says that it's based on old data, so maybe someone has an updated number. Regardless, I wonder if this kind of statistic is the best way to judge the pervasiveness of blogging. We know that companies such as Sun Microsystems and IBM have tens of thousands of bloggers each, so counting those companies the same way you'd count a company with a single blog seems to dramatically understate the influence of blogs on corporations.
Blogging is taking off slowly in large companies. Perhaps the number is accurate. One explanation is that large risk-averse organizations won't take to the transparency of blogging as easily as smaller companies do. When I interviewed Steve Swasey of Netflix for Do It Wrong Quickly, he had a different take—that Netflix wants to support independent bloggers the way they do the mainstream media, rather than trying have a media outlet of their own. Whatever the reason, maybe large companies are just slower to come around.
Blogging has a long way to go. Maybe 10% of all companies have blogs and it matters not whether you are large or small. That might indicate that it just takes longer for more companies to jump into the fray then we were expecting. Given how much influence we see from blogs already, you might speculate that there's a lot more to come.
I do think that focusing on blogs is not even the point. Regardless of whether blogs or some other form of publicized opinion publishing is the method of choice, I don't think we're ever going back to the days of a homogenized corporate voice heard nowhere but on PR Newswire. The Web has opened up many possibilities of corporate employees speaking their minds in public, so whether it's corporate blogs, employee blogs, comments on other blogs, message boards, wikis, or something new, I think you'll see more and more openness in Fortune 500 companies.
No matter how you measure it.