JEM, the publisher of Biznology, recently conducted a survey to assess the impact of COVID-19 on organizations and leaders' priorities and the challenges and long-term effects of COVID-19 to businesses, leaders and employees. We surveyed and interviewed past and present clients and readers and subscribers of Biznology and our digital newsletter. Thank you to those of you who participated.
Our sample* included senior leaders from organizations of all sizes – from small-medium businesses to large enterprises with more than 10,000 employees around the globe in a wide range of industries, including automotive, construction, entertainment, financial services, manufacturing, healthcare, life sciences and pharmaceutical, professional services, technology, as well as nonprofits and government.
Across the board, our research clearly shows that organizations of all types and sizes are focusing on employees. The top four priorities and concerns of leaders include: the physical health and safety of employees, followed by maintaining employees' engagement and productivity in a remote work environment, employees' mental health, and the possibility of layoffs and furloughs.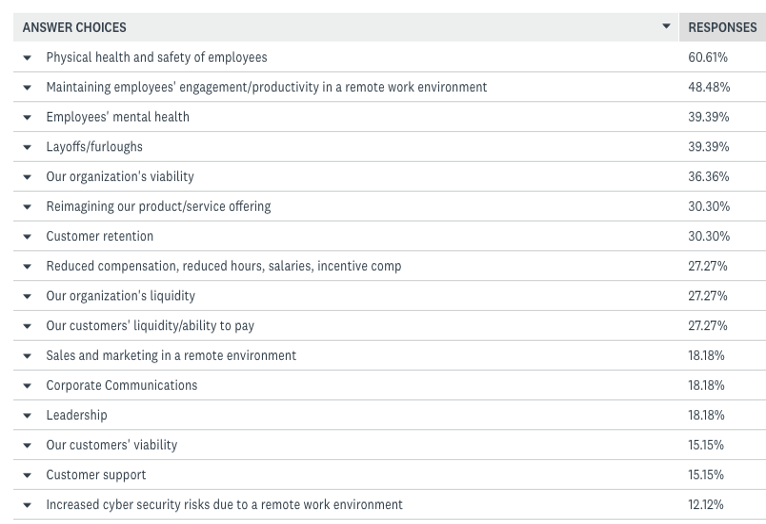 There is and will continue to be a tremendous focus on modifying remote work policies and processes, rethinking workforce configuration, employee engagement and internal communications strategies and programs.
In fact, 73% of respondents stated that they plan long-term changes to their remote work plans and policies. More than half are planning major workforce configuration changes, and 40% are focused on employee engagement strategies, following by 30% focused on internal communications, marketing and innovation.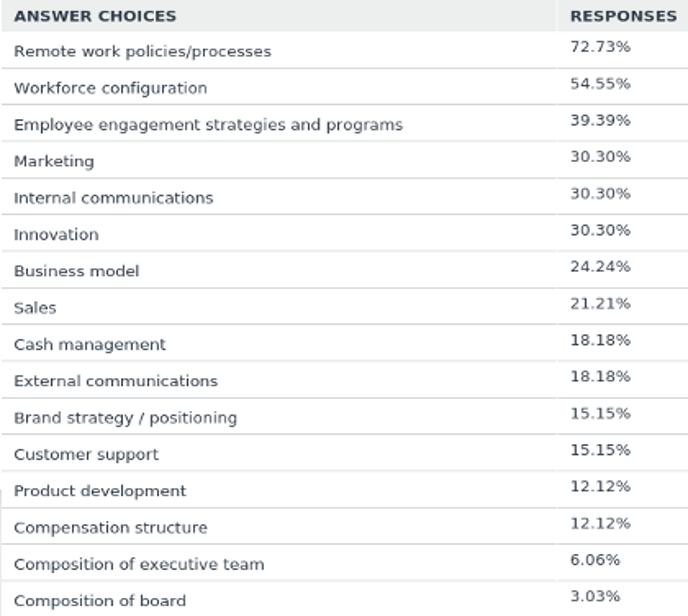 Nearly half (46%) stated that developing, deploying and managing a new remote work environment will pose the biggest challenge.
Leaders feel that these changes will pose a significant challenge to accomplish successfully, and they feel only moderately confident in their ability and the ability of their organizations to tackle these challenges, ranking themselves 7.5 on a 10 point scale, and their organizations 7.2.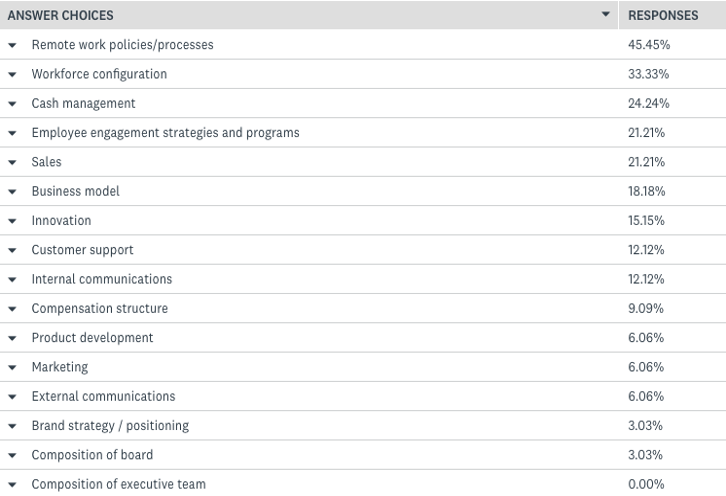 Yet, only 3% are focusing on board composition and only 6% are focusing on their executive team as challenges to be addressed.
In addition to the challenges and necessary changes businesses, leaders and employees face as the result of COVID-19, something even bigger is happening. We are in the midst of massive societal change and a focus on achieving true diversity, equity and inclusion in our organizations — all of which will result in transformational change to our society and the future of work.
Our consulting division, Consultants Collective is calling this The Third Wave, dubbed by senior member consultant Mark Dollins. Beyond what some are calling 'the new normal," The Third Wave is about transformational change. "It's about transforming how leaders and employees work, think and behave in ways that protect people and business from risk and drive performance," says Dollins.
Our Third Wave initiative will provide resources for leaders to successfully drive this change within their organizations – from the logistics of remote work and addressing the needs and safety of front-line workers to instilling new behaviors, cultural norms, supporting employee ambassadors, and ensuring compliance with legal and regulatory requirements in this new world of work. We're launching this exciting new initiative via a webinar on July 1st. Several of our executive consultants, advisors and coaches will join the discussion to answer your questions. Register here to join the discussion. As always, this webinar will be recorded and available on-demand here on Biznology. Hope to see you then.
We'll also be continuing this series with the interviews conducted in conjunction with this study, "Assessing the Impact of COVID-19 on Organizations and Leaders' Priorities."
So, stay tuned for more!
*NOTE: The JEM survey sample size was less than 100 organizations and therefore not a statistically relevant sample. However, it is a representative indicator of trends across a broad sample of organizations, and findings are in line with other sources.