This article continues a special series titled "Creating Resiliency During the COVID-19 Crisis."
This series is brought to you by Consultants Collective member consultants, advisors and coaches, whose experience and expertise includes risk and change management, Asia, China, offshoring, leading distributed global teams, managing crises and internal communications, deploying and managing online collaboration tools that enable people to work together virtually, developing new models, as well as expertise in innovation and design-thinking, work-life integration — and more — all of which uniquely positions Consultants Collective to serve its clients during this time. We hope this series is a valuable resource to you and your organization as you tackle the challenges presented by this global public health crisis. If we can provide additional help and support through our executive consulting, advisory and coaching services, please contact us.
Are you preparing for a conference or other meeting that has unexpectedly been moved online in response to the coronavirus crisis? If so, you're probably up against the fact that B2B sales presentations and interactions on the small screen are pretty low-energy compared to what happens in convention venues.
You can boost the energy level of online conferences with video. But maybe not with the videos you have on hand now.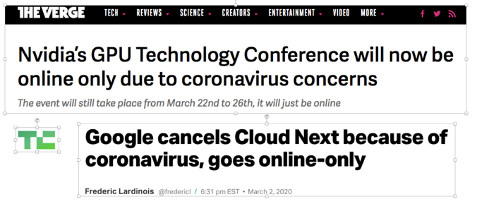 Tech companies are scrambling to come up with demos and presentations for events that have moved from big exhibit halls to small screens.
What videos do you need?
Videos that aren't sales-y. Visitors aren't there to watch commercials.
Quick videos that don't inhibit or interrupt your presenters. Visitors want to interact.
Videos that explain things visually because video is the fastest way to explain it, not the flashiest.
Videos that anticipate and respond to specific questions, objections, and misconceptions.
Where can you find these videos?
Your existing video library contains a lot of them. But you need to make the best bits instantly accessible. Who wants to sit through 5-minutes of introductions to a previously recorded webinar? You'll still probably need to create some videos.
How can you quickly repurpose existing videos?
Add chapter headings. Clickable HTML overlays with players from Vimeo and other platforms make this easy. Chapters enable your presenter or viewer to hop right to the relevant point in a demo or customer use case.
Make an existing video interactive. A cool DIY solution is to add interactive elements like polls and quizzes. You can do that with open source software from H5P (compatible with WordPress and other CMS), or with interactive tools from numerous paid services.
Make short (< 30 sec) videos from longer ones. A video that makes one point well can support live presentations and can also be shared in social media. This doesn't take much editing skill, but it does require editorial skill.
Edit software demos and screencasts so they tell an interesting use-case story.
Animate diagrams and illustrations from existing PowerPoint decks and white papers to help your presenters or viewers work through processes step-by-step. Someone has already thought through how to communicate this essential information visually, so it won't be too difficult the make it more engaging by putting the parts in motion.
How can you make a bunch of new videos PDQ
Convert existing text content. FAQs and sales messaging documents already contain information that can be better explained visually. Starting with "approved" content can shorten production cycles. This is the kind of thing your presenters should have on hand to answer expected visitor questions.
Try agile video production. Producing sales and marketing videos has traditionally been a drawn-out process encumbered by slow approvals and rework. But this needn't be the case.
Tech companies already use collaborative agile methodologies to deliver quality digital products in the shortest time possible. Why not do the same thing with video? We find that many aspects of "agile" work very well in video production: teamwork, clearly delineated responsibilities, daily meetings, delivery of "working" videos on a set schedule.
All you need to do is put together a team of people who can prioritize the things your customers want to know and can explain these things to the video professionals who can transform them into simple videos that will make your online meeting stand out.
Note: headlines are from TechCrunch and The Verge