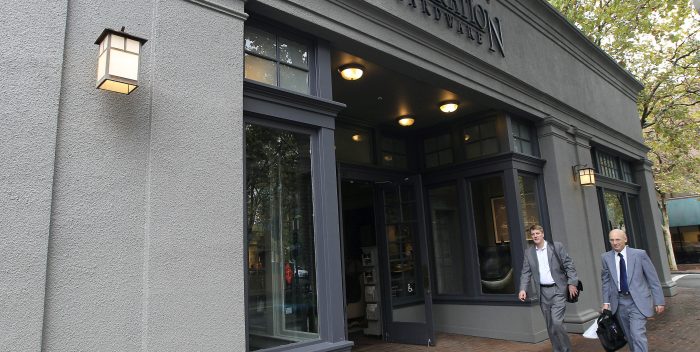 According to everyone by now, Restoration Hardware realized that 98% of their online business is coming from 22 words: the various and sundry misspellings of . . . restoration hardware.
In this case, Restoration Hardware was throwing buckets of cash at Google AdWords by bidding on 3,200 keywords, none of which were converting save those 22 misspellings.
As a direct result of the waste, Restoration Hardware's CEO, Gary Friedman, dumped his entire Google AdWords campaign. A company like Restoration Hardware doesn't need to pay for its own name when it comes to Google Search — Google takes care of that.
Unlike some of us minnows, a company like Restoration Hardware can make sure that nobody else bids on their name in order to steal the top results on Google away from any natural, organic, results, all of which would be dominated by RH itself (though, if you look above, Pottery Barn safely dominates the search results with their paid AdWords ad when you search for restoration hardware).
I guess the only reason for Restoration Hardware to throw money at Google AdWords is to defend its number-one position against Pottery Barn and the other upstarts that are spending big money to sneak into the paid search results above www.restorationhardware.com itself.
I was a total yuppie in my 20s and would walk through the RH store on Kind Street in Old Town, Alexandria, Virginia, with amazement and deference akin to visiting the Guggenheim for the first time. So, I get the devotion that Restoration Shoppers have for the RH brand. Restoration Hardware is playing the in-between space between Pottery Barn and Bespoke. The typical Restoration Hardware customer probably also shops at Design Within Reach and also spends a lot of money at Etsy as well.
If I were any less of an aspirational brand, maybe I would spend the defensive ad dollars just to make sure I dominate the entire first page, subjugating the Pottery Barns of the world to hell; but Restoration Hardware is strong and unique and the customers are passionate about solid brass doodads.
I know, I like solid brass doodads as well!
---

Like this post?
Sign up for our emails here.
---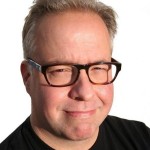 A pioneer in online social networks and publishing, with a natural facility for anticipating the next big thing, Chris is an Internet analyst, web strategy consultant and advisor to the industries' leading firms. He specializes in Web 2.0 technologies, including content syndication; organize search engine optimization (SEO), online reputation management (ORM), content marketing, online collaboration, blogging, and consumer generated media.