If you've ever wondered how some search engine results come up with gold stars, those are called Google Reviews. They're part of a special structured data coding, called schema, that tells Google which web site pages contain proper 1-5 star reviews. Then, Google renders these reviews inline with the Google SERP. It's very groovy!


You're lucky! If you're writing, posting, journaling, reporting, marketing, or blogging on a WordPress install and you have either admin access to access to a site administrator, life is easy. Just install WP Review and go to town!
I use WP Review by MyThemeShop and it works for me. If someone can tell me why I should pay $77 to upgrade to WP Review Pro, let me know on Facebook, Twitter, Google+, or in the comments below.
First step, just install WP Review or something similar to that via your Add New Plugins page.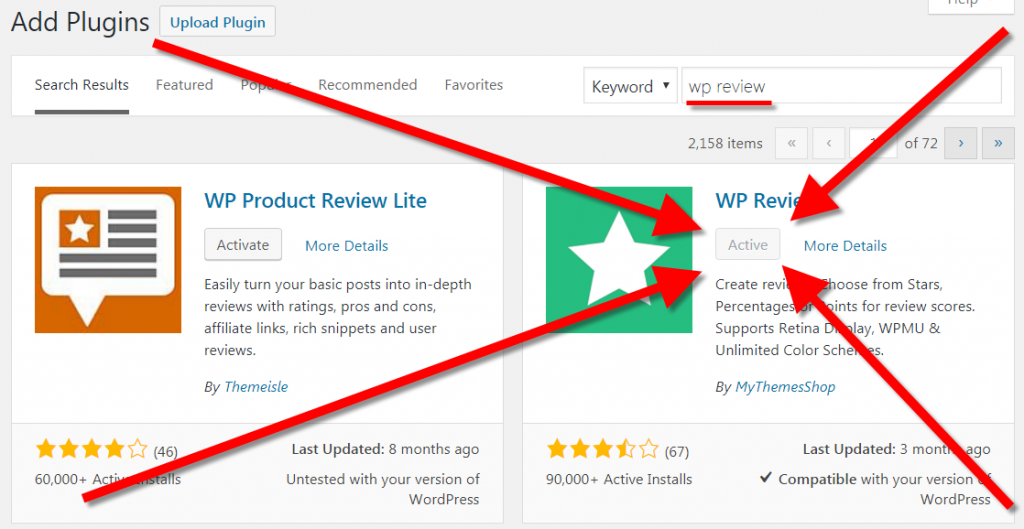 Then, make sure it's activated and take a look through settings:

Then, when you write your next post or article that requires a starred review (Google only uses 1-5 stars), then just scroll below your text box and you should see a box that has a pull-down like this:

Since Google only recognizes 1-5 stars as a rating basis, pull down to Star:

Then, from there, do your best or maybe just seek support directly from the folks at WP Review, they've got FAQs and Docs. Once you choose Star as your review type, you'll have a load of new forms to fill out. Here's how I filled out my review of Feiyue Tiger Claw shoes — I chose six different items that I could rate about the shoes and rated them accordingly: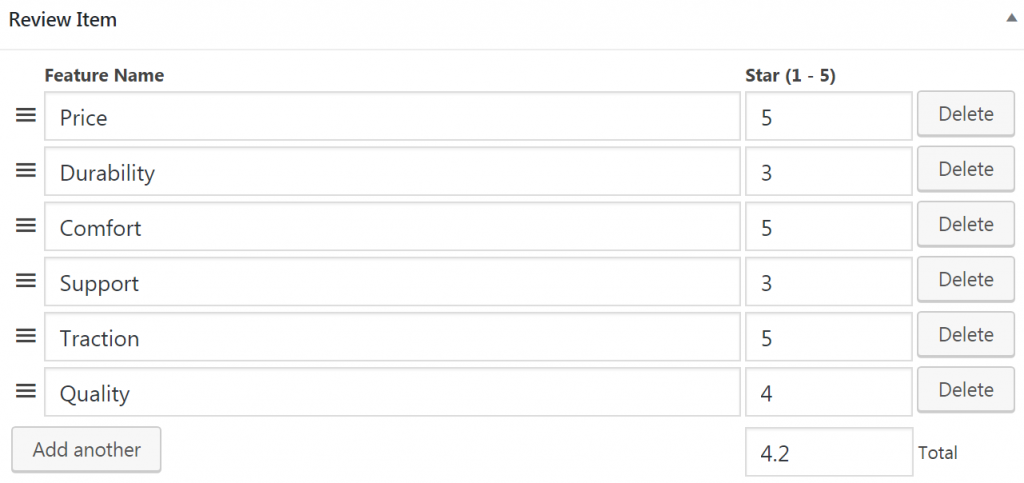 Then, I scrolled down further and filled out the proper review part of the WP Review plugin and tried to break down the items that I added above into a descriptive review, like so: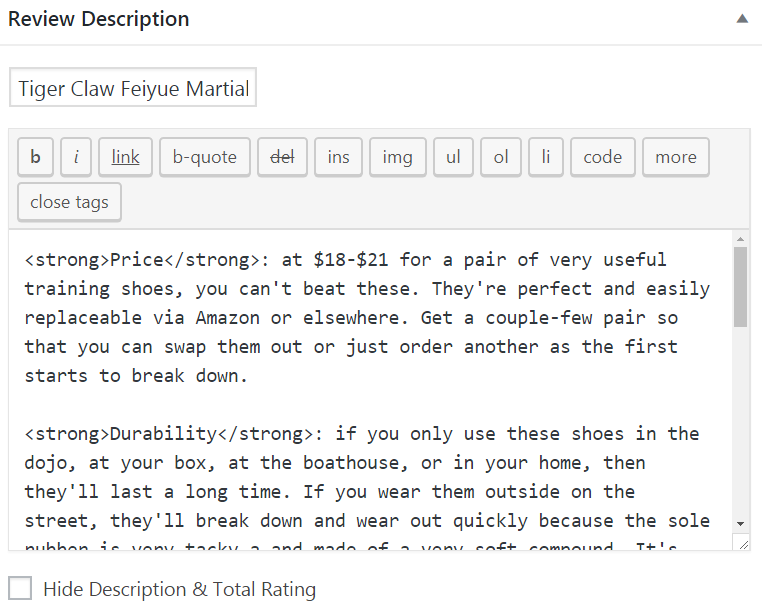 And then I took it even further to enable and allow anyone who visited the site to also be able to rate these cool, cheap, martial arts shoes, as well.  All of the data is automagically turned into meta data that Google understands, called Review Schema:

And, once I save and publish the post and submit the URL to Google, et voilà!

Good luck and I hope it works out for you. It's really fun seeing posts show up with pretty stars next to them. Aside from being cool, it's always a good thing to intentionally structure as much of your content as possible in ways that are native to Google, structured in ways that Google intuitively understands: structured data. Schema is your friend.
While this article is focused on implementing reviews on your WordPress site that Google will index and then lovingly display on the Google SERP, the schema required to show up in starts on Google Search are just code, tags, schema, and formatting.  You can learn more about reviews on Google.  Here's a pathway to Drupal and Joomla. But for now, there are quite a lot of plugin solutions for WordPress that you can explore.  Before we go into how I do it, here's 15 Useful WordPress Star Rating Plugins With Google Rich Snippets.
Feel free to own the yacht but hire a crew if you're not yet seaworthy. If you get my drift and want to adopt the yachting lifestyle yourself but either don't have the mad sailing skills yourself, don't yet posses a world-class crew, and don't know yet where to go, then you should give me a call or reach out me by email — so I can help you pilot your vessel now, in the tranquil blue-green shallows of the Caribbean, as well as in the roughest seas and into — as well as out of — the storm.
If you'd like to chat more, call me at +1 (202) 869-3210 Ext 0001  email me, or feel free to self-schedule a 15-minute call, a 30-minute call, or a 60-minute call with me.