I just got my hands on a Guru subscription to SEMRush so I haven't had a lot of time to figure it out — check it out, it's pretty advanced and comprehensive:

Hell, I don't think there's been enough time for the spiders, bots, auditing, and analytics tools to do enough data collection, over time, to give me full depth, breadth, and perspective of my content, especially when it comes to the blog content on my
personal sites
,
gerriscorp.com
,
chrisabraham.com
, and
rnnr.us
.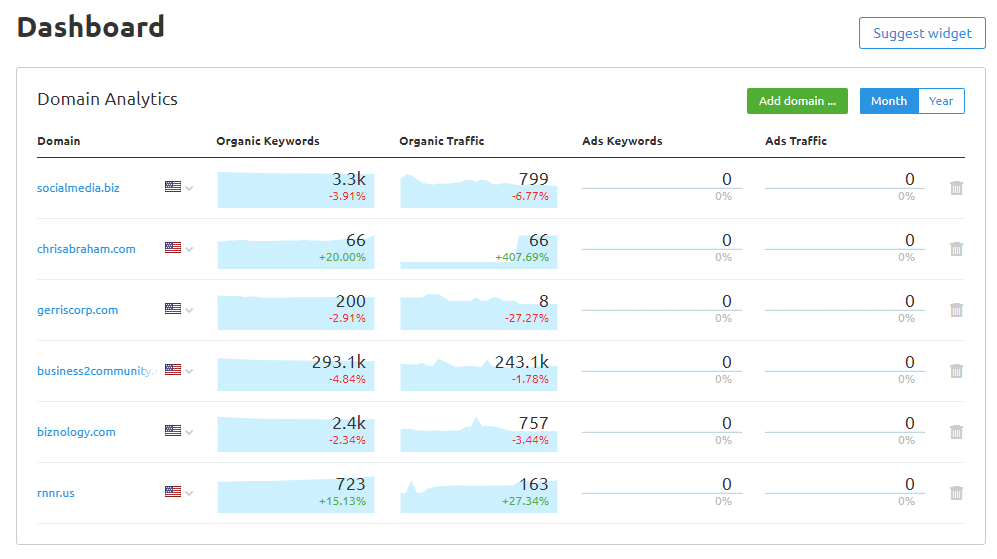 Like you, I pieced together Google Analytics, Google Webmasters, Buffer, HootSuite, SpyFu, and a compilation of other little online tools. That was, until Olga reached out to me to give me full access to the entire suite of tools that make up the newest iteration of SEMRush.

I've played a little with Moz and never quite made it work for me because none of my personal sites were eCommerce sites, so I never really understood why I needed to pay between $99-$599/month. However, I can really see the value of spending that sort of money, from $99-399/month. This tool that can help me write SEO-optimized copy, domain analytics, keyword analytics, organic and paid keyword audits, SERP position tracking, brand monitoring, backlink audit, "SEO ideas," and even SEOquake, a Chrome plugin that offers inline SEO audits of sites, SERP overlays, domain comparison, and link examination.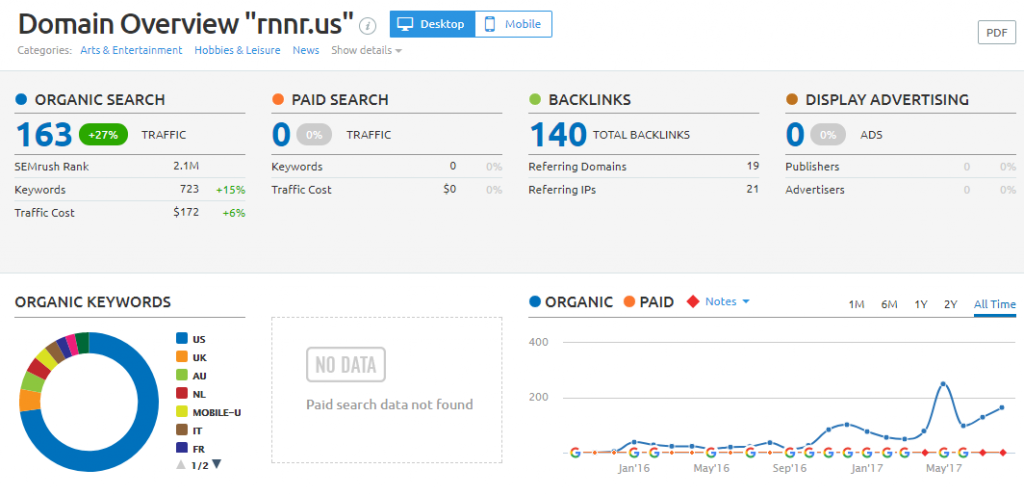 What's more, since I never use paid ads, the strong focus on organic SEO analysis and auditing help me get outside of my own head and easily see which of the keywords that bubble up on my sites are really driving traffic to my sites rather than wasting all my time writing content that isn't organically competitive or viable no matter how badly I want these keywords and organic search results to come my way.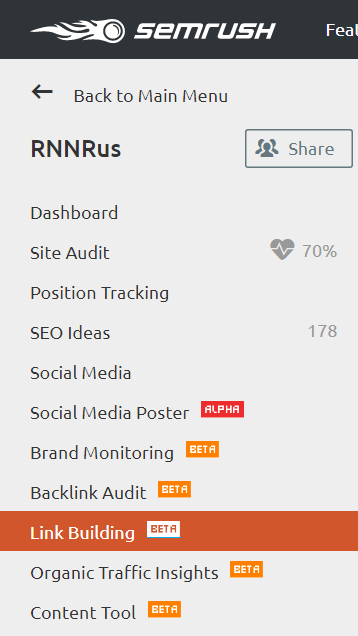 While it's always exciting to see when desirable keywords come up reliably in the SERP top-10, it's also fascinating for me to slice and dice the content as well. SEMRush allows you to look the success (and failure) of your site and its content based not only on whether you make the top-5 in the most obvious keywords (chris abraham, gerris corp) but also in keywords you like.
What's even more exciting than getting a top-ten result in a very specific search is to get a keyword hit that may not be in the top-5 but results in a huge volume of visitors — many more visitors than you might have been aware of.
SEMRush can do this because, behind the scenes, after properly setting up a project (which is domain/URL-driven), you stitch SEMRush together using all the tools that you've been using, singly, before: Facebook, Twitter, Google+, Instagram, YouTube, Google Analytics, Google Webmasters/Webmasters Tools, and I am sure SEMRush's proprietary analytics tools as well.
The value added of bringing all of these tools and tool kits together allow me to audit all the hard work I have been doing optimizing my content and writing content and writing for search and viability, and after all of the social media sharing and blogging, it's very interesting to see how all of this hard work has been interpreted.
It's sort of like newspaper reviews and online comments when you're producing a play or a movie: sometimes all this data can be really valuable and useful but it can also end up being such a distraction. Obsessing about what SEMRush reports about my properties will just take me away from creating good content myself.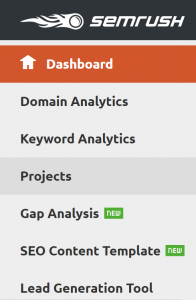 What SEMRush tries to be is a go-to dashboard where you can quickly do a pulse check on how your campaigns are doing before you close the tab and get back to work.
A couple of really interesting tools that are in alpha and beta are SEO Ideas and Link Building tools that actually give you the tools and the project management process by which you can actually find allies in the online space and presumably partner with these sites or even work on doing some mutual link-building or mutual guest-posting.
These are my first steps and first foray into SEMRush — I am hoping that its dashboard and the way it handles projects will easily allow me to replace all the free online tools that I hack together ad hoc, Google Analytics, Google Webmasters, Buffer, HootSuite, SpyFu, etc.
Have you had a chance to try out SEMRush yourself? Why not just pop your domain URL into the widget below and see the sort of rabbit hole I have gone down a short week ago when Olga gave me the keys to the SEMRush kingdom.
Feel free to own the yacht but hire a crew if you're not yet seaworthy. If you get my drift and want to adopt the yachting lifestyle yourself but either don't have the mad sailing skills yourself, don't yet posses a world-class crew, and don't know yet where to go, then you should give me a call or reach out me by email — so I can help you pilot your vessel now, in the tranquil blue-green shallows of the Caribbean, as well as in the roughest seas and into — as well as out of — the storm.
If you'd like to chat more, call me at +1 (202) 869-3210 Ext 0001  email me, or feel free to self-schedule a 15-minute call, a 30-minute call, or a 60-minute call with me.