In the office, commuting to work, and during off hours; on our desktops, laptops, tablets and mobile devices…we are all watching more online videos for business than ever before. We watch online videos to get informed and make decisions across every stage of the purchase cycle… and this trend will only increase over the next few years.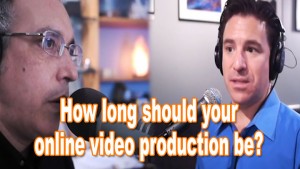 In fact, Cisco predicts that globally, online video traffic will be 80 percent of all consumer Internet traffic by 2019 (a number that is up from 64 percent in 2014). So what this means is that your next and current clients love watching videos on your website, blog, email and social media channels. This is probably because of online video content's ease of consumption and its tremendous power to people get educated and make decisions. Giving your clients what they want by integrating online business video communications into your everyday marketing efforts will differentiate you from your competition, provide highly valued sales assets, social media content, build relationships, and motivate customers to move into and through the buying process… yes, it will really do all of that!
But what is the optimal length of an online business video production? Will people watch more than 30 seconds? Will they watch for 90 seconds? 180 seconds? What is the golden rule for how long an online video should be for business?
A B2B promotional video that is made for lead-generation, like a landing page, needs to be quick; whereas a online business video production that is used during, or as a follow up to a presentation is very different in length.
Some sales cycles are very long, and some, like e-commerce, are very short. So a product video on an e-commerce page should be a very short video, whereas with an enterprise level sales-cycle that takes many months, you may have a longer professional video production that explains in detail why a company developed a certain piece of functionality/product/service and why it is so beneficial.
A sound video content marketing strategy should be looking at how to produce many videos for different parts of the buying process. Starting with B2B promotional videos that are meant to generate awareness at the top of the funnel, like social media videos and thought leadership videos. As you travel down the funnel, your video content marketing strategy might include website video FAQs that are aimed at increasing your SEO position and drive traffic to your site. Then you might have some animated explainer videos, motion graphic videos, or business profile videos on your website that explain, at a high level, about your company or the product/service.
Most of this top of the funnel activity is happening online, as prospects are more educated than ever, even before they pick up the phone to talk with you. As most B2B sales need human interaction, once that prospect is talking to you in person, their research continues. They want more information and need to see and feel the expertise that your team brings. If you look at what you have on paper – brochures, PDFs, and other paper material – you will see that this information is already there. So to round out a video content marketing strategy, sales videos, case study videos, technical videos, and other B2B promotional videos that focus on giving prospects the information they need in order to make a purchase decision should be added.
With all of this in mind, your video content marketing strategy will include the right video for the right place at the right time of the buying process. Thus the golden rule for "how long should an online business video be?" is – never make it longer than it has to be. Meaning, make it as short as possible.
Your video content marketing strategy should be producing different lengths of online video content to match the attention span of decision makers. For example, a prospect that is only seeking information will not invest 3 minutes in a case study video or a video that explains your process, so you should have online video FAQs, animated explainer videos, or social media videos at this stage. However, a qualified prospect, that has had meetings with you and is deeper down the decision making cycle, will spend minutes watching a B2B promotional video that explains things in more detail (again, just like you most likely have on paper… but decision makers are busy so they appreciate and are more willing to consume a professional video production).
Another aspect of the golden rule is to focus your online video content. Since your video content marketing strategy will produce many videos, keep each video focused on one industry, benefit, feature, or aspect of your company. Don't try to shove a bunch of concepts into one B2B promotional video. This will keep your videos as short as possible as well as giving you more opportunities to create online video content for your website, blogs, email, SEO rankings, and social channels.
In order to plan a video content marketing strategy that includes everything from short B2B promotional videos to longer case study videos and animated explainer videos, many professional video production companies have the experience in producing business videos that are clear and focused.
B2B promotional videos has the ability to be both a customer acquisition, conversion, and retention tool. There is nothing else that comes close to the effectiveness and persuasion power of a well-designed video message.